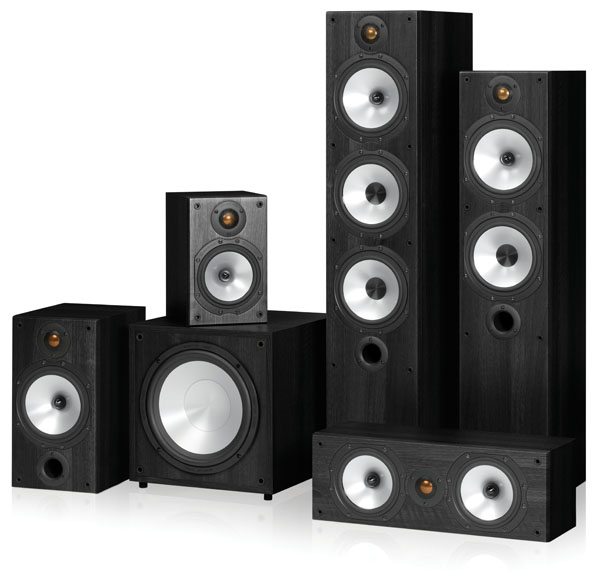 Monitor Audio is a British company that was founded in 1972 and quickly established itself as a credible manufacturer in the audio community.  The company's profile has evolved over the decades to include speakers within different budgets, all the while keeping consistent with both design philosophy and build quality.  Monitor Audio is perhaps one of the most recognized manufacturers using metal dome drivers, a material that the company continues to refine, which results in a sound distinctive from paper or plastic cones.  The Monitor Audio MR Series represents the company's most affordable range of full-sized speakers and is designed for those who would like to get a better quality, better sounding product than speakers from a big box store at a comparable price point.  The series consists of five speaker models: MR6 ($799/pair), MR4 ($599/pair), MR2 ($399/pair), MR1 ($299/pair) and MR Centre ($259 each).  The accompanying MRW10 subwoofer goes for $499.  My review set included the MR4 (x2), MR1 (x2), MR Centre and MRW10 subwoofer, for a total system price of $1656.  As with many speaker products today, the MR Series is designed in the home country and manufactured in China to be competitively priced.  The MR Series uses trickle-down technology from the company's high end speakers and promises to stay true to Monitor Audio's sound.  Let's take a closer look at each of the models used in this review.
The MR4 is a non-obtrusive 2.5-way floor-standing loudspeaker which stands about 34 inches tall, and has a depth of just above 10 inches.  Its non-dominating appearance is a perfect fit in smaller spaces.  I first placed these speakers in a 12 by 14 foot room and they could not have looked better.  The polished look of the black oak vinyl suits a variety of décor and is easy to clean.  This floorstanding speaker's tweeter lined up just below my ear level when seated and the midbass/bass drivers were aimed at me, as if they were about to unleash a sound unheard of in this small space.  The technology highlights of the MR4 consist of the C-CAM tweeter and the MMP II driver cone.  The 1 inch gold dome C-CAM (Ceramic-Coated Aluminium/Magnesium) tweeter is both rigid and light enough to be used for a tweeter.  It has a much higher resistance to flexing and twisting during operation compared to a conventional cone.  Monitor Audio claims the tweeter's high frequency extension can deliver detail all the way up to 30 kHz.  The C-CAM tweeter is housed in its own chamber to eliminate unwanted resonances.  The result is improved stereo imaging during playback.  The two 6.5 inch MMP II (Metal Matrix Polymer) cones in each MR4 speaker also follow Monitor Audio's metal driver design.  This driver's stiffness is created by applying a high pressure injection process, infusing the polypropylene base with metallic particles.  The drivers are affixed in their own chambers and are optimised for each MR loudspeaker.  One is a mid-range driver and the other is used for bass.  Both are said to improve past designs by offering better off-axis response, life-like timber and better reproduction of the critical frequency range for voices.  The speaker is front and rear-ported and comes with removable port bungs (foam plugs) which can be used to fine-tune the sound during speaker placement.  A removable grill is included with each speaker.  The dual speaker posts accept spades, banana plugs, and bare wire; and allow for bi-wiring and bi-amping – I did all of my listening in a bi-wire configuration.  The speakers include a set of four spikes which should be used to decrease the colouration of the sound created by the floor.
The MR Centre includes the same technology found in the MR4 which of course makes it a perfect match for the tower speakers.  It uses a 1 inch C-CAM tweeter and two 5.5 inch MMP II bass/midrange cones.  The enclosure is sealed which helps with bass tightness rather than depth – the MR Centre is said to play down to 60 Hz.  Bass tightness is important for a centre channel to ensure that voices don't sound thick and heavy.  The MR Centre can be used in either a horizontally or vertically configuration.  If I had the choice I would place this speaker vertically, strictly for improved dispersion characteristics but this may be difficult to accomplish in most living rooms.  The speaker includes the same high quality posts as the MR4, just without the bi-wire option.  The grill is also removable.
The MR1 bookshelf speaker is attractive in appearance and size.  It has a solid feel because of its rigid cabinet bracing and it looks just as good, with the grills on or off, as its larger siblings.  If you can, I recommend keeping the grills off for both appearance and improved sound quality.  The MR1 uses the same 1 inch C-CAM tweeter and 5.5 inch MMP II driver as the MR Centre.  The same high quality binding posts ensure a strong grip on spades or bare wire.  The MR1 is designed to be placed on a stand or a shelf – or to be mounted on the wall with a Monitor Audio wall mount.
The MRW10 subwoofer is equipped with a 10 inch MMP II driver and a 100 watt class-D power amplifier, which gives it its punch.  The subwoofer is surprisingly small for the big sound it delivers, outputting frequencies cleanly down to about 30 Hz.  Monitor Audio has not cut corners with options on this sub.  The amplifier has three power switch modes: On, Auto and Off.  With the switch 'On', the subwoofer never turns off so it'll always be ready for bass, even if there is no LFE information for extended periods of time.  The 'Auto' mode is intended for power saving so it takes a signal to turn the subwoofer on.  When there is no signal for 10 to 15 minutes, the subwoofer switches to a standby mode until a signal is received again.  The 'Off' mode is exactly what it sounds like – off.  The MR4 speakers aren't considered to be 'large' full range speakers, so leaving the subwoofer in 'Auto' makes most sense because bass management will direct low frequencies to the sub consistently.  A switch is used to control phase at 0 or 180 degrees rather a variable control, and most installs will require it at 0 degrees.  A crossover bypass switch is an advantage on this sub, since most installs will have the MRW10 working in conjunction with the AV receiver's subwoofer crossover control for advanced bass management.
The owner's manual goes into good detail about loudspeaker placement for stereo, 5.1 and 7.1 surround systems, including tips about placement along the listening arc and toe-in.  I followed the guidelines in my personal set-up which placed the MR4s each at approximately 30 degrees off centre with an 8 foot spread, and the MR1s between 135 to 150 degrees off centre.  Monitor Audio recommends placement of each speaker at least 10 inches from the wall on all sides.  Any speaker should really follow this rule or expect the sound and soundstage to become cloudy and less coherent.  If this isn't possible, the port bungs may be needed to fine-tune the sound.  The centre channel should be placed as close to the listener's head as possible, but if not possible, ensure the speaker is angled up or down toward the listener's ears, otherwise you will experience serious dialogue intelligibility problems.  Subwoofer placement will need to be determined in your own room using a variety of techniques (which can be found in various articles on novo.press/) and you are encouraged to explore the best options for seamless integration.
I tested these speakers on three different systems – one 2-channel system and two home theatre setups.  I'm a strong believer that in order for speakers to perform their best, they need to be fed with appropriate high quality amplification, ensuring that the front-end never fails to deliver clean power to the speakers.  This being said, just because the price of these speakers is considered to be in the "affordable" range, don't assume that mating them with a cheap AV receiver will simply do the trick.  While the speakers will certainly produce sound, they won't deliver the best sound they're capable of.  These speakers will easily differentiate between an entry-level AV receiver and a higher-end preamp/amp combo, although of course the MR Series will reach their limit somewhere in between.
For stereo listening I connected the speakers to my Ayre K-1xe preamp, a pair of Theta Enterprise monoblocks, the D-1xe CD player and the Clearaudio Solution turntable (outfitted with a Benz-Micro Glider S cartridge.  In a surround setting, I chose to run the speakers with both high-end and entry-level electronics: the high-end setup consisted of the Integra DTC-9.8 surround preamp with five Theta Enterprise monoblocks, and the entry-level setup used a Denon AVR-1706 receiver.  All of my impressions of sound below are based on having the speakers connected to these different pieces of electronics.  The entry-level receiver did show restraint in dynamics, bass, and treble clarity through these speakers which was completely expected.
I first listened to the small MR1 bookshelf speakers as a stereo pair.  The mid range, where most vocals take place, is this speaker's strongest area.  Bjork's voice on her "Debut" album sounded realistic and the MR1 delivered the dynamic clarity within the recordings.  In Tori Amos' 'Past the Mission' on the "Under the Pink" album, her vocal clarity was convincingly good – in fact much better than I would expect from a speaker at this price point.  Male vocals on the other hand, depended on the recording.  Trent Reznor's backing vocals on the same track sounded throaty unless I installed the port bungs, which in effect made him more difficult to hear.  Radiohead's "In Rainbows" (45rpm vinyl) has Thom Yorke's voice forward in the mix as well.  Without the port bungs, the speakers had a bit more low-end extension but exhibited heaviness with male voices.  With the port bungs installed the effect was reduced with a slight perception that the bass didn't extend as low.    Vocals in Pink Floyd's "Wish You Were Here" album are recorded further back in the mix and David Gilmour sounded fine amongst his guitar strums, bungs installed or not.  You'll need to test out your favourite recordings with the bung options.  Across different recordings, the speaker's limited bass response and splashy top end reduced the soundstage clarity.  The MR1s compact size and capabilities makes them best suited as surround speakers rather than main speakers.
The MR4 is a different story.  Immediately I noticed a greatly wider and immersive soundstage on all recordings as well as a much tighter and focused centre image.  The music seemed to move around more, feel more fluid and had room to breathe – no doubt due to the larger cabinet size.  Bass extension was deeper and greater in amplitude.  I still couldn't quite tap my foot along with the kick drum, but it was there this time among the other instruments.  The midrange sounded near-identical in tone to the MR1 but with greater precision and spaciousness.  The sounds of cymbals now had a step up in clarity, albeit sounded a little on the brassy side.  Like the MR1, the MR4 still had some difficulties reproducing complex passages in music when there are many tracks layered in the mix at once.  I found the MR4 to sound best in my room with a port bung inserted in the rear port of the speaker (associated with the top driver).  This gave the impression of greater bass extension without sacrificing midrange clarity.  The sound of both speakers was greatly improved when used with the grills off.
Of course the main purpose of this review was to evaluate the MR Series in a 5.1 surround configuration and this is what I proceeded to next.  I listened to music and watched movies with the speakers connected to both my separate components (calibrated with Audyssey Pro) and the entry-level AV receiver (set with a sound level meter).  To squeeze the best performance out of any speaker system, you'll want to make sure that everything is setup correctly.  Listening to the Blu-ray of "David Gilmour: Live at Royal Albert Hall" still brings a flood of emotions when I hear the music.  The MR4 speakers had no difficulties turning my room into a concert hall and delivered the appropriate reverberation and liveliness of the great musicians on stage.  The loud rock of "Marilyn Manson: Guns, God, and Government Live in L.A." pumped out full-on aggression and sounded very dynamic.  The MRW10 subwoofer blended very well with the mains and did not disappoint.  Where the MR4 and MR1 rolled off, the MRW10 took over seamlessly.  The subwoofer, seemingly endless in output in moderately sized rooms, seemed to transform the MR4 into an entirely different speaker.  The two blended together as if they were one, and the sound punctuated dramatic effects on Blu-ray titles such as "Sherlock Holmes: A Game of Shadows" and "War Horse".   The MR system was capable of good dynamics, maybe just a bit stiff sounding during the most intense scenes, but created satisfying sound as a whole.  For those who prefer dialogue driven films, "Inglorious Bastards" and "Bridges of Madison County" (DVD) relied heavily on the MR Centre to do the work.  Being a centre speaker is a tough job because good placement is often restrictive.  The MR Centre did not like to be placed close to the floor.  Doing so reduced dialogue intelligibility considerably.  I often missed lines of dialogue because of how the speaker was reacting with the floor when placed horizontally on the lower shelf below the TV.  Raising the speaker up higher to the listening position improved dialogue as did placing the speaker vertically below the TV, angled up at the listening position.  The centre speaker has similar sound characteristics as the MR1 but also appeared to have a slightly greater sensitivity to placement.  Again, experimentation will be needed in your room to get the best possible centre channel sound.
The Monitor Audio MR Series offers a great step forward for those looking for an immersive sound experience from a non-dominating speaker system at a very reasonable price point.  I can honestly say that this system would beat most speakers that you'd find in a big box store, even those sold at significantly higher price points.  These speakers are particularly well suited for movie and surround music discs, and come with a subwoofer that's tight without much overhang or distortion.  The speakers' stiff cabinet feel and weight is bound to get nods from the men.  Ladies will certainly appreciate the silver and gold drivers – they are like jewels in a nice compact cabinet.  When good appearances and sound come together in an affordable package – everyone wins!
Monitor Audio
www.monitoraudio.ca
Distributed in Canada by Kevro International, www.kevro.com
(800) 667-6065 / (905) 428-2800
Monitor Audio MR Series
Price (CAD):
MR6 ($799/pair)
MR4 ($599/pair)
MR2 ($399/pair)
MR1 ($299/pair)
MR Centre ($259 each)
MRW10 subwoofer ($499 each)
5.1 System as tested: $1,656