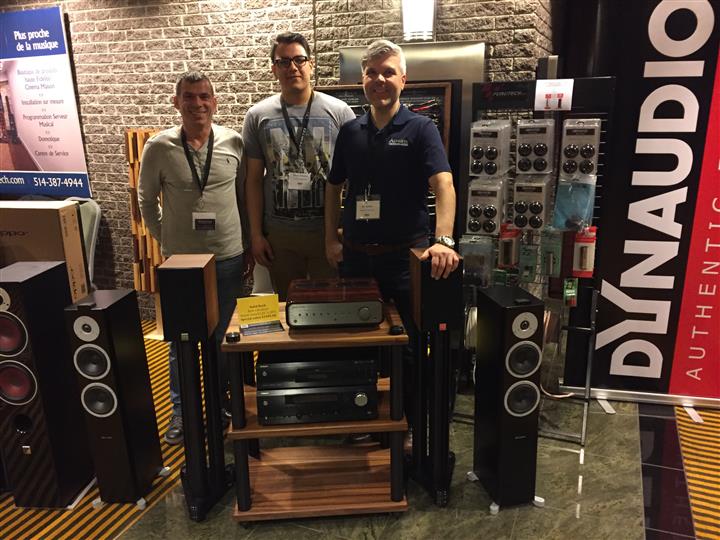 Although the Montreal Audio show has been running continuously for 30 years, this March marked the second edition of the show under its new banner – Montreal Audio Fest. Spearheaded by Michel Plante and Sarah Trembley, the show made a big comeback this year, offering a larger number of exhibitors compared to 2015 and a greater sense of energy. This year's show also appeared to be very well attended. George de Sa and I [Suave Kajko] spent three days in Montreal browsing the show floor for interesting products and new launches. Here are some of the more exciting exhibitors and products I came across.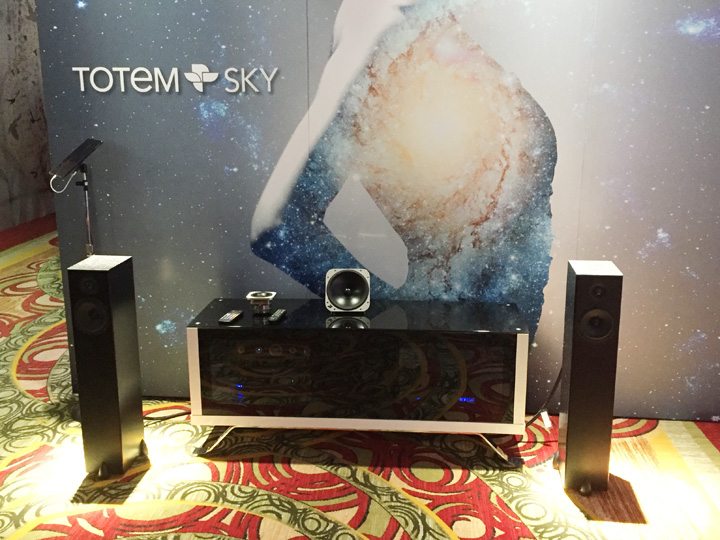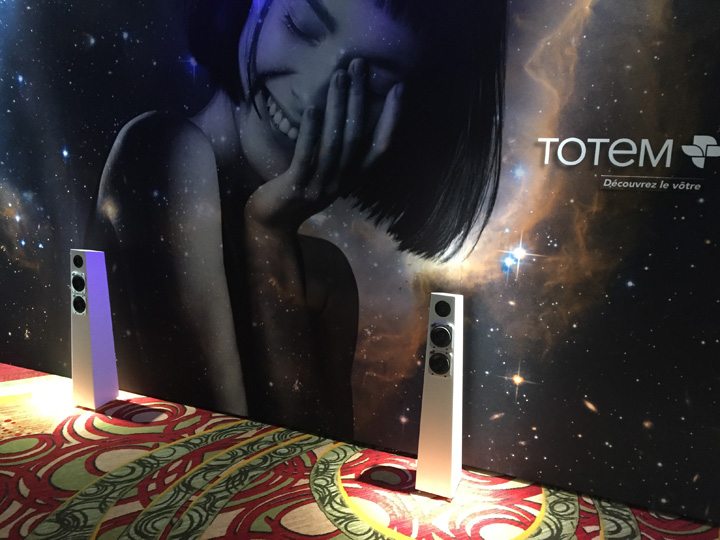 Totem Acoustic
Returning to the show in a bigger role this year, Totem celebrated its 30 year anniversary by assembling a display that showcased all of the company's speaker designs since the very beginning. Totem also introduced two brand new products – the Totem SKY tower speaker and the Totem Tribe tower speaker. The theme shared by both speakers was big sound from small speakers. The SKY tower joins the SKY monitor (launched at the TAVES Consumer Electronics Show last fall) and features the same technology but this time around in a compact floor standing design. A quick listen to the SKY tower revealed a sweet, natural midrange and an impressively large, dynamic sound. The amount of bass from these speakers is sure to surprise just about everyone. The Tribe tower on the other hand is based on the superb technology found in the Tribe series of products and includes Totem's exclusive Torrent drivers. The sound here was even bigger and more dynamic, while offering a luscious midrange and excellent low frequency punch. It's design lines and white glossy finish make it one gorgeous looking speaker.  I smell a review of one (or both) of these speakers coming up in NOVO 🙂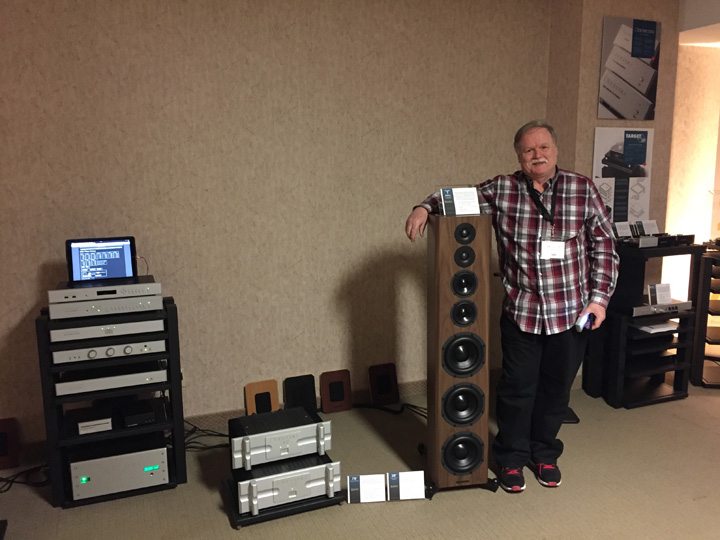 Bryston Limited
While Bryston didn't launch any new products at the show, it's always a pleasure to listen to their gear. The all-Bryston demo system here included the Model T active towers powered by 7B Cubed amps (powering bass drivers), 3B Cubed amps (mids and highs) and the BP-26 preamp. The source was the BDP-2 music player connected to a BDA-3 DAC. A custom designed crossover allowed James Tanner to fine tune the setup to achieve a perfectly flat frequency response in the room. As I've come to expect from Bryston, the system played with incredible energy and real world dynamics but also offered great precision and finesse with more delicate music.  This was one of my favorite sounding setups at the show.
In addition to the demo system, Bryston also showed a prototype 21B Cubed series 3-channel amp (on static display). The single chassis of this upcoming amp will house the circuitry of the 7B Cubed amp (single channel) and a 4B Cubed amp (two channels).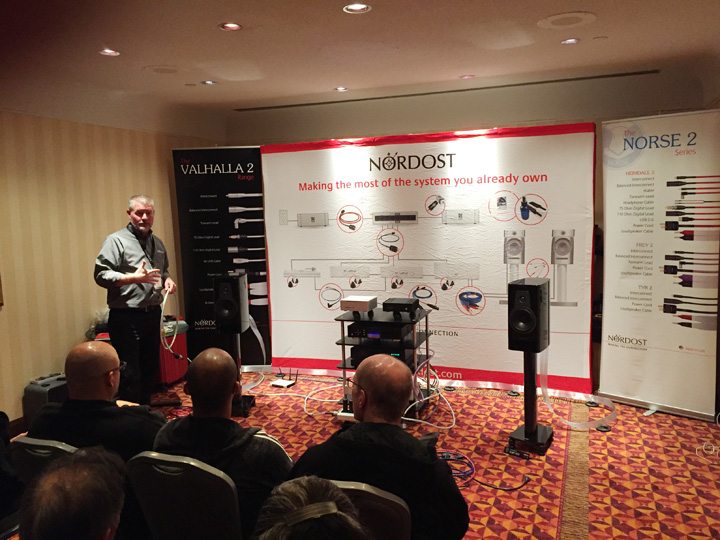 Nordost
Nordost did what they do best at hifi shows – the company ran seminars all weekend showing visitors just how dramatic an improvement high quality cables and clean power delivery can make on a music system.
When I walked in the room, Michael Taylor was doing a seminar about power cords, revealing the improvement in sound when you step up the ladder from the company's affordable Leif series all the way up to the reference Valhalla 2 series. In this particular demo, Michael was changing the cables on a CD transport but in my experience the improvement in sound is far greater when you upgrade the power cords on your amp and preamp.  Nevertheless, this was an eye-opening seminar for all participants – that's for sure.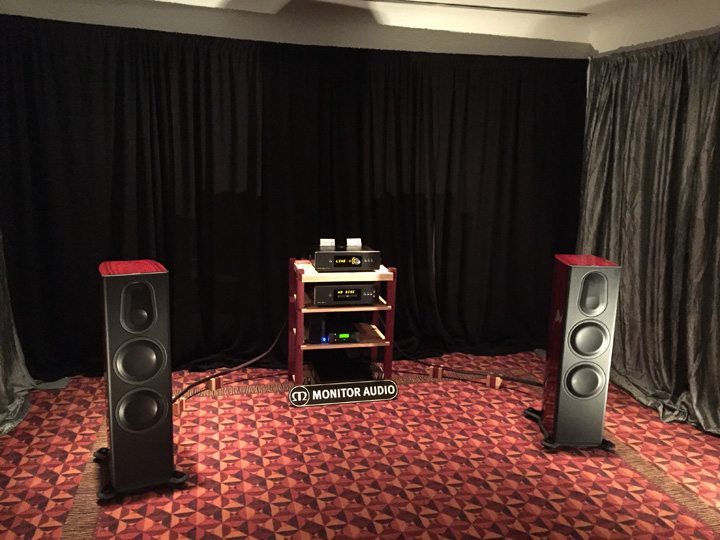 Kevro International
Sheldon Ginn of Kevro International, the distributor for Monitor Audio, Cyrus Audio and Tributaries, was delighted to introduce a new brand to his company's portfolio – the U.K.-based Roksan Audio (recently acquired by Monitor Audio).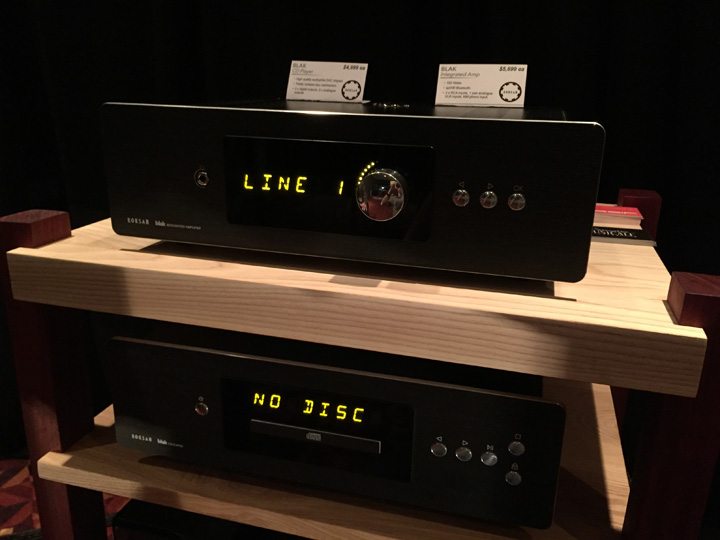 Not surprising then, at the center of the demo system was the new Roksan Blak integrated amp ($5,699) and the Roksan Blak CD Player ($4,999). The source was a Cyrus Stream XP2-QX all-in-one streamer/DAC. Flanking the electronics were the awesome Monitor Audio PL300 II loudspeakers (see our review here). This Roksan / Monitor Audio combo produced a highly detailed sound, with fantastic soundstaging and an articulate bass. The highs played with a airiness and great extension, offering all the micro details of the high frequencies.  I have long loved the sound of Monitor Audio and these speakers paired with Roksan gear sounded fantastic.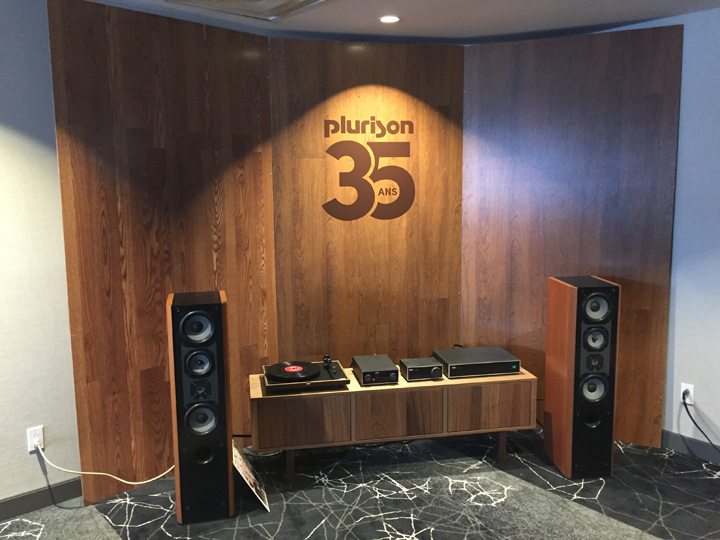 Plurison
Montreal-based Plurison is a distributor of some of the finest hifi brands in the business and this year the company assembled a massive showcase highlighting nearly all of its brands. In my opinion, this was the greatest Plurison display I've seen to date at the Montreal show.  2017 marks the 35th anniversary for Plurison.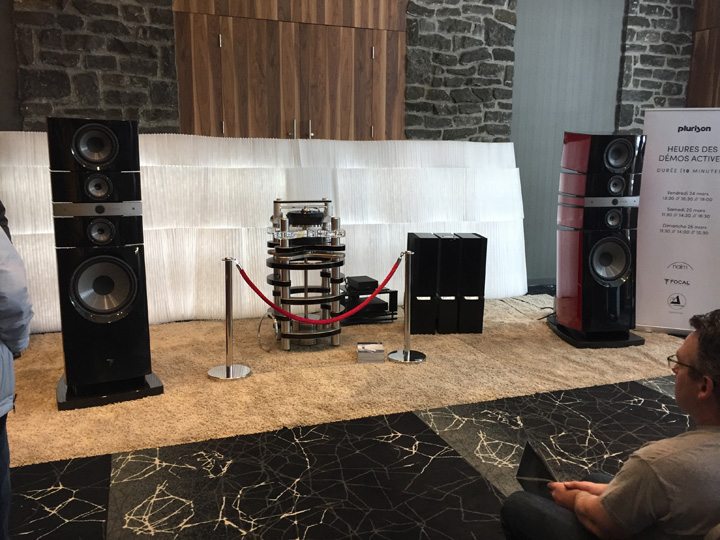 Whether money grows on trees in your garden or you earn it more traditionally, you would have been excited to listen to the exotic system anchoring this room. It was comprised of the Focal Grand Utopia speakers ($200K), the Naim Statement mono blocks and preamp ($300K), and the Clearaudio Statement turntable ($229K). The turntable design is unlike any other I've seen to date. The stand is a part of the turntable system and features a 98kg pendulum weight. When vibrations are introduced into the system, the pendulum allows the cartridge to track perfectly on the record. The platter also levitates in the air, thanks to its magnetic suspension. The sound of this system was musically stunning in every sense. The good news is that each of the three brands featured in this system offers components at real world price points that everyone that afford.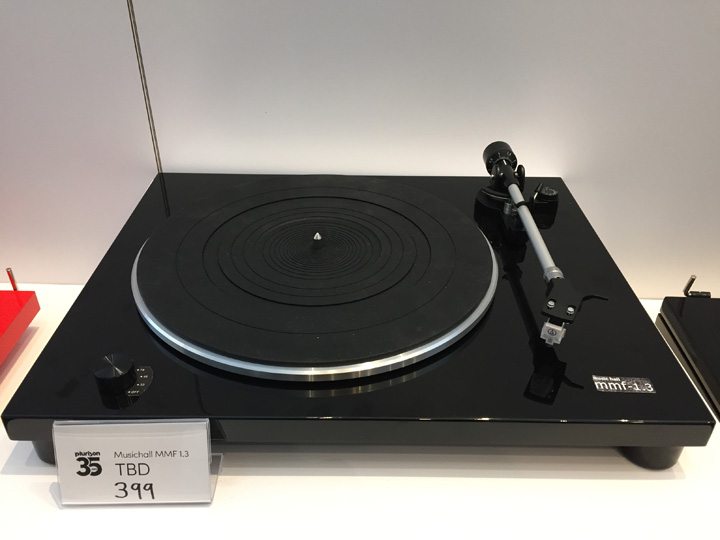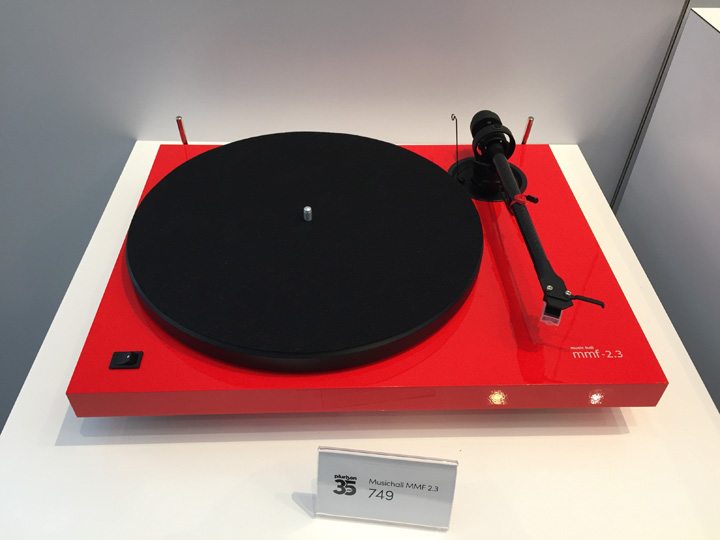 In the "down to earth" category, Plurison introduced a few new products at this year's show. Here are two new entry level turntables from Music Hall, the MMF-1.3 ($399, with built-in phono stage) and the MMF-2.3 ($749).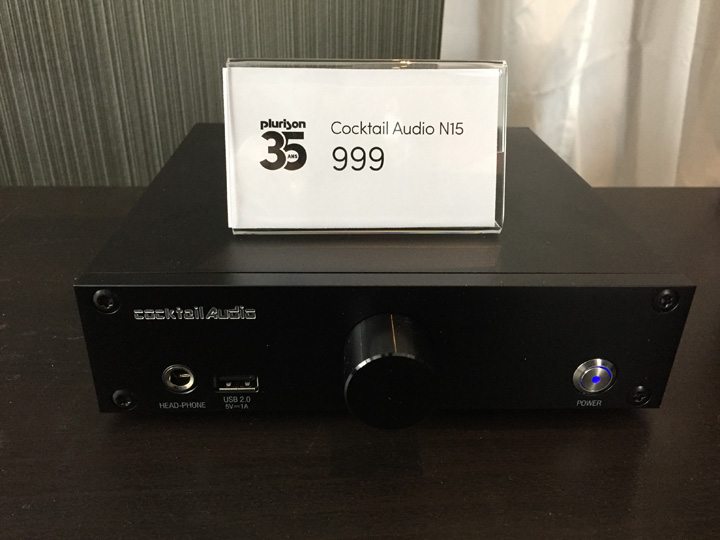 This is a new compact sized Cocktail Audio N15 network music player / server with a built-in high quality DAC. You can outfit it with a 2.5″ hard drive up to 6GB in size. Control is provided via an attractive Cocktail Audio app for your phone or tablet.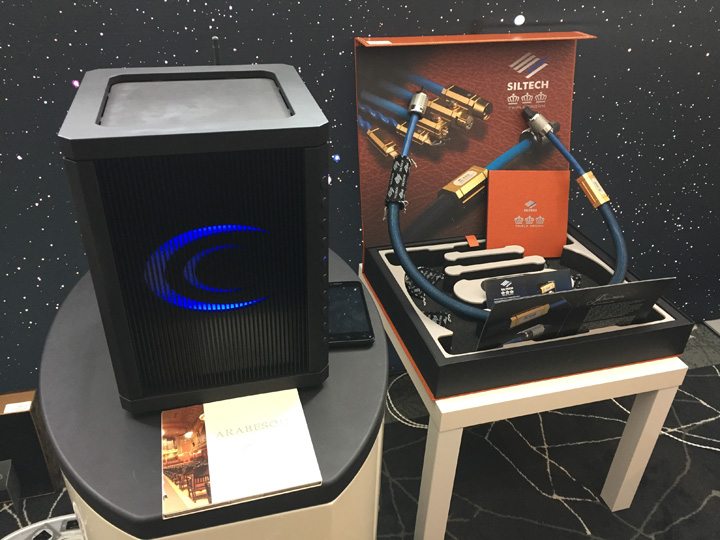 Also shown was a new high-end Crystal Cable Cube integrated amp (with built-in DAC, Bluetooth, $15K). On the right is a brand new Slitech Triple Crown power cord ($15K), constructed with silver and gold conductors.
In addition to the new introductions, Plurison offered a station devoted to each of the brands the company imports. Check out the pictures below: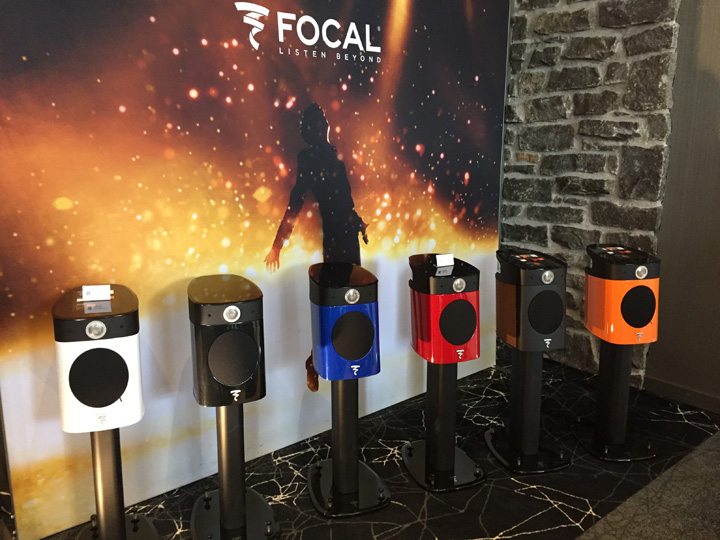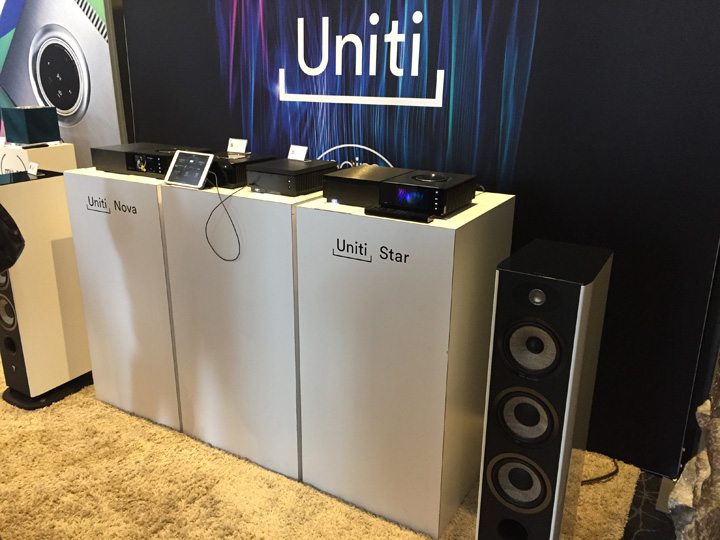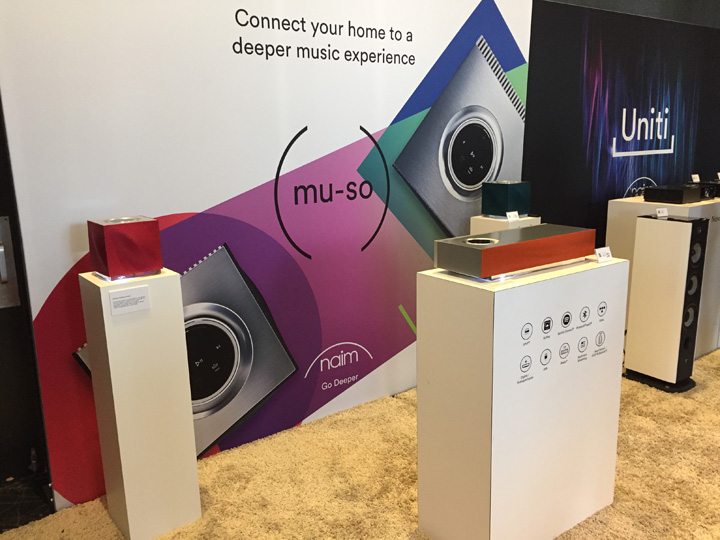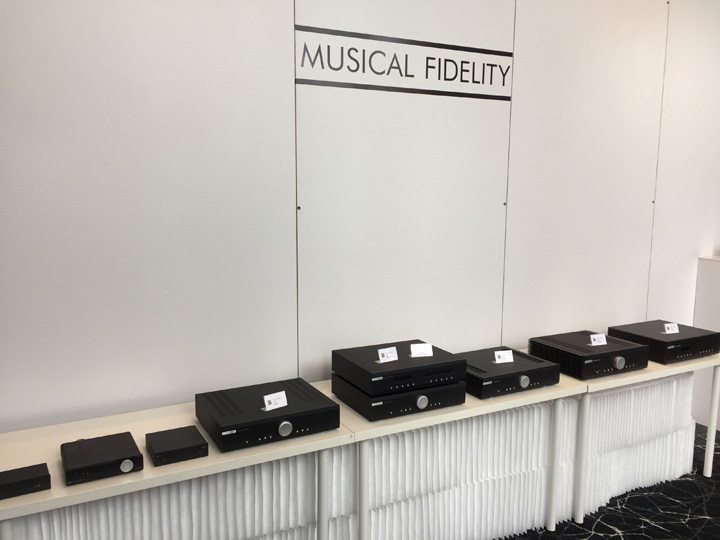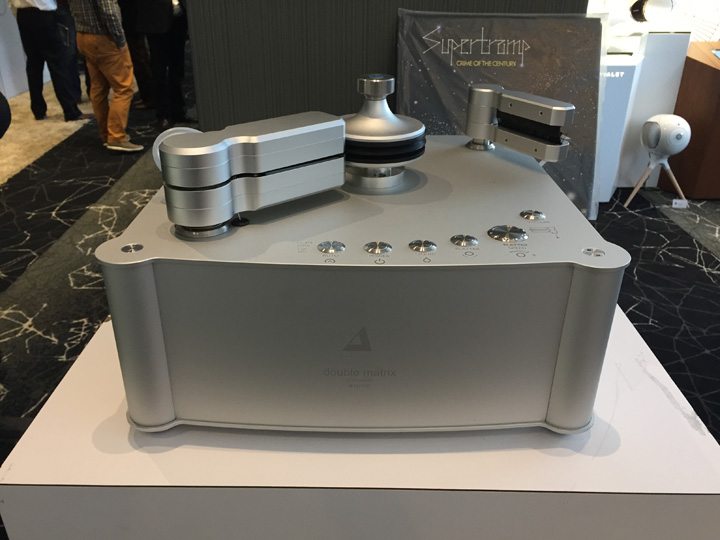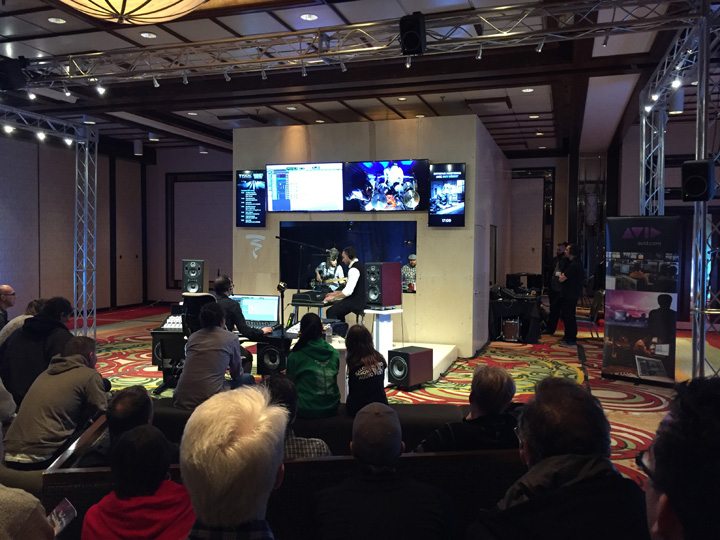 In another large room, Plurison not only showcased some of its professional audio products but also gave show attendees a chance to witness a few live recording sessions with local artists.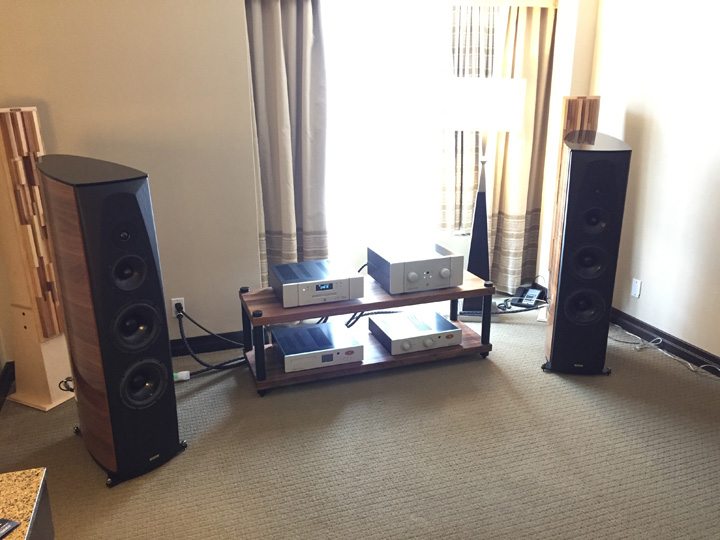 Acoustic Technologies
Montreal retailer Acoustic Technologies partnered with distributor Tri-cell Enterprises to demo a Unison Research / Opera Loudspeakers system. Inside this room, the new Opera Grand Callas tower speakers were introduced ($13,500). The electronics in play while I visited the room included the Unison Research Unico 150 integrated amp ($6,300) as well as the Unison Research Unico CD Due CD player ($6,000). The rack also displayed the Unico Primo integrated amp and the Unico CD Primo. Everything was wired up with Furutech NFC series cables. The system here painted a great big sound, with powerful dynamics, and an excellent true-to-life midrange that was perfectly blended with the highs and lows. A classical recording I heard offered a massive soundstage, while recordings with vocals were filled with emotion. I'm currently reviewing the Unico 90 integrated amp and CD Due – and loving what I'm hearing – stay tuned!
Acoustic Technologies also introduced a new Lumin server / streamer and now carries Primaluna electronics, including the Dialogue Premiere HP integrated valve amp ($5,600).
Elsewhere in the hotel, Acoustic Technologies also offered show visitors a chance to discover and purchase many other audio products and accessories from their booth.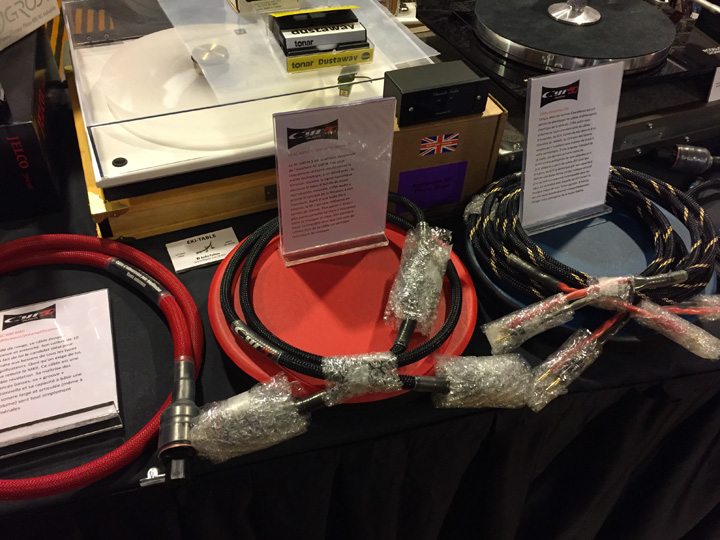 Among these was a new brand of cables called Cyr Audio made just outside of Montreal (cables range from $800-$1,400).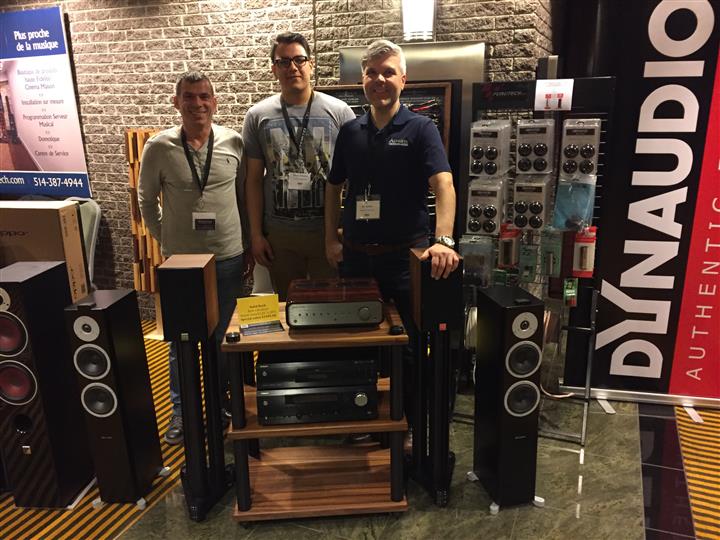 Solid Rack also introduced a gorgeous new solid walnut wood hifi stand (26″ x 18″), middle of above picture, which retails for $1,500.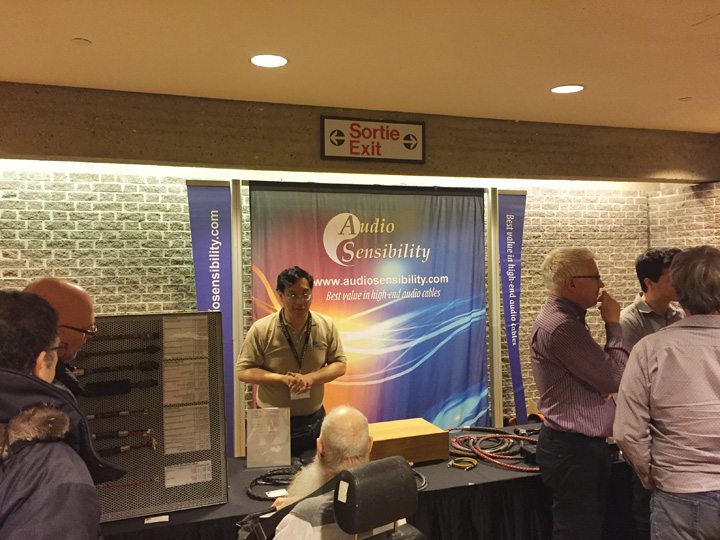 Audio Sensibility
Steven Huang of Audio Sensibility was excited to introduce a modified version of the Mundorf MA30 SG speaker (recently reviewed by NOVO) at the show. This Audio Sensibility version includes many upgrades: new cabinets, aluminum front baffles, cryogenically treated OCC copper or silver wiring, cabinet damping material, and WBT speaker posts, among others.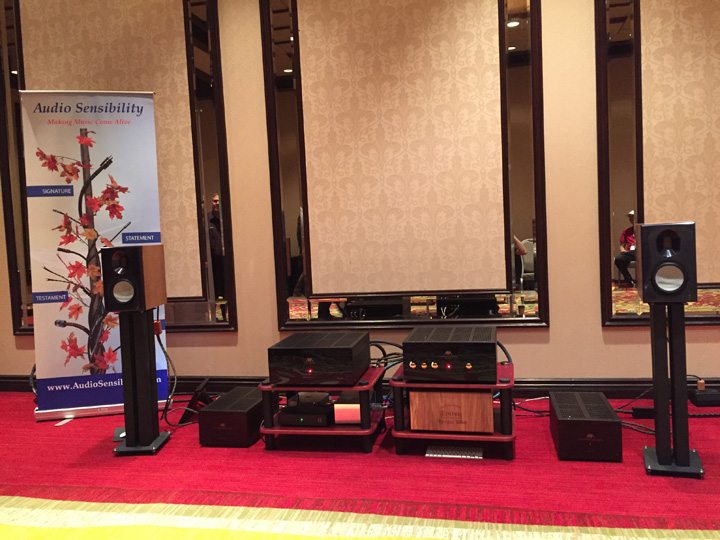 Playing together with the Mundorf speakers was an ANK Mentor amp, ANK EL34 mono blocks and ANK DAC5.1, running with a Mac mini. I had a chance to listen to a recording with acoustic guitars and vocals and found the system to produce a lush and detailed midrange.
That's it from me for this year!  Highlights from George de Sa will be posted on our site in the next few days.
Cheers – Suave Kajko –