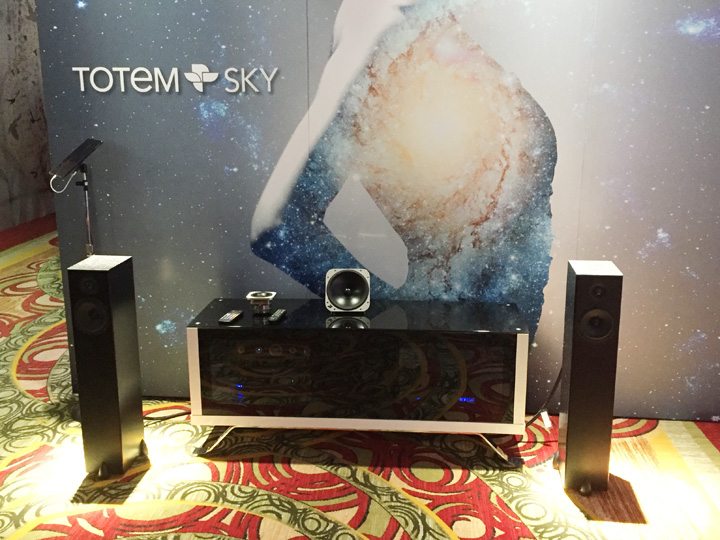 You heard it here first!  Totem Acoustic has just revealed two new loudspeakers – the Totem SKY Tower Speaker (above) and the Totem Tribe Tower Speaker (below). I saw and heard them for the first time at the Montreal Audio Fest this past weekend.  Both new models are expected to ship this summer.
Although the Totem exhibit room was very busy with conversations, I spent a few minutes listening to each of the new speakers.  The theme shared by both speakers was big sound from small speakers. The SKY tower joins the SKY monitor (launched at the TAVES Consumer Electronics Show last fall) and features the same technology but this time around in a compact floor standing design. A quick listen to the SKY tower revealed a sweet, natural midrange and an impressively large, dynamic sound. The amount of bass from these speakers is sure to surprise just about everyone.
The Totem Tribe tower on the other hand is based on the superb technology found in the Tribe series of products and includes Totem's exclusive Torrent drivers. The sound here was even bigger and more dynamic, while offering a luscious midrange and excellent low frequency punch. It's design lines and white glossy finish make it one gorgeous looking speaker.
Both speakers are so new that they're not even on the company's website yet but stay tuned for more details as they become available!
In the meantime, to learn more about Totem, check out www.totemacoustic.com