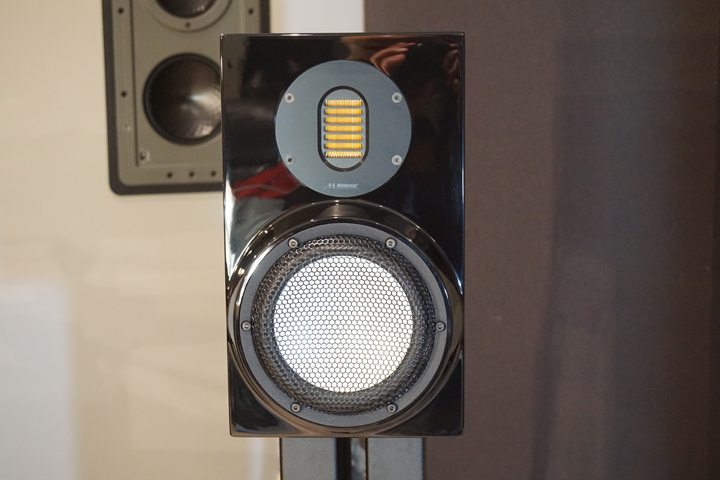 Mundorf and Accuton are two revered audio product companies, both having their start in Cologne, Germany in 1985.  In 2015, to celebrate their 30th anniversaries, the two companies collaborated on a new speaker kit – the Mundorf MA30 Custom Made Speaker Kit.  If that wasn't enough, they looped in another venerable German audio product company, WBT, to provide its latest top-rate terminal plate and posts to this kit as an optional but recommended add-on.
Hearing the term "kit" might make you think Do-It-Yourself (DIY) but the MA30 Custom Made Speaker Kit, is no ordinary DIY speaker kit.  Rather than just a blueprint and bag of parts, Mundorf and Accuton, have put together an optimized speaker solution, which includes pre-built crossovers, optimally paired drivers, as well as optional wire-kit and terminal plate / binding-post choices.  Taking this further, the Canadian distributor and U.S. dealer AuDIYo Inc. offers the MA30 as a fully assembled and finished speaker product – no assembly required; while leaving the option to those so inclined, to order the unassembled kit.  Even unassembled, given the pre-built components, the MA30 kit demands only a modest level of skill for assembly, requiring only a screw driver (soldering is not required).
For this review, AuDIYo Inc. supplied me with a fully built MA30 SilverGold (SG) Series two-way standmount loudspeaker.  This speaker had optional Mundorf solid core OCC wires and a Mundorf terminal plate with five-way binding posts.  The Mundorf SG Series aims to deliver a most satisfying soundstage along with a full palate of harmonic colors.
To ensure optimal performance, the MA30 SG is assembled in a high-quality MDF cabinet built by an industrial cabinet maker, according to Mundorf / Accuton's specific design specifications.  The cabinet uses an extended front baffle (18mm/0.71") for the woofer to time-align the drivers.  A rear chimney port is found on the back, satisfying Accuton driver requirements.  Finishes available are gloss white and gloss black.  The review sample was in gloss black and the finish was of a high standard.
The MA30 SG speaker pairs Mundorf's pneumatic Air Motion Tweeter (AMT) – the AMT19CM1.1 with Accuton's ceramic mid-woofer, the 6.25" C158-8-085, outfitted with a titanium voicecoil former.  These drivers were chosen to maximize performance value, without musical compromise.  The Mundorf crossover is massive, making up a good chunk of the total weight of the speaker and is definitely a highlight of this speaker.  The layout avoids any parallel components and allows for bi-wiring / bi-amping hookups.  It crosses at 3450Hz, with 1st order hi-pass/low-pass 6dB notch filters that ensure a linear response.  Mundorf has incorporated their all-time best MCap capacitor – the MCap Supreme EVO SilverGold Oil in the MA30 SG Series, which the company holds to deliver the highest music performance, detailed staging, color and texture ever delivered.  Specifications are simply stated as 48 to 30,000 Hz frequency range with high-efficiency.  Looking up the drivers, the tweeter is nominal 8Ω / 91dB@2.83V, while the mid-bass is 7.8Ω / 89dB@2.83V.
Placement is most essential with the MA30, more so than I've found with other similar sized standmount loudspeakers.  Sitting the MA30 speakers on my Target stands, I started listening to them in the normal spot I have my KEF LS50 and Focal 1008Be speakers.  Things weren't working to my liking, even after allowing my ears to acclimate.  Reviewing the Mundorf brochure materials, I found Mundorf provides specific instructions on placement, which involved moving the MA30 speakers to within 24″ of the back-wall; 8.2' apart; with 9.8' between my listening seat and the line of their front baffle plane and; with tweeters just off axis (i.e. pointed to the outside of my shoulders).  The result of this attention to placement was a significantly improved soundstage size and bass response.  Lesson learned, follow the directions with these speakers.
I typically use my Nordost Heimdall 2 speaker cables but AuDIYo Inc. provided me with Zavfino 1877Phono cables to experiment with; their Prima-OCC speaker cables and a Fina power cable.  The Zavfino Fina power cable on my MOON by Simaudio 280D DAC yielded greater dynamics and realism to my pleasant surprise.  And, overall, the Zavfino 1877Phono cables demonstrated greater synergy with the MA30 speakers – fuller and more musicality; hence, they stayed in for the balance of this review.