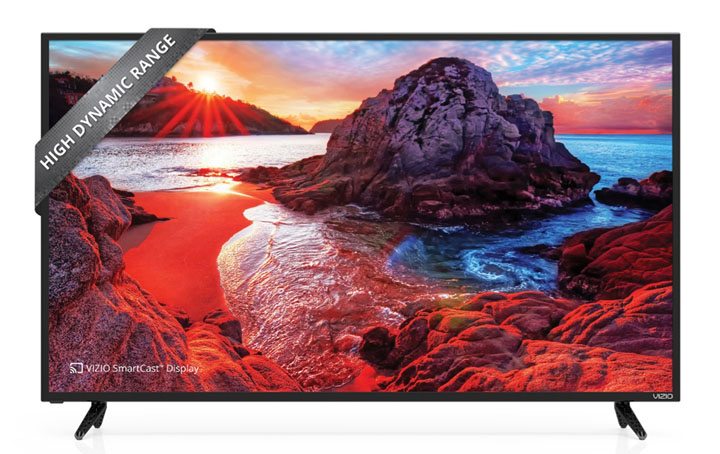 VIZIO's new D-Series models offer value-minded consumers a wide array of picture quality options, including HD, Full HD and 4K Ultra HD in select models. The D-Series smart TVs feature VIZIO Internet Apps Plus for simple access to stream TV shows and movies from Netflix, iHeartRadio, Xumo and other popular apps. The 2017 D-Series collection is available now on VIZIO.com and coming soon to retailers. Models range in price from $139.99 for the 24" models, to $899.99 for the 65" model.
The 2017 D-Series collection offers superior picture quality thanks to full-array LED backlighting which provides advanced LED control for superior light uniformity and enhanced contrast when compared to edge-lit TVs. Up to 12 Active LED Zones in the full-array LED models dynamically adjust to match the light and dark portions of on-screen content, resulting in brighter whites and deeper, black levels. Sports and action fans will appreciate the image processing benefits of Clear Action 180 with 120Hz effective refresh rate achieved with backlight scanning for sharper detail in quick-moving action scenes. Select VIZIO D-Series models support 4K Ultra HD resolution, for four times more detail and clarity in every image compared to 1080p Full HD.
Additionally, 4K Ultra HD models support the latest HDMI standards, enabling Ultra HD playback from Ultra HD Blu-ray players, gaming consoles, and next generation cable and satellite receivers.
Equipped with VIZIO Internet Apps Plus, the D-Series collection provides consumers with easy access to the hottest movies, TV shows, music and more. Popular apps such as Netflix, iHeartRadio, Xumo and more are all accessible via the on-screen app dock. High-quality streaming on 4K Ultra HD models is possible thanks to built-in V8 octa-core processor, HEVC decoding and the latest ultra-fast WiFi standard, 802.11ac dual-band WiFi.
Pricing for each model is as follows:
VIZIO D-Series 24" LED Smart TV (D24h-E1) MSRP $139.99
VIZIO D-Series 32" Full-Array LED Smart TV (D32f-E1) MSRP $199.99
VIZIO D-Series 39" Full-Array LED Smart TV (D39f-E1) MSRP $299.99
VIZIO D-Series 40" Full-Array LED Smart TV (D40-E1) MSRP $319.99
VIZIO D-Series 43" Full-Array LED Smart TV (D43f-E1) MSRP $349.99
VIZIO D-Series 43" Ultra HD Full-Array LED Smart TV (D43-E2) MSRP $419.99
VIZIO D-Series 48" Full-Array LED Smart TV (D48f-E0) MSRP $399.99
VIZIO D-Series 50" Full-Array LED Smart TV (D50f-E1) MSRP $419.99
VIZIO D-Series 50" Ultra HD Full-Array LED Smart TV (D50-E1) MSRP $499.99
VIZIO D-Series 55" Full-Array LED Smart TV (D55f-E0) MSRP $479.99
VIZIO D-Series 55" Ultra HD Full-Array LED Smart TV (D55-E0) MSRP $569.99
VIZIO D-Series 65" Ultra HD Full-Array LED Smart TV (D65-E0) MSRP $899.99