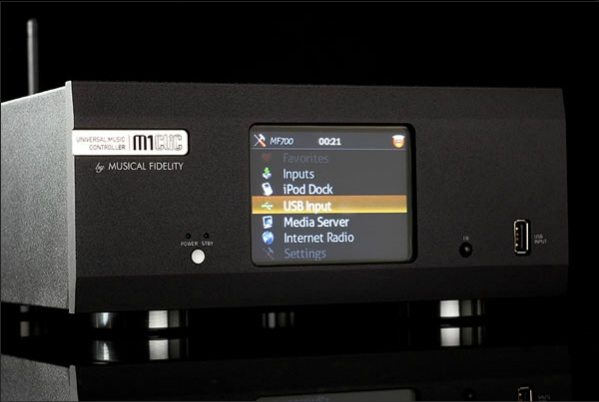 Musical Fidelity will continue to define and refine its new range of products with the introduction of a revised and improved, version II, V-series as well as new models in the M-series. 
Following the launch of the M1-series' DAC, HPA headphone amp, and recently-introduced M1ViNL phono M1CLiC network music player, Musical Fidelity will introduce the innovative new M1PWR 60wpc stereo power amplifier at the upcoming CES. This new amp featuers a new Musical Fidelity-designed topology that doubles its power into 4 ohms and has the ability to be switched to act as a 100w mono amplifier. In the Musical Fidelity tradition of excellence, it provides compelling sonics, fantastic measured performance, and exceptional value.
The new V-LINK192 24/192 USB>S/PDIF AES/EBU converter has been in development for some time and features a proprietary asynchronous circuit developed in house by Musical Fidelity. Outputs are available on either S/PDIF RCA or AES/EBU XLR and are galvanically isolated. LEDs illuminate to indicate incoming sample frequency, with different LED colors for higher sample frequencies.   V-LINK192 works without the need for drivers on current Mac OSX machines, and drivers are supplied for use with Windows machines.
Introducing Amarra HiFi for Musical Fidelity 
Tempo, North American importer for Musical Fidelity, has partnered with Sonic Studio to offer a special version of their Amarra playback software, called Amarra HiFi, that will now be included with the purchase of all Musical Fidelity DACs and USB converters.
Recently awarded Stereophile Magazine's Computer Audio Component of the Year for 2011, Amarra software integrates Sonic Studio's performance-enhancing professional audio engine used by mastering engineers in the publication of millions of CDs with Apple's iTunes music player software.
The company feels that the combination of iTunes' ubiquitous and elegant interface and the power of Amarra's software will allow owners of Musical Fidelity DACs and USB converters access to the best and most compelling experience we can offer by heightening retrieval of spacial cues, improving depth and detail, by delivering more natural textures and tonal color, thereby allowing computer-based music to come through the way it should.
For more info, please visit www.musicalfidelity.com.