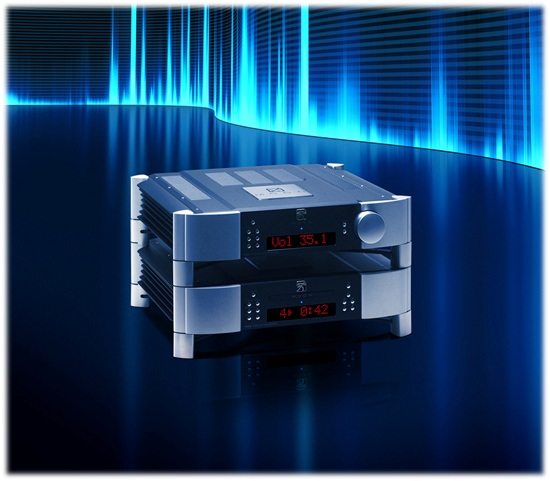 Canadian manufacturer Simaudio is set to introduce three new components to its MOON series at the CES this week in Las Vegas.  These will include the MOON 180 MiND Music Streamer, the MOON 810LP Phono Preamplifier and the MOON 380D Digital-to-Analog Converter.
MOON 180 MiND Music Streamer
MiND, an acronym for MOON intelligent Network Device, allows you to stream digitally stored music from a computer, Network Attached Storage (NAS) device, the internet, subscriber-based music services or a UPnP (Universal Plug and Play) enabled device to your audio system. Ultimately, MiND provides a simple means for efficient access to large collections of music, as well as the ability to organize the music to your own preferences. The included control software app can operate on an Apple iPhone, iTouch, iPad or any Android-powered device.
The MOON MiND can stream music either through a standard Ethernet connection or wirelessly over a Wi-Fi network. Digital music files in all common formats are supported up to 24-bit/192kHz resolution, however a 16-bit/48kHz limit exists when streaming wirelessly between the location of your digitally stored music and the MiND. A jitter-free digital audio signal departs from the MiND streamer via any one of its three different digital outputs which is connected to a digital-to-analog-converter. Finally, if your audio system uses a MOON Preamplifier or Integrated Amplifier equipped with SimLink capability, you can control features such as input selection, volume and power on/off using the MiND control app; Ultimately your iPad, iPhone or Android-powered device can become your system's remote control.
The MiND technology will initially be available in the stand-alone MOON 180 MiND. Eventually it will become available as an optional module that can be incorporated into future MOON products, starting with the all new MOON 380D Digital-to-Analog Converter.
Significant Design Features:
Allows local playlists, gapless playback and silent track scanning
Provides for Zone selection, Zone grouping and permanent Zone naming
Support for DLNA 1.5
vTuner Internet Radio
Supported file formats: WAV (PCM), FLAC, FLAC HD, AIF, AAC, ALAC, MP3, WMA-9 and OGG Vorbis
S/PDIF (RCA), AES/EBU (XLR), and Optical (Toslink) digital audio outputs
Wired network interface via 100 Base-T RJ45 Ethernet
Wireless network interface via IEEE 802.11 b/g/n Wi-Fi with WEP, WPA and WPA2 encryption support
SimLink controller port allows for 2-way communications between other compatible MOON components
The MOON 180 MiND will be available in April 2012 with an MSRP $1,250.00 USD.
MOON 810LP Phono Preamplifier
A dual-mono fully balanced differential design, the 810LP is our "all out assault" on phono preamplification. This achievement is the result of combining customized parts in an ultra-refined audio circuit which is mounted on a floating suspension and fed by a unique power supply. Its highly configurable nature – selectable gain, impedance loading, capacitance loading and equalization curves – is accomplished using DIP switches found on the bottom panel. The switches are located directly in line with the circuit at optimal locations to yield the shortest possible signal path. These adjustments, in conjunction with an excellent overload margin, allow the MOON 810LP to work with virtually any available phono cartridge.
The oversized power supply, located within the main chassis, is housed in an isolated enclosure that is constructed from satin coated 14-gauge steel to eliminate all traces of AC artifacts. Within this enclosure is a high quality toroidal transformer, a "pi-type" filter to reduce AC transmission noise and multiple stages of voltage regulation. Finally, on the actual audio circuit, there are 4 stages of M-LoVo – an all new proprietary MOON low voltage DC regulation circuit. Combining all of these factors, the MOON 810LP's power supply exceeds the performance of a battery power supply with respect to both audio signal-to-noise ratio and voltage regulation.
Significant Design Features:
The dedicated audio circuit board is mounted on a 5-point gel-based floating suspension which is derived from our font>M-Octave technology, originally developed for the reference MOON 850P Preamplifier.
4 stages of our newly developed M-LoVo MOON low voltage DC regulation circuit; a highly sophisticated circuit made up of a clever combination of IC's and discrete parts that is virtually free of noise, yielding an exceptionally fast, precise, and stable DC voltage. The result is a power supply with a noise floor of -150dB related to 1.0V, DC – 100kHz.
Adjustable impedance loading – 64 available settings from 12.1? to 47k?
Adjustable capacitance loading – 16 available settings from 0pF to 1120pF
Adjustable gain settings – 16 available settings from 40dB to 70dB
Selectable equalization curves for both the RIAA and the IEC standards
Power supply voltage regulation includes i²DCf (Independant Inductive DC Filtering); There is one inductor dedicated to each integrated circuit type component (DAC, Op-Amp, etc.) in the audio circuit's signal path – 24 stages in all
Customized parts include metallized polypropylene film capacitors with very tight tolerances of 1%
Four-layer PCB tracings with dedicated ground and power planes using pure copper for low impedance characteristics. The advantages include better circuit layouts resulting in a much shorter signal path and a vastly improved signal-to-noise ratio
Power supply featuring a "pi-type" filter comprised of 35,200uF of capacitance and dual choke inductance (2x 200mH)
Accurate matching of the very finest quality electronic components in a symmetrical circuit design
The shortest possible signal path for a faster transient response and the lowest possible noise floor.
The MOON 810LP will be available in February 2012 with an MSRP $12,000.00 USD.
MOON 380D Digital-to-Analog Converter
Designed around Simaudio's M-AJiC32 circuitry (an asynchronous jitter elimination system) performing in true 32-bit fully asynchronous mode, the MOON 380D features the ESS SABREP32P Ultra DAC operating in 32-bit Hyperstream where the conversion process uses an astonishing 8 DAC's per channel. Raising the bar further, there are eight (8) digital inputs covering the full gamut of connections – AES/EBU on XLR (2), S/PDIF on RCA (2), S/PDIF on BNC (1), Optical (2) and USB (1). All of these inputs can accept a signal up to 24-bit/192kHz resolution. Finally, we've included both a full digital monitor loop (S/PDIF) to accommodate external devices such as a room correction component, as well as one S/PDIF digital output.
Enhancing this Digital-to-Analog Converter are two (2) separate options; (i) The MOON MiND music streamer module which is actually a digital 9th input via WiFi or Ethernet connection, and (ii) a high quality remote-controlled volume circuit feeding both balanced (XLR) and single-ended (RCA) analog outputs. The MOON 380D is targeted at individuals with computer-based audio setups, large digital music collections or multiple digital sources.
Significant Design Features:
True 32-bit Digital-to-Analog converter using ESS Technology SABRE32 Ultra DAC / Digital Filter (ES9016) working in 32-bit Hyperstream to achieve unprecedented jitter immunity and low-level linearity via a patented Time Domain Jitter Eliminator
Digital Audio Signal Processing using M-AJiC32 (MOON Asynchronous Jitter Control in 32-bit mode)
A virtually jitter-free "1 picosecond" digital clocking system
Optional MiND (MOON intelligent Network Device) module (9th input) via WiFi or Ethernet input for multi-room streaming
Optional variable analog outputs (balanced & single-ended) using M-eVOL volume circuit which was originally developed for the MOON Evolution series. Accessible using the remote control, this volume operates in 0.5dB increments. M-eVOL is based on a resistive array configuration with no sonic degradation of the audio signal regardless of the chosen volume setting
The entire analog stage is a fully balanced differential circuit for increased dynamic range and headroom, higher resolution, as well as improved signal-to-noise ratio.
A very short signal path using a DC servo circuit and proprietary 12dB/octave analog filter
Separate digital & analog power supplies using 2 independant toroidal transformers with 11 stages of voltage regulation
Four-layer PCB tracings for a dramatically improved signal-to-noise ratio
RS-232 port for (i) full unsolicited bidirectional feedback and (ii) firmware updates
12 Volt trigger outputs for remote operation and IR input for external control
SimLink controller port allows for 2-way communications between other compatible MOON components
The MOON 380D will be available in April 2012 with an MSRP $3,900.00 USD for the base version;  add $600.00 for variable analog outputs;  add $1,200.00 for the MOON MiND streamer.
For more info, please check out www.simaudio.com.