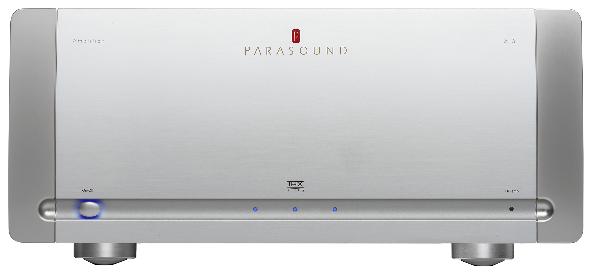 Parasound has just added a new three-channel power amplifier to its stable of Halo products. The new Halo A 31 three-channel, 250 wpc, THX Ultra2 certified amplifier is sonically identical to the company's current five channel Halo A 51 and two channel Halo A 21 amplifiers.
The A 31 was developed for those seeking matched amplification across the three front channels in a multi-channel / home theatre setup. With renewed interest in high end two channel and a growing interest in home theatre, the A 31 is a product that bridges these two demands – essentially a two birds with one stone product.
The Parasound Halo A 31 provides high-bias Class A/AB operation with pure Class A operation up to 7 watts per channel. It easily delivers 250 watts per channel into 8 ohms and 400 watts into 4 ohms, all channels driven. XLR balanced inputs are provided for a low noise floor connection and alternative to the RCA single-ended inputs. Parasound's traditional Halo topology employs matched pairs of complementary JFETs for its input-pre-driver stages, matched pairs of complementary MOSFETs in its driver stages and 8 beta-matched 15 amp, 60 MHz bipolar output transistors for each channel.
The A 31 is direct coupled, and uses no capacitors or inductors in signal path with full power output down to 5 Hz. The loudspeakers are connected via heavy-duty 24k gold-plated five-way speaker terminals, and each is relay protected.
The power supply consists of a 1.35kVA encapsulated toroid power transformer with independent secondary windings for each channel. Power stability is maintained by four premium power-supply filter capacitors per channel totaling 94,000µF, and protected by DC servos and relay protection circuits.
The Parasound A 31 provides a gain control for each channel offering ±6db relative to THX reference level. This enables the A 31 to play louder in very large rooms and facilitates level matching with other amplifiers. Other features include: auto turn-on options by an audio signal with a threshold adjust or a 12v trigger with input and loop out jacks plus indicators for AC power, channel status, and high temperature. The heavy-duty 4u chassis has rear carry handles, and an included rack-mounting adaptor. The front panel is anodized aluminum.
The Parasound Halo A 31 will be available in April at a MSRP of $3,000 U.S. Look for more information at: www.parasound.com.