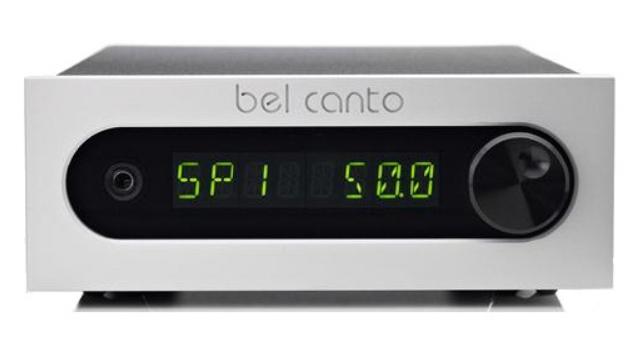 Bel Canto Design, Ltd., will be exhibiting at 2012 CES and showcasing a number of new products:
C7R DAC Integrated Receiver
Bel Canto's compact, powerful C7R DAC Integrated Receiver. The C7R is loaded with inputs including two 24/192 SPDIF, two 24/192 TOSLINK, one 24/96 USB, MM Phono and Analog Line Level. Output connections are WBT NEXTGEN Speaker Connectors, RCA Line Out plus headphone jack. The REF150S-based power supply includes the REF-series filter board. MSRP of $2,995 U.S.
Debuting the e.One DAC3.5VB MK II
The DAC 3.5VB MK II upgrade includes an improved analog supply that better isolates the PCM1792 converter and a new, low-phase-noise main clock oscillator. These upgrades are purported to reduce the already low noise of the DAC3.5VB/VBS1 delivering an even more engaging, musical and communicative sound. The MK II REF DAC Control System with REF cable has a MSRP of $5,895 U.S.
CD3t Front-Loading Transport
The elegant, matching front-loading CD3t Transport features a high-reliability slot-loading mechanism. It's fitted with AES/EBU and SPDIF (BNC/RCA) reclocked digital outputs and low-jitter architecture. There's also a 3.5mm IR control input and a sharp, bright 4-character display with six push-button controls. The remote has a comprehensive set of control features not available on the front panel and operates other Bel Canto products too. An efficient low-noise power supply uses a mere 3 watts in operation and the eco-friendly CD3t enters an ultra-low power 0.5W Sleep Mode after an hour of no activity. MSRP of $1495 U.S.
The 24/192 Asynchronous uLink
The new uLink offers an async high-speed USB-to-digital audio interface for computer music files that provides a low-jitter, low-noise electrical environment that's isolated from AC noise. Digital outputs include Coaxial SPDIF, AES/EBU, and ST Fiber with Bel Canto Light Link circuitry. The uLink does 24/192 on all outputs. The uLink works with Apple Macintosh and Windows PC computers and ships in about a month at a MSRP of $795 U.S.
Bel Canto will be showcasing three separate systems at CES 2012.
Look for more information at: www.belcantodesign.com