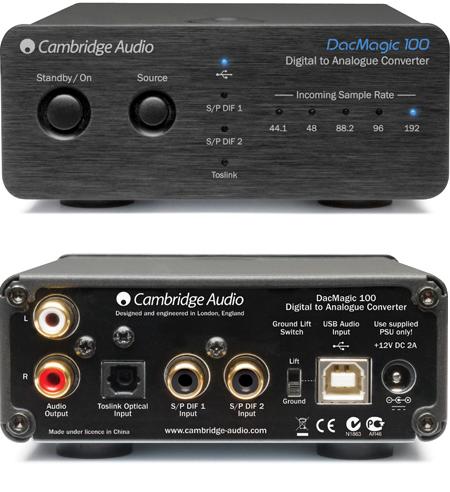 Cambridge Audio is reported to be launching their replacement for the original DacMagic DAC at this year's CES 2012.
The new DacMagic 100 is housed in a smaller case then the original DacMagic and the recently released DacMagic Plus. The DacMagic 100 is equipped with Cambridge Audio's latest USB audio input which allows studio master, uncompressed 24-bit/192kHz files to be played back from any Windows or Apple computer, plus three additional digital connections (1 X optical Toslink, 2 X S/P DIF coaxial).
The new DacMagic 100 has been specifically designed to partner with digital iPad and iPhone docks, such as the Cambridge Audio iD100.
Features:
• New Wolfson WM8742 24-bit DAC
• New 24-bit/96kHz driverless USB audio input – or up to 24-bit/192kHz using the free Cambridge Audio driver available from the company's website
• Three digital inputs: one optical, two coaxial
• RCA analogue phono outputs
• Incoming sampling rate indicator for 32/44.1/48/88.2/96/192kHz
• Full metal chassis and wraparound casework with aluminium front panel
The new DacMagic 100 is expected to become available in the U.K. in late February at a MSRP of £199.95. Information on a North American release and pricing is expected to be made available at CES 2012.
Look for more details at: www.cambridgeaudio.com.