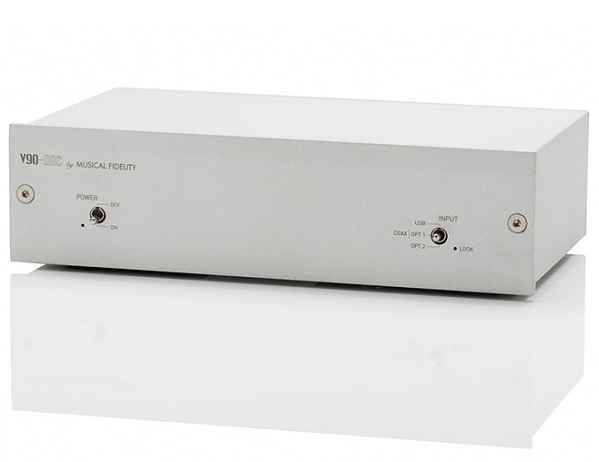 Musical Fidelity has just release a new budget, no-frills, performance-focused digtial-to-analog convertor – their V90-DAC.  The V90-DAC is small and compact to reduce costs on materials and shipping and put more of the cost into raising performance.  Muscial Fidelity claims that the componentry on the V90-DAC's pcb is no different to the heart of any state-of-the-art DAC other than a greater focus being put on efficiency of space used for the internal components in the V90-DAC.
The V90-DAC has inputs for coax, 2 x optical and USB (24bit 96kHz Asynchronous) and will accept 24-bits and 192kHz, with all inputs upsampled to 192kHz.  The specifications on the new V90-DAC demonstrate state-of-the-art technology application, as follows:
– Jitter is about 12pps;
– S/N ratio is -116dB ('A' weighted);
– Linearity is +0.2dB at -116dB;
– Stereo separation is -104dB at 1kHz;
– Flat frequency response; and
– Distortion is 0.00025% at 1kHz and 0.0003% at 20kHz.
The V90-DAC has beautiful looks and has excellent build quality. The front panel and cover are custom made fine line extrusions. The finish is crystal bead shot blast, fine texture moonstone. The overall fit and finish gives the impression of an expensive high-end product.
The V90-DAC is modestly priced with a UK retails price of £199.  North American pricing and availability is yet to be announced.  Look for more details to be shared at: www.musicalfidelity.com