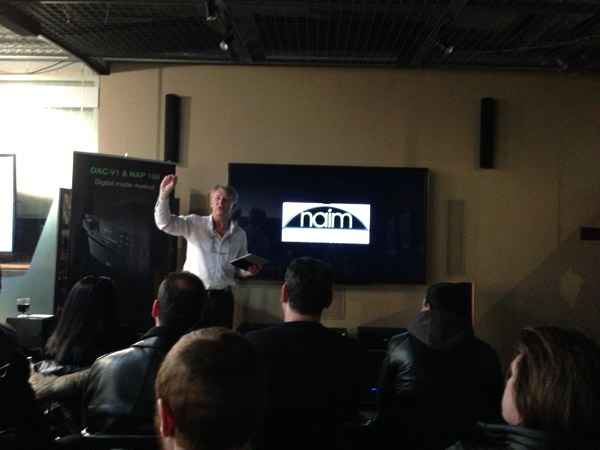 If someone asked you to predict the future of hi-fi a few years ago, would you be able to guess exactly what we would have today?  You might be able to predict some things but probably not everything.  Technology continues to advance at such a staggering pace that often it's difficult to foresee what's around the corner, never mind a few years later.  Luckily for music listeners, there are a few forward thinking audio companies that apply the latest technology and continue to transform the way we listen to music.  One of those companies is UK's Naim Audio.
Yesterday evening I had the pleasure of attending a Naim Audio product launch, open to public and media, at Bay Bloor Radio, in Toronto, Ontario.  Doug Graham, product specialist from Naim's Salisbury headquarters in the UK, led a one hour presentation during which attendees had the opportunity to discover how a Naim Audio system can revolutionize the way we listen to music at home.  During the presentation, two new Naim Audio products were also introduced – the DAC-V1 digital to analog converter and the NAP 100 power amplifier.
The music system on demonstration consisted of the Naim Audio NAC-N 172 XS preamplifier ($3,400), the NAP 200 2-channel, 80 watt-per-channel amplifier ($3,500) and the NS01 music server (a custom installer equivalent of the consumer UnitiServe music server).  The speakers used were the Sonus Faber Cremona ($11,000).  Doug started by explaining how the Naim system works, allowing you to rip CDs to the music server's hard disk at the highest possible quality and then playing them back using a tablet or smartphone (the Naim app is available for iOS devices, an Android version is in the works).  Once your music is stored on the Naim music server it is delightfully easy to access and control using the Naim app.  The app allows you to select music by artist, song title and album, and it lets you create playlists just like you would when using a computer, except all from the comfort of a tablet or smartphone.  It displays album art and record-style liner notes which include artist information, lyrics, pictures, etc.  One of my favourite features of the app is that it can help to expand your music horizons by suggesting other similar artists to the ones that are already in your music collection.  During the presentation Doug also played various music selections and allowed the audience to make comparisons between various qualities of digital music files, ripped in various formats/bit rates.   The sound from the Naim Audio components, combined with the Sonus Faber speakers, was amazingly engaging – offering a tremendously large soundstage, micro details, a full bodied bass, and a wonderfully balanced sound across all the frequencies.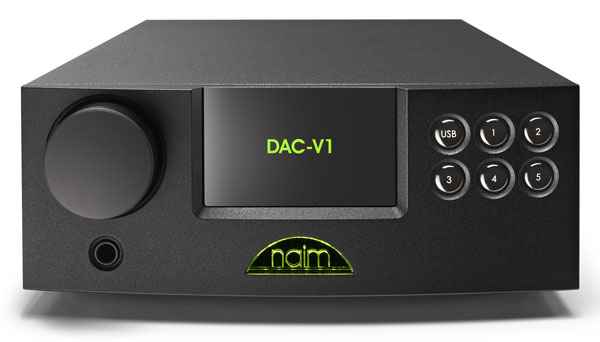 Toward the end of the session, Doug introduced us to the two new components from Naim Audio.  The big news about the DAC-V1 digital to analog converter ($2,400) is that it offers an asynchronous USB input which means that it is capable of taking the digital audio signal from the connected computer and re-clocking it to make it sound the very best that it can (computers inherently have a terrible clocking inconsistency when it comes to sending audio via USB).  The DAC-V1 uses the same Burr Brown PCM1791A DACs found in the company's NDX and SuperUniti components.  It can playback files with a resolution of up to 384 kHz/24-bit from both MAC and PC computers.  The DAC-V1 has a very high quality Class-A headphone amp built-in, capable of driving the most demanding of headphones, and offers a high quality volume dial.  In addition to the USB input, the DAC-V1 offers five other digital inputs, all of which can be custom-named by the user.  Outputs include one Naim proprietary DIN and one pair of unbalanced RCA.  The DAC-V1's OLED display allows for adjusting settings and checking of incoming bit-rates.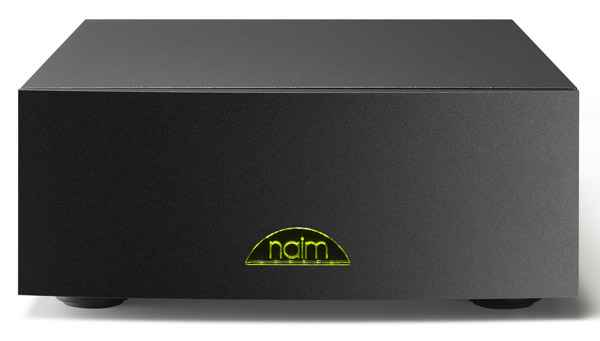 The NAP 100 ($1,200) is a matching 2-channel, discrete power amplifier offering 50 watts of power per channel.  It features a dual mono design, audiophile grade components we've come to expect from Naim and a linear power supply with a large toroidal transformer.  It is Naim Audio's most affordable amplifier to date.  In addition to Naim's proprietary DIN input, it also offers an unbalanced RCA input which allows for the connection of other brands of preamps.
I enjoyed myself very much at this event – thanks to the engaging demonstration and the laid back atmosphere.  I was glad to learn when Danu Mandlsohn and Richard Bowden of Bay Bloor Radio said that they plan to hold more events such as this at the store in the next few months.
For more info, please visit www.naimaudio.com and www.baybloorradio.com.