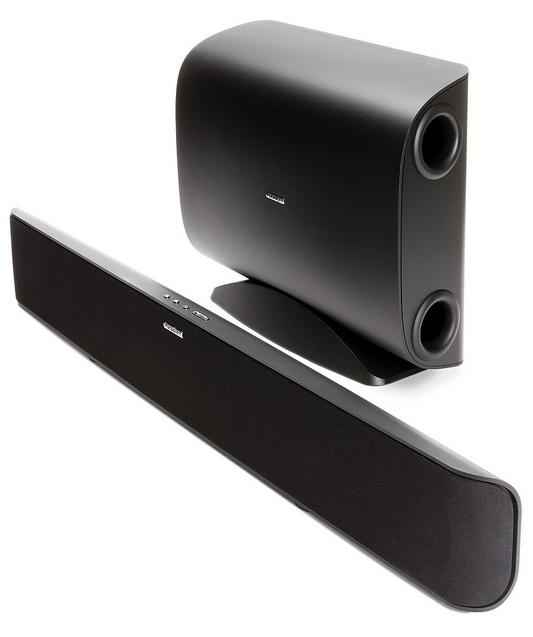 Paradigm Electronics Inc. is now shipping its new Soundtrack System, part of the Paradigm SHIFT series.  The Soundtrack System is a sleek, low-profile sound solution designed to specifically for use with ultra-thin flat panels. The system combines a soundbar with a compact, wireless (with optional wired option) subwoofer. Installation is a simple as mounting the soundbard to the wall, with no complex technical setup required. 
The physical configuration of a soundbar typically means poor stereo separation and a compromised soundstage, since the drivers are close together.  The new Soundtrack System with its soundbar is designed to overcome this common issue and provide an extraordinarily wide soundstage and great stereo separation. The matched subwoofer ensures that fullness of sound and bass frequencies are not compromised.
The speaker's onboard user interface controls Power, Volume and Synching of the subwoofer with the soundbar. There is also a full-function remote. Easy to use IR learning capability, the Soundtrack can learn power on/off, source select, volume up/down and mute from your television's remote so that you can control both the Soundtrack system and TV with just one remote.
The 6-driver soundbar features two bass/midrange drivers, two passive radiators and two high-frequency drivers. 4-1/2? bass midrange drivers and 4? passive radiators are a mineral filled polypropylene delivering a low-mass, high-stiffness cone composition. The two high-frequency drivers feature 1? satin-anodized pure-aluminum dome tweeters for superb high-frequency performance, a rarity at this price point. Passive radiators promote extended lower frequencies. Driver complements are physically separated within the cabinet (left and right) ensuring sonic clarity and channel separation.
The dual-ported subwoofer features an 8? laminated composite cone driver with a 1-1/2? high-temperature aluminum-wire voice coil. Oversized ports and driver are arranged in a perpendicular array to achieve the low-profile design with the dual ports promoting even, articulate and well timed response. The sub's Class-D amplifier delivers 100 watts RMS Sustained and 300 watts Dynamic Peak power. Its DSP signal processing engine uses sophisticated mathematical algorithms to shape frequency response so that even when listening at loud levels, bass is clear, musical and accurate. The subwoofer is sized to fit into a standard A/V cabinet, if desired.
The supplied snap-in feet are used for placing the soundbar on a table or credenza. For on-wall placement, these feet snap out and the user can snap in wall brackets and can screw them to the wall. The subwoofer may be positioned vertically in the supplied cradle or horizontally hidden away under a couch with the supplied feet attached.
The soundbar's rear panel offers digital optical and analog stereo inputs for hook-up of Blu-ray/DVD/CD players, gaming consoles, satellite receivers and other external sources. Analog outputs are included for wired subwoofer connection. Connections can be made via the soundbar or through the television itself, increasing the amount of inputs and improving the user experience. Users can opt for a wireless or wired sub option. It's all easy, and in just a few minutes, you are immersed in your favorite music, movie or video game.
Soundbar dimensions (without feet or brackets) H x W x D: 5" x 36" x 2-1/4" (12.9 cm x 92.3 cm x 5.8 cm) with grille. The grille is removable. Subwoofer dimensions are: 13-3/4" x 18-1/2" x 5" (34.7 cm x 46.4 cm x 12.9 cm).
The Soundtrack System is now available at a MSRP of $799.99 from select Paradigm Dealers throughout North America and also direct from the Paradigm SHIFT website: www.paradigm.com/shift.