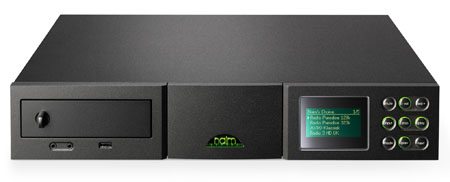 Naim has just launched their NaimUniti 2, a second generation of the original Naim network music player, at the High End 2012 show, Munich.
The NaimUniti 2 provides an increase in power output to 70 watts-per-channel, over the original models 50 watts-per-channel. The power transformer becomes larger, to facilitate the higher output. The NaimUniti 2 uses a 400VA transformer with six separate secondary windings feeding separate power supplies for DAC, analogue, power amplifier, relays, CD player and digital control.
Digital to analogue conversion is now handled by Burr Brown's PCM1793 DAC that is stated to provide lower distortion and better dynamics and is implemented to allow for streaming up to 24-bit/192kHz.
The CD mechanism and loading tray has also been improved, while retained from the original model are a multiformat FM/DAB/internet radio tuner alongside the streaming capability, a front panel USB input for memory devices and digital connection and charging of Apple iPods and iPhones, and five digital and three analogue stereo inputs.
The new NaimUniti 2 also has a subwoofer output and a DIN preout for connection of Naim power amplifiers.
A new USB mini socket is fitted to the rear panel to allow future updates, and the player can be controlled by the remote handset supplied or Naim's free iPad/iPhone/iPod Touch app.
Improvements to Naim's HDX, UnitiServe and NaimNet have also been announced. Naim has also announced that going forward these products will have double the included storage (2 TB), new software and an improved control app.
Pricing in the U.K. for the new NaimUniti 2 is £2795; however, pricing and availability in North America has not yet been announced.
Look for more details to come at: www.naimaudio.com.