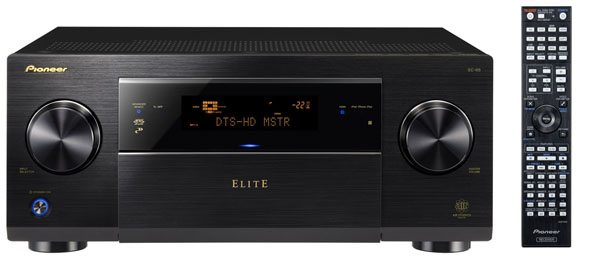 Pioneer Electronics Canada has just announced five state-of-the-art Elite SC series receivers, two 7.2-channel models including the SC-61 and SC-63, and three 9.2-channel models including, the SC-65, SC-67 and SC-68. Each receiver is designed to deliver clean and powerful audio output with high efficiency using Pioneer's renowned Class D amplification technology. The new line is also enhanced with advanced network features and custom installation set-up options including Apple's AirPlay, DLNA 1.5, Windows 7, Internet radio, PC Setup control, Advanced MCACC auto-calibration, multiple HDMI inputs and Pioneer's proprietary apps for iPhone, iPad, and iPod touch apps, including iControlAV2012 and Air Jam.
Digital Class D Amplification  
Pioneer's Class D amplifier is built into more models to deliver the true audio potential of uncompressed sources such as Blu-ray Disc titles as well as other high-definition audio content found on the Internet. The amplifier section of each new receiver delivers up to 140 Watts of power to each available channel, providing great detail and high dynamic range, with virtually no loss in performance even with all channels simultaneously driven at full volume. In addition, the amp section is designed for improved thermal dissipation using a new heatsink and produces an extremely low total harmonic distortion (THD) rating of a mere .003 percent (rated at 100W).
— Direct Signal Path Design — Pioneer designed the amplifier section to have the shortest audio signal path possible, requiring no EMI filters, feedback loops, impedance switching or current limiters, which results in the elimination of induced coloration, ringing or noise, especially in the high frequency audio band. In addition, the amp uses surface mounted MOSFETs and discrete 7- and 9-channel inputs.
— Eco Friendly Power and Efficiency — At the heart of the receivers is Pioneer's Class D amplifier technology, which requires much less energy (up to 44% less than previous models) to produce higher continuous power output per channel. The design of the amplifier assures high dynamic range, lower impedance support, and exceptional high fidelity sound, even in multi-zone mode.
The Power of Connectivity  
Elite SC receivers offer a multitude of network connectivity options that enable users to select from a wide range of content from a variety of sources, as well as conveniently set up and control their home theater systems using powerful new tools. Apple's AirPlay, DLNA 1.5 and Bluetooth connectivity are well integrated in each receiver for wireless access and connection and the ability play high resolution music files of up to 192kHz/24-Bit FLAC and WAV. The line also supports various music services including vTuner Internet radio, and access to SiriusXM Radio (with paid subscription). Pioneer's Air Jam App, available from the App Store on iPhone, iPad, and iPod touch at no charge or at www.apple.ca/appstore/ is also available for use with all SC models to allow pairing of up to four devicesvia Bluetooth (optional AS-BT200 Bluetooth adapter required).
— High Resolution Music Playback – The SC-67 offers DSD (SACD DFF Files) music file playback via the front USB connection, while the SC-68 offers the industry's first 192kHz/32-bit asynchronous USB DAC for ultra-high quality music file playback from a USB connected PC or Mac.
— MHL-Compatibility Device Connectivity — The top three models add front Mobile High Definition Link (MHL) connectivity for adapting smartphones as additional sources for audio and video entertainment. The front–panel HDMI/MHL terminal delivers content with up to 1080p video and 7.1-channel HD audio resolution.
Enhancing Video Performance  
The new Elite SC series receivers are built to maximize the user's video display performance with video conversion and scaling, image enhancement, and video adjustment for detail, sharpness, brightness, contrast, chroma level and black level for individual video sources. To enhance the video performance from any connected source, the receivers convert all analog signals to digital HDMI and scale both analog and digital signals to 1080p resolution for a significantly improved visual experience. Additional technologies include Marvell Qdeo processing for true 1080p/24fps, Advanced Video Adjust to optimize video signals by the type of display connected, and Stream Smoother to enhance the picture quality of any source downloaded from the Internet via other devices.
4K Pass Through — For consumers who want to ensure they have the most up-to-date technology, the SC-65, SC-67 and SC-68 are built with true 4K pass through, which takes advantage of the most advanced digital formats.
Custom Benefits  
Each SC receiver enables users to customize their home theaters, with the top three 9.2 channel models providing up to ten different configurations. Users can create a full 5.1 system and use the remaining channels for additional zones, all controllable directly from the receiver and/or portable device running the iControlAV2012 app. Plus, each model is certified by the most popular control companies, including Control4, Crestron and Savant, enabling users to tailor their home theater systems to fit their needs.
— Zone Controls — For consumers and installers who want a home theater setup for multiple rooms, the receivers are capable of providing various audio and video outputs and control signals for multiple rooms (zones). All models offers three zones, with Zone 2 providing composite video output and the ability to handle network and USB content, and Zone 3 adding analog audio input sources. With the top two SC-67 and SC-68 models, users and installers benefit from an additional HDMI output to a fourth zone, component video output to Zone 2, and composite video output to Zone 3.
— More Subwoofer Outputs — For the first time, Pioneer SC receiver owners now have an option for a dedicated zone 2 subwoofer output in addition to the two dedicated subwoofer outputs in the main zone.
AV Processing  
The Elite SC receivers are designed to provide the best audio and video performance by utilizing Pioneer's unmatched proprietary technologies that include Advanced MCACC for accurate room calibration, Auto Phase Control Plus for real time phase matching that analyzes the audio input every 30 seconds, PQLS Bit-Stream that eliminates distortion caused by digital bit-stream timing errors, and Virtual Speaker Modes for simulating sound coming from various areas in a room without actual additional speakers connected. To ensure the receivers deliver the highest fidelity home entertainment experience, the SC-65 and SC-67 are certified with THX Select 2 Plus, the SC-68 with THX Ultra 2 Plus, and both the SC-67 and SC-68 with Air Studios Monitor.
Pre-Amp Mode — Users can take advantage of its full multi-zone capabilities (up to four zones with the SC-67 and SC-68) by assigning the pre-amp and speaker outputs independently. Each SC receiver offers pre-amp mode, which shuts down the power supply to all or part of the Class D amplifier when using additional outboard amplifiers. With the SC-65 and up, the receivers allows Front Off and Front and Center Off modes giving users the ability to use the Surrounds/Surround Back amplification for other applications. Models SC-65 and up also benefit from built-in advanced preamp processors that support the latest surround formats such as DTS Neo:X, sound enhancements, network content and network control.
Mobile Control  
Pioneer continues to design its Elite SC receivers to utilize the wealth of content from portable devices as well as provide the larger emotional experience of high-definition multi-channel home theater. Each receiver comes with a USB/video cable to provide an out-of-the-box "plug-and-play" convenience. Pioneer's newest iControlAV2012 App is available for free from the App Store on iPhone, iPad, and iPod touch or www.apple.ca/itunes/. It allows users to control power on and off, volume and sound mode settings, as well as offers the ability for the user to choose and control content from Internet radio stations, and music files from network-attached storage (NAS) devices on a home network.
Pioneer's iControlAV2012 app includes Sound Explorer, which gives users the ability to set and adjust numerous sound enhancements such as PQLS Jitter reduction, equalizer, standing wave compensation, phase control and auto phase control plus, tone controls, advanced sound retriever (ASR), digital noise reduction, dialog enhancement, X-curve, Hi-Bit 24 and Virtual Modes.
Interactive Assistance  
The Elite SC receivers are designed for easy set-up for both consumers and custom installers. Pioneer's Advanced PC Setup in the SC-63 and up, makes custom installation much more convenient allowing installers to pre-configure connection settings on their Windows-based personal computer before the installation process, as well as read and rewrite settings, and reset and adjust the receiver from a remote location. Do-it-yourselfers also receive the same benefits with all SC models featuring Pioneer's Wiring Navi for Windows-based PCs providing an interactive guide for wiring connection, and the Interactive Manual application providing a linked two-way manual that gives users a way to dynamically learn about the receiver's features.
The new Elite SC receivers will be available in Canada in late June at suggested prices of SC-61 ($1,299), SC-63 ($1,499), and in late July the SC-65 ($1,799), SC-67 ($2,199) and SC-68 ($2,499). These new Elite SC models join VSX-42 ($649) and VSX-60 ($849) introduced in April. 
More details can be found at www.pioneerelectronics.ca