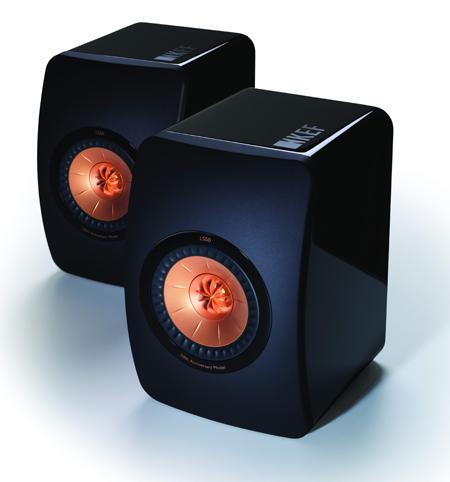 To help mark KEF's 50th anniversary, this year, they are releasing a new special edition LS50 mini monitor speaker. The new LS50 is based on the KEF LS3/5a that was used by the BBC in the 1960s.
The LS50 mini monitor speaker is designed to bring professional studio monitor concept into the home, incorporating technology from KEF's flagship Blade speaker and utilizing a KEF Uni-Q drive array.
The LS50 monitor is stated to deliver a rich, multi-dimensional 'soundstage experience' that is larger that what is typically capable for the size of this speaker. The cabinet features constrained layer damping to reduce resonances, while the baffle shape has been optimised for smooth on- and off-axis dispersion. And the Uni-Q driver uses a damped Mg/Al alloy metal low/mid frequency cone and a rear-vented high frequency unit.
The KEF LS50 Anniversary model is finished in gloss black with a rose gold Uni-Q driver.
The LS50 Ultimate Mini Monitor speaker is available for pre-order on KEF Direct in celebration of our 50th Anniversary at: www.kefdirect.com, at a MSRP of $1499.99/pair.
Look for more details on KEF products at: www.kef.com.