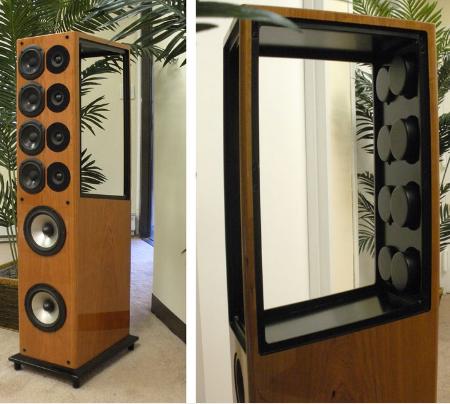 Accent Speaker Technology Ltd. will debut their all new Nola KO loudspeaker at The Show Newport Beach, this June 1-3. The Nola KO is the top of Nola's Boxer loudspeaker collection and is stated to provide Nola Reference Series design concepts in a significantly more affordable model.
The KO uses a mirror-imaged short line source open baffle array and is designed to be able to fill medium to large rooms with ease, while providing high quality sonic performance. KO employs four 4.5″ open baffle dipole mid ranges, four 1″ exotic silk dome tweeters and 2 cast-frame aluminum cone bass drivers in separate ported chambers. A 90 dB sensitivity combined with 8 ohm impedance allows KO to be driven by a large selection of amplifiers, including vacuum tube units. New Unison Crossover Technology provides improved power utilization for higher effective efficiency.
KO is supplied in Piano Cherry or Piano Black and includes four grilles, including the front. Matching piano black base and deluxe spikes are also included.
Specifications:
Sensitivity: 90 dB / 1M / 2.82 volts
Impedance: 8 ohms average / 4 ohm min.
Frequency Range: 30 Hz to 28 kHz, with 25 Hz cut-off
Dimensions: 48″H x 10″W x 15″D
The expected MSRP on the KO is $9800 U.S. per pair. More details will be available at: www.nolaspeakers.com.