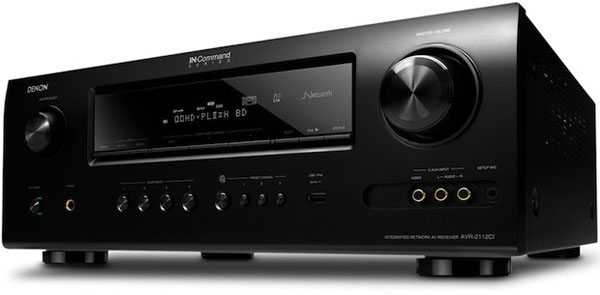 Denon Electronics has just revealed its new product lineup for 2011. Its new AV receiver lineup called the IN-Command Series offers networking capabilities and promises flexibility, performance and reliability, with a strong emphasis on connectivity, content access and "right out of the box" ease of use. In addition to its new receiver lineup, Denon is providing home users and custom integration professionals with the features and capabilities they need to take maximum advantage of all today's home entertainment possibilities, ranging from important firmware updates and upgrades to an affordable new "home theater in a box" surround sound system and more.
IN-Command Series
Three new IN-Command Series home theater receivers are designed to place users "In command and In control" of their home entertainment in new and exciting ways, including total access to networked content and connected devices. The IN-Command Series Models AVR-2112CI (SRP: $599.99), AVR-2312CI (SRP: $799.99) and AVR-3312CI (SRP: $999.99), all feature a sleek new Denon cosmetic, with a newly designed front panel, plus a host of beneficial, easy-to-use command and control and content access capabilities and lifestyle features geared toward today's "networked home." All three models include the new AirPlay music streaming feature, which lets users stream iTunes music libraries whether from Mac or PC, as well as music stored on their Apple mobile devices, to select Denon components through their Wi-Fi enabled networks from iPhone, iPad or iPod Touch devices. The units also allow users to stream both the free Pandora and Flickr services, as well as stream audio and photos directly from their PCs, choose from over 12,000 Internet radio stations and connect to the subscription-based Rhapsody and Napster music services. Users can also stream and listen to music stored on a Windows PC, Mac and media server products or NAS devices supporting the DLNA standard.
New Receivers in Denon's Core Line
Denon's core line of A/V receivers includes the new Models AVR-1312 (SRP: $249.99), AVR-1612 (SRP: $349.99) and AVR-1912 (SRP: $529.99), scheduled for April availability, as well as the AVR-1712 (SRP: $399.99), scheduled for June availability. All four new models are packed with features and capabilities previously found mainly in the company's higher-priced receivers, such as multiple HDMI inputs (1.4a repeater function with 1080p and 3D pass-through capability), Dolby Pro Logic IIz featuring Front Height Effects Channels (in Models AVR-1612, AVR-1912 and AVR-1712), as well as Dolby TrueHD/ DTS-HD Master audio support for decoding the multi-channel recordings featured on Blu-ray and HD-DVD discs. Notably, the AVR-1912 is Denon's lowest-priced networking-capable receiver to date, and features the built-in AirPlay music streaming feature as well.
New Onscreen "Setup Wizard"
Notably, for total ease of "first-time setup," six of Denon's new receivers, the AVR-1612 and higher, feature the company's new onscreen "Setup Wizard," a simple and straightforward instructional feature that includes language select, a speaker connection guide, speaker calibration, suggested Dynamic Volume/EQ settings, and source setup with a simple connection guide and more. Adding to their simplicity and ease-of-use, the system features an updated graphical user interface (GUI) that make the steps of system setup, operation and displaying other important information much easier for the end user. Notably, the new on-screen display (OSD) or GUI overlay via the HDMI connection eliminates the frustrating necessity of additional cable switching or programming interruptions when making adjustments, such as volume, while watching HD content.
DHT-1312BA Home Theater System
Denon is also debuting its DHT-1312BA Home Theater System, a powerful turnkey solution for enjoying a room-filling surrond sound experience to enhance the enjoyment of movies, music and games – right out of the box. The DHT-1312BA system combines Denon's new high performance AVR-1312 A/V receiver with a powerful Boston Acoustics MCS 160 5.1-channel surround sound loudspeaker system. It is scheduled for availability in May 2011 for a suggested retail price of $599.99.
Major Hardware and Firmware Upgrade Available
Denon recently announced that owners of its flagship AVR-5308CI A/V Receiver and AVP-A1HDCI A/V Home Theater/MultiMedia Preamplifier will be able to receive a major hardware and firmware upgrade that will provide full 3D pass-through capability, as well as Audyssey MultEQ XT32, Audyssey DSX and Dolby PLIIz. This is the 5th significant upgrade that Denon has offered to owners of its high-end products, underscoring the company's commitment to provide its customers with the very latest, most up-to-date features and capabilities. The upgrade is scheduled for October; for more details on the upgrade, interested Denon owners should visit the company's website (usa.denon.com/upgrades).
For more information please visit www.denon.com