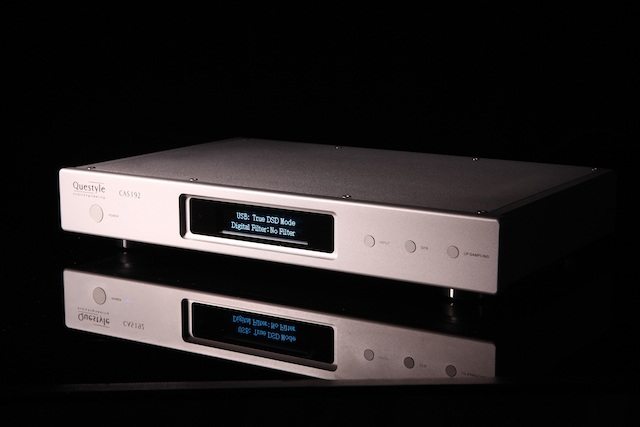 Questyle Audio has just announced a new set of premium audio systems, including: the new QP1 and QP1R portable music server / digital audio players, the CMA800R Headphone Amplifier, the CAS192D True DSD DAC, Q192 Desktop DAC with Headphone Amplifier, as well as the 5GHz Wireless Amplifier System.
QP1 and QP1R Portable Music Server / Digital Audio Players
Questyle Audio's QP1 ($599 U.S.) and QP1R ($899 U.S.) incorporate patented Current Mode amplification technology within their integrated built-in high-end headphone amplifier. In addition, the QP1 and QP1R have a True DSD DAC and music server with two Micro SD Card storage expansion slots that support up to 256 GB over the already generous internal memory (16GB for the QP1 and 32GB for the QP1R). Both players are presented in an elegant champagne gold or space gray aluminum trimmed and glass finish, with a simple and intuitive GUI interface.
CMA800R Headphone Amplifier
Perfect for both the studio and home, Questyle Audio's CMA800R Headphone Amplifier offers their patented Current Mode Amplification technology for a new-level of accuracy, airiness and musicality. This is the first headphone amplifier supporting a Dual Mono Full Balanced configuration with distortion levels of under 0.00026%. The CMA800R includes balanced XLR and RCA inputs/outputs to let you hear music as never before. CMA800R is available now for only $1,999 U.S.
CAS192D True DSD DAC
Complementing the Questyle Audio CMA800R is the Questyle Audio CAS192D Digital-to-Analog Converter, the world's first USB DAC supporting True DSD. TheCAS192D is an upgrade from Questyle's previous flagship model, the added "D" stands for "True DSD." The Questyle Audio CAS192D is designed to process DSD files in their native bit-stream format without conversion to PCM or breaking up the bit-stream into 16bit packets and compressing it into 24bit PCM packets (DoP). In PCM mode, the Questyle Audio CAS192D still provides five switchable digital filters, in which the IIR (MP) filter eliminates Pre-Ring from pulse waves. The Upsampling button is switchable between ON and OFF, allowing convenient sound performance comparisons. CAS192D is available now for $1,999.00 U.S.
Q192 Desktop DAC with Headphone Amplifier
Also utilizing the patented current mode headphone amplification technology is the Questyle Audio Q192 Desktop DAC with Headphone Amplifier. The Q192's USB port adopts a unique 3X Clock structure, ensuring the DAC obtains first class sound performance by reducing jitter to undetectable levels. Apart from USB input, Q192 is also equipped with standard coaxial input and output; all supporting 24bit/192KHz transmission. Q192 is available now for $799 U.S.
5GHz Wireless Amplifier System
Questyle Audio's 5G Wireless Amplification System sends audio signals in the 5.2GHz/5.8GHz frequency avoiding the 2.4GHz frequency range, resulting in the most stable wireless transmission. The series includes three models: the T2 Transmitter, R100 (2x50W Stereo) Wireless Amplifier and R200 (200W Mono) Wireless Amplifier. The T2 Transmitter integrates a control preamp, with a 5GHz wireless transmitter, and includes a 24bit Analog to Digital converter for the analog input, and is able to support up to 8 receivers. The R100 wireless amplifier is a built-in integration of wireless receiver, DAC and amplifier, an extremely advanced combo that can easily drive a pair of bookshelf speakers. The R200 wireless amplifier is a 200W Mono block that integrates a wireless receiver, DAC and ICEpower amplifier. Two R200 amplifiers can share one T2 transmitter and with its 20A current output capacity, the unit can easily drive high-end power consuming speaker systems. R100, R200, T2 and R2 are available now for $999 U.S. each component respectively or $3,000 U.S. for a pair of R200's or R100's and a T2 Transmitter/Preamp all packaged neatly in a durable Aluminum road case.
Questyle will have their complete lineup to demo at the Westin South Coast Plaza for CanJam from March 28-29th. Preorders for the QP1 and QPR are expected to ship in late April with all other orders to be fulfilled in June. For more information, please visit: http://www.questyleaudio.com.