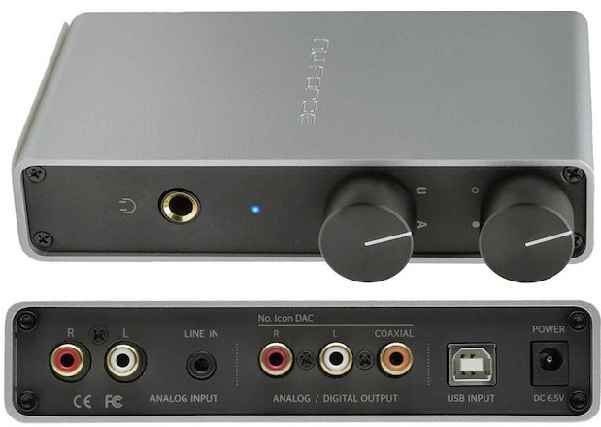 NuForce, Inc., has just released their new Icon DAC. NuForce Icon DAC is a DAC, headphone amplifer and preamplifier.  The Icon DAC provides USB audio for Android (4.1 and beyond with OTG), Mac and PC (with advanced PCM and DSD) together with a high-powered headphone amplifier, linear volume control and genuine audiophile construction.
The DAC is packed with the latest technology and accepts PCM sample rates up to 96kHz. This 32-bit DAC supports 24-bit asynchronous operation while also providing Direct-Stream Digital (DSD) decoding capability.
The Icon DAC includes a proprietary headphone amp stage that drives the most demanding 600-Ohm headphones with ease. Comprising of a linear up-conversion topology, the Icon DAC delivers an incredible 24V rail-to-rail supply voltage to the amplifier circuits resulting in ultra-fast transient reproduction and uncompromised peak dynamic performance.
The Icon DAC is alos a preamplifier that uses audiophile-grade circuit design and parts.  A coaxial S/PDIF output is included.
NuForce has incorporated a linear power supply that provides DC power to all circuits and a TOCOS high-resolution linear volume control for accurate rendering of critical low-level information.
Key Features and Specifications:
•High-precision 32-bit DAC
•Supports Windows 7, 8, Mac OSX, Android 4.1.1
•USB Input from Android devices
•Supports PCM and DSD over USB playback (DSD support on PC only)
•Powerful 8V output headphone amplifier
•6.3 mm headphone output jack
•3.5 mm analog input and RCA analog output
•Audiophile TOCOS volume pot
•Multiple stage filtering and regulated up-converted 24V rail power supply
•High-quality aluminum chassis
The Icon DAC is currently available for $325 U.S.  Look for more information at: www.nuforce.com.