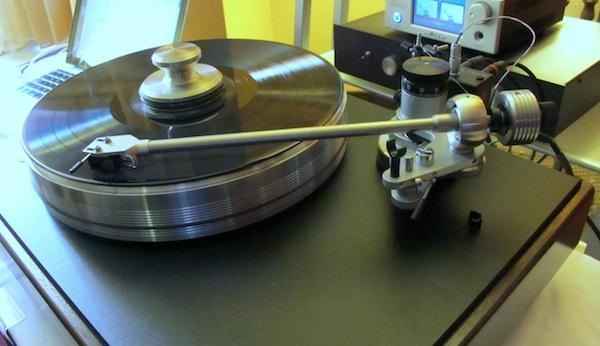 VPI Industries has just introduced a new turntable to their Classic series – dubbed the Classic Companion turntable. This new turntable has been most recently shown at the Capital AudioFest in Silver Springs, Maryland, USA that was held July 26-28, 2013.
The new Classic Companion combines the walnut body from the VPI's existing Classic 2 turntable with the 2″ thick aluminum Classic platter and inverted bearing, which weighs 20lbs. Driving the new Classic Companion is a 24 volt AC synchronous motor assembly, with an integrated 24V power supply that ensures the motor receives pure and consistent current. An external step down power supply ensures line voltage is isolated from the turntable, avoiding noise and ensuring the motor runs cooler. A new 10.5″ gimbaled tonearm is part of the package. This new tonearm is based on the tonearm used on VPI's Traveler turntable but uses ABEC5 pre-loaded ball bearings rather than the sapphire bearings used with the Traveler tonearm. The turntable is mounted using VPI's Classic 2 premium tone arm mount that has VTA and anti-skating adjustability.
VPI increases the value of the package by including, as standard, a VPI custom Grado 1.5mV output ultra-low inductance, shielded moving iron cartridge that is pre-mounted to the tonearm. The stylus and cantilever used in this cartridge is from Grado's own Statement Sonata and allows for replacement of the stylus assembly. The cartridge alone has a value of $600 U.S.
The all-new Classic Companion turntable is expected to be available soon at a MSRP of approximately $4,000 U.S. Look for more information to become available at: www.vpiindustries.com.