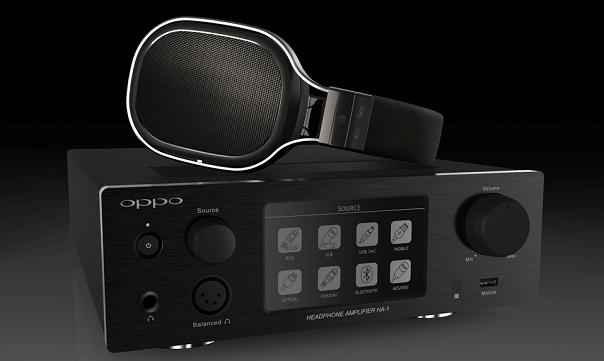 OPPO Digital, a company well known for its mulit-format digital disk players, has just announced its first two personal audio products: the PM-1 planar magnetic headphone and HA-1 headphone amplifier.
The PM-1 planar magnetic headphone has been deisnged to provide natural, dynamic, and engaging sound with an emphasis on comfort and reduced weight. OPPO chose planar magnetic technology for its PM-1 headphone because of its advantages over typical dynamic headphone drivers i.e. greater phase alignment and coherence across the frequency spectrum; no inductance related IM distortion and; consistency of spectral balance across different headphone amplifiers. 
OPPO claims tha it has been able to eliminate issues affecting many planar magnetic headphones, such as low sensitivity, weight, insufficient diaphragm stability, consistency and reliability with the new PM-1.  Using an FEM optimized magnet system with neodymium magnets and a diaphragm with a spiraling pattern of flat conductors etched on both sides of a very thin polymer film, OPPO has optimized the driver system for maximum driving force (greater sensitivity) and consistency of the applied force over the radiating area. The double-sided diaphragm has 7 layers of extremely thin materials, each doing a specific job for best performance, reliability and longevity.
The PM-1 is purported to provide a very open, transparent, and highly dynamic sound that exhibits well-balanced tonal qualities with vanishingly low distortion.  The PM-1 also has a classy, industrial fit and finish and works with both home or portable systems.  
The OPPO HA-1 headphone amplifier combines an uncompromising Class A balanced power amplifier section with the performance of the ESS 9018 Sabre32 Reference DAC.
OPPO designs the HA-1 headphone amplifier with the same universal approach as our Blu-ray players. The HA-1 is a high performance headphone amplifier, and it doubles as an asynchronous USB DAC, a stereo pre-amplifier, a digital audio dock for mobile devices, and a Bluetooth audio transport. Its fully balanced design and numerous inputs ensure the best in fidelity and versatility.
The HA-1 is a fully balanced design that uses a sustantial toroidal power transformer with linear power regulators and custom made capacitor filters to ensure clean power reserves.  Hand-picked and paired discrete components are used in amplification and a motor-driven precision volume control knob allows for hand or remote operation, while ensureing the audio path is pure.  A choice of 4-pin balanced XLR or traditional quarter-inch headphone jack is provided. Line level analog inputs and outputs are provided with both RCA and balanced XLR sockets. Built-in monitoring and protection circuitry guards against any mishaps such as short-circuiting, overloading, and DC offset that could lead to degraded performance.
The HA-1 provides digital coaxial, optical, balanced AES/EBU, and an asynchronous USB DAC connections that support both PCM and DSD formats. The same ESS 9018 Sabre32 Reference DAC and output driving stage used in OPPO audiophile Blu-ray players ensures extremely low noise and low distortion performance. For additional convenience, the Bluetooth audio transport with high quality Apt-X CODEC sets music in your mobile phones free with a performance boost.
The HA-1 is a desktop component housed in an aluminum chassis, and the familiar volume and source selection knobs are aided by a 4.3-inch screen for easy operation. There is a choice of classic VU meter, a modern spectrum display, or a simple informational summary on the screen. A supplied IR remote and a smartphone app via Bluetooth provide complete control and convenience.
The PM-1 is expected to become available in late 2013, while the HA-1 is not expected until 2014.  Pricing has not yet been announced.  Look for more details to become available at: http://www.oppodigital.com/.