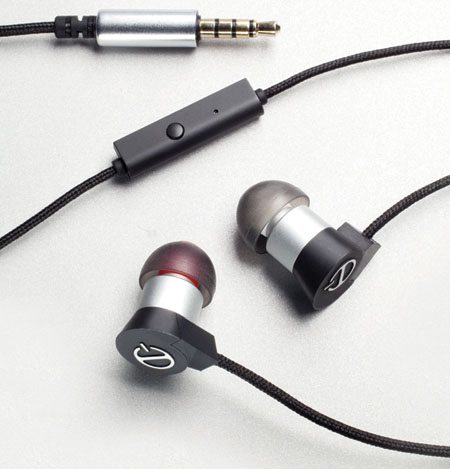 Paradigm Electronics Inc., commonly referred to as Paradigm, is a Canadian company that has been producing loudspeakers for around 30 years.  In early 2011, this well-known speaker company launched an all-new brand, named Paradigm SHIFT.  Paradigm SHIFT, as the name infers, brings with it a whole new product focus and image.  The focus is on the hot and growing mobile and computer-related audio product segment, including powered speakers, earbuds, headphones and gaming headsets.  The new image appears to cater to an active and youthful lifestyle that demands style with quality.  Three all-new models are the first entrants to Paradigm SHIFT's earbud line-up and are simply named: E1 ($59), E2m ($109) and E3m ($139).  The "m" at the end of the name designates the models with a microphone, for use with cell phones.
Paradigm designs and engineers all its earbud products domestically; however, all three earbud models are manufactured in China.  The research and development (R&D) approach taken for the Paradigm SHIFT earbuds was both innovative and unique, involving the use of a specially designed manikin head and torso, to simulate a human user.  This method allowed the R&D team to measure the earbud sonic properties and evaluate ergonomics in a simulated though realistic manner.  More than 30 designs were evaluated before arriving at the final three most favoured designs.  Each of the three SHIFT earbuds models has been tuned to match a corresponding Paradigm loudspeaker line, with the E1 matching the Monitor Series, E2m the Studio Series and E3m the Signature Series.  You may ask, what does "tuned to match mean"?  Paradigm's experience in loudspeaker design shows that good sounding speakers have both flat on-axis response and smooth but gently sloping off-axis response curves.  This means that within an actual room, rather than a ruler-flat overall response, a smooth yet tapered-off high frequency curve is most desired.  Since earbuds produce only direct sound, with no in-room effect, the earbuds were tuned to mimic their Paradigm loudspeaker counterpart's in-room frequency response, including the high-frequency downward tilt.  This was also felt to better replicate the original mastering process in which studio monitors are used rather than headphones.
Earlier this year, I had the opportunity to evaluate the Paradigm SHIFT E3m, the top-of-the-line earbud.  The E3m came packaged in a compact cardboard box with a plastic insert.  On the box it stated "Audiologist Approved Fit" and a gold seal boldly declared "HD Intense Bass".  I assumed this meant I would find the E3m both comfortable and anything but bass shy.  Inside the plastic insert, I found the earbuds themselves along with a compact leatherette travel case, instructions and three sets of soft eartips – small, medium and large (the medium pair was mounted on the earphones at the factory).
The black travel case is attractive, embossed with the Paradigm SHIFT logo, and offers a netted pouch within.  The soft eartips are thoughtfully colour coded for right (red) and left (white).  Though the review set came in a black finish, the E3m is also available in white.  The E3m sports a silver, cylindrical aluminum body that is fused to a moulded plastic enclosure.  This moulded enclosure is flat on its backside with the Paradigm SHIFT logo boldly imprinted in silver.  The cable is 48 inches long with a traditional Y-layout but has a unique braided fabric covering with an aluminum Y-splitter that is also inscribed with the Paradigm SHIFT logo.  An in-line microphone/one-button remote is attached to the cable and a gold plated 3.5mm jack with a tasteful aluminum surround terminates the cable.  I found the E3m earbuds to be distinctively styled, exuding a sporty and urban chic appearance.
On the technical side, the E3m utilizes an 8 mm super-neodymium driver and has a published frequency response of 8 Hz to 19 kHz.  The sensitivity is 105 dB, with an impedance of 18 ohms, which should make them easy to power by any portable audio device.
I used the E3m earbuds for about three months; travelling to-and-from work, at leisure and while at my home computer.  From the first time I placed them in my ears, I found them to be both comfortable and well fitted – I guess the "Audiologist Approved" designation helped.  The earbuds isolated my ears effectively from outside noise allowing for listening at even lower levels.  I experimented with a couple of positions, outlined in the accompanying instructions.  The first, being a traditional standard position with the cables hanging down and the second, known as a sport position, with cable up, over and around the back of the ears.  Both positions were comfortable; however, the sport position substantially reduced microphonics (noise induced by cable movement or rubbing, when walking or moving.)
My first impression, when listening to the earbuds straight out of the box, was not overly positive.  I was surprised to find them uninvolving, veiled and imprecise with bloated bass.  Since I'm familiar with the sound of Paradigm loudspeakers, I assumed this was something to do with break-in and waited patiently for improvements.  It took about 50 hours of use before I noticed a distinct improvement in their sound.  I perceived further sonic refinements up to the 70 hour mark.  What were the changes?  The veiling disappeared.  The details improved along with the high-frequency extension and delicacy.  The bass tightened and the congested lower midrange cleared up.  The caution here is that with these earbuds, first impressions don't really count.  The changes during the first 70 hours of use were transformational.
The majority of my listening was done using a portable Sony Walkman Digital Media Player listening primarily to WAV files at 1411 kbps.  My critical listening however was done using my Grant Fidelity DAC-09 digital to analog converter connected to my PC via SPDIF coaxial, playing ALAC files via iTunes.  I also compared the E3m earbuds to my Grado SR-80 headphones.  Though the Grado headphones have a completely different design – on-ear and open-back –I thought they would make for an interesting comparison, given their relatively close pricing.
Listening to Worrisome Heart, by Melody Gardot, I found the brush strokes on drums very apparent.  The piano resonance was lovely and trumpet battiness was clear and extended but also smooth.  The sax had good warmth and body, while the drums had good weight, with the kick drum providing a real thump.  Melody's voice came across as warm yet still retained a girlish intonation.  Bass string plucks were distinct, though not as detailed as with my Grado headphones.  It was as though there was a little lacking in the upfront snap of the strings.  Overall, the sound was very pleasing and relaxing and the E3m allowed for listening at rather high volume levels with comfort and enjoyment.  The Grado provided more shimmer and sparkle, sibilance was much more apparent and string pluck definition more upfront.  Brush thwacks with the Grados were more defined, yet more difficult to hear in the mix and Melody's voice took on a lighter quality but became a little harsh at higher volumes.
Putting on the Metheny Mehldau Quartet album, the second track, "Sound of Water", produced a lovely tone of the piano.  Sting details were clear with fullness and bass guitar was well grounded and weighted.  The Grado headphones demonstrated more pronounced leading edges on notes, more focus on midrange and high frequency detail; however, there was less weight to bass, less body and less warmth.
Taking things up a notch or two, I threw on Metric's Live It Out album.  Track six, "Monster Hospital", was an ear-opening event.  The drums were tight, had superb weight and were concussive, to say the least.  Bass came across with tremendous extension and Emily's voice was clear and even within the mix.  The Grado on the other hand was much less forgiving and brought out the harshness in the track, making it impossible to comfortably listen to this track at the same volume as the E3m.
Overall, the E3m offered a relaxed and slightly darker persona, which lends to a smooth sound and allows for many hours of continuous, pleasurable listening, even at high volume levels.  A lot of headphones and earbuds that are praised for detail tend to sound a tad bit clinical or etched and with the variation in the quality of recordings that exists, can be downright fatiguing for extended listening.  But not so with the E3m.  I found the E3m to be a little more forgiving on less-than-optimal recordings, while still providing good insight into the music and a level of detail that made listening interesting.  When it came to bass, these little buds really did put out!  As mentioned earlier, when bass was intense in the recording, these earbuds were concussive, to the point that I could feel my eardrums vibrating – "warning" do not try this at home.  The E3m also often gave me the impression that I was listening to speakers in a room, rather than buds in my head.  Though I would not say the E3m provides a particularly airy and open sound, it does provide a rich and tuneful take on the music.  All in all, I would say that if you're looking at earbuds in the $120 to $200 range and tend to prefer a richer presentation, these are worthy contenders.
Paradigm Electronics Inc.
www.paradigm.com
(905) 696-2845
Paradigm SHIFT E3m Earphones
Price: $139 CAD