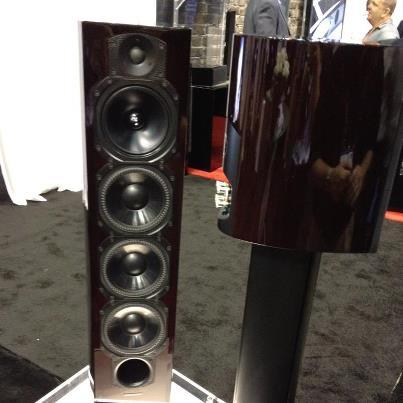 Paradigm Electronics Inc. has launched a 30th Anniversary Edition Series. Finished in a stunning Dark Garnet Gloss, this anniversary series will be available as a true limited edition.
With the new Anniversary Edition Series, Paradigm has continued to keep affordability as key, while using the series as an opportunity to showcase groundbreaking developments in speaker design and technology. This series is designed, manufactured and even hand-finished in the company's Canadian facility.
The 30th Anniversary Edition Series will be a limited edition run of a floorstanding model, named the Tribute, along with a standmounted speaker, called the Inspiration. Left and right pair matching will be a prime consideration with cosmetics and measurements held to the company's exclusive reference standard.
Performance targets for the series have been set higher. The sensational pure-beryllium (P-Be) dome tweeter from the company's Signature Series makes an appearance, bringing with it exceptional thermal, physical and mechanical properties. It's interesting to note that Paradigm is the only brand on the market offering a pure beryllium dome tweeter in this price range. The over-molded corrugated surround technology on woofers delivers the deepest, most articulate bass to date. Updated cone cosmetics include carbon black bass cones with matching dust caps and C-PAL carbon-anodized pure-aluminum bass/midrange and dedicated midrange cones with phase plugs to match. A chrome-plated carbon steel plinth cradles the floorstanding Tribute and will include inhouse design and cutting on the polished, adjustable outrigger feet. A recessed acoustic profile is evident on faceplates, trim pieces and terminal cups, all done in carbon-black machined aluminum. Even the cabinets were designed, manufactured and hand-finished in the Canadian facility. Each speaker features an elegant numbered plaque marking it as an anniversary series piece. Corollary pieces such as Owners Manuals for these two speakers have been earmarked for special treatment.
30th Anniversary Tribute:
5-driver, 3-way floorstanding: 3x 7? carbon bass cones, 1x 7? C-PAL™ carbon-anodized purealuminum dedicated midrange cone, 1? P-Be™ pure beryllium dome tweeter.
MSRP: $2,999 U.S. / each
30th Anniversary Inspiration:
2-driver, 2-way bookshelf/stand mounted: 7? C-PAL™ carbon-anodized pure-aluminum bass/midrange cone, 1? P-Be™ pure beryllium dome tweeter. Stand to be announced.
MSRP: $1,249 U.S. / each
The 30th Anniversary Edition Series is expected to be demonstrated at the Toronto Audio Video Entertainment Show (TAVES) later this month, and will available this October 2012. For more information about Paradigm, please visit www.paradigm.com.