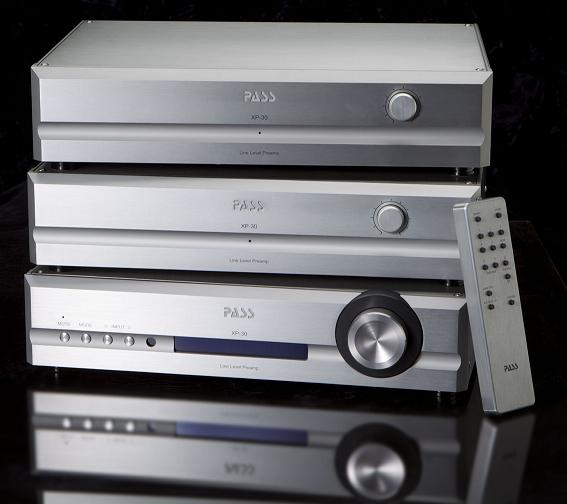 Pass Laboratories has just launched their new 3-chassis XP-30 Preamp. The XP-30 sits now as their flagship preamplifier. The XP-30 is a triple-chassis preamplifier – separating control from power supply and output gain stage. Though the XP-30 is generally for two-channel operation; however, its modular design allows it to be adapted to run up to six channels, allowing for multi-channel audio and/or home theatre setups.
The XP-30 has been designed to exceed all previous Pass Labs preamplifier models, delivering lower noise levels, less crosstalk and greater dynamic range. Each channel provides master and slave outputs with a control knob on the front of each of the gain chassis controlling slave output in relation to the master level. Both single-ended and balanced outputs have the same gain structure and may be used interchangeably. The control chassis also supports a mono function.
The XP-30 has a 100 dB range in 1-db steps and a high output external power supply utilizing highly efficient, low-noise Plitron transformers, helps to ensure high performance.
There are a total of seven inputs on each chassis, with Input 6 being a home theatre pass-through, where gain is 0 dB, suitable for connection to a home theatre processor and Input 7 is the tape loop.
Outputs are both balanced (XLR) and single ended (RCA) on both "master" and "slave", with each output being totally independent of any other outlet.
The XP-30 has a single pair of binding posts on the power-supply / control chassis which are labeled "Ext. Amp Turn-on". A 12-volt DC signal is available at these binding posts to control additional Pass Labs power amplifiers but may be compatible with other brands.
The XP-30 Preamp is now available from authorized Pass Labs dealers at a MSRP of: $16,500 U.S.
Look for more details at: www.passlabs.com