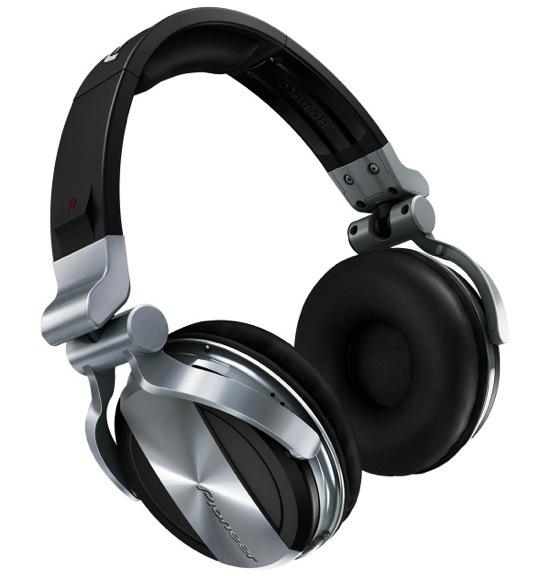 Pioneer Electronics has just introduced their new HDJ-1500 professional DJ headphones. Pioneer has indicated that the HDJ-1500 headphones utilize high quality components, large drivers, high quality construction and a new sound isolation technology.
The HDJ-1500 headphones are slated to deliver balanced frequency sound, utilizing 50mm drivers, copper-clad aluminum wire (CCAW) voice coils, rare-earth magnets and 38?m-thick diaphragms.
The newly developed design focuses on substantially reducing background noise. Pioneer has created an innovative sound isolation chamber as part of its bass reflex port that isolates low and mid frequencies in the 300 Hz to 1,300 Hz by as much as 4 decibels from the previous Pioneer model, resulting in cleaner, better defined mid bass/mid range
sounds.
The HDJ-1500, using large over-the-ear cups, exemplifies the look and feel of pro-style headphones and incorporates ultra-comfortable narrow low-resilience urethane memory foam ear pads to create a tight seal around the ears for greater isolation. The urethane memory pads are also finished in durable leather for great feel and extended comfort. For additional convenience and DJ preference, the included ear pads can also be replaced with Pioneer's optional HDJ-EP01s open-cup protein leather ear pads which sit around the ears.
The HDJ-1500 features a moving headband and hinges composed of rugged yet lightweight magnesium alloy to withstand the rigors of extended professional use. Each earpiece swivels up to 45 degrees and can be flipped around 180 degrees for one ear listening. Furthermore, the included single-sided cable is detachable for convenience and ease of replacement or upgrade.
The headphones also include a compact carrying pouch for protection and convenience. For DJs who want extra headphone protection, Pioneer offers the optional HDJ-HC01 lightweight carrying case.
The new HDJ-1500s will be available in deep silver and black chrome versions. Both colors are available beginning in May 2012 at a MSRP of: $209 U.S.
Specifications:
Style: Enclosed dynamic stereo headphones
Frequency Range: 5 Hz to 30,000 Hz
Impedance: 32 ?
Max Input: 3,500 mW
Output Sound Level: 108 dB
Driver Unit: 50 mm domes
Plug: 3.5 mm stereo mini-jack (gold-plated, two-way, screw type)
Weight: 10 ounces (without cord)
Included: 6.3 mm standard stereo adapter (gold-plated, screw type) and carrying pouch
Cords: 1.2 m side mount coil cord (extended 3 m)
For more details, please see: www.pioneerelectronics.ca.