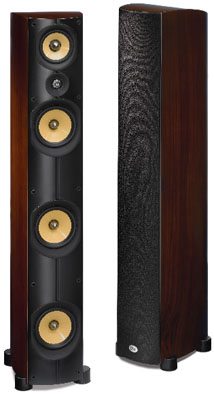 PSB Speakers recently began shipping its new Imagine T2, a full-range, floorstanding speaker. Expanding upon on the company's previous Imagine flagship, T2 represents far more than just a facelift. An additional 5 1/4" woofer, for a total of three, is incorporated in a taller, triple-port bass reflex enclosure, producing deeper bass down to 34Hz. As an additional benefit, maximum power handling is increased by 50% to 300 watts.
To complement the three custom-designed woofers, each located in its own sealed chamber, renowned designer Paul Barton seamlessly integrates a 4" midrange and 1" Ferrofluid cooled tweeter with Titanium dome. Imagine T2 also features dual, 5-way, gold-plated, binding posts that are ready for either bi-amping or bi-wiring.
Imagine T2 carries a price of $3500 US per pair in select, real wood veneers of Dark Cherry, Walnut and Black Ash and $3850 US for High Gloss Black or White.   
Consistent with all PSB designs, the secret behind the Imagine T2's advanced technology is a direct result of decades of groundbreaking research from the renowned acoustical resources of Canada's National Research Council in Ottawa, Canada. Here, Paul Barton has been one of the world's foremost practitioners in the fundamental study of loudspeakers, room acoustics, and listening evaluations. The Imagine T2 is a direct beneficiary of these in-depth studies conducted at the NRC's anechoic chamber and listening-studio facilities.
As a direct result of the cutting-edge design technology of PSB's highly-acclaimed Synchrony Series, each woofer of T2 is isolated in its own sealed chamber providing greater control over the system tuning, resulting in deeper bass. This design approach also helps mitigate standing wave problems found in a typical tower speaker for greater detail and definition.  
Also trickling down from Synchrony's design, Imagine T2 utilizes an innovative five-way transitional design so that its "in-phase lobe" is balanced and even throughout the seated-to-standing vertical window of the prime listening area (hence its "tweeter-under" layout), ensuring superb sound under real-life listening conditions. T2 is extensively engineered so that its primary "floor-bounce" reflection actually helps smooth and extend mid-bass and midrange response.
Like its Imagine siblings, T2 also boasts a uniquely derived method of cabinet construction that combines the precision of computer-controlled machining with the irreplaceable touch of hand craftsmanship in five designer finishes. The cabinet's smooth, seamless, unbroken surface presents a simple, beautifully integrated visual form. Compound-curved on every vertical face and heavily braced internally, each Imagine enclosure is impressively solid, acoustically inert so it is resistant to vibration. The result is both a visual and sonic masterpiece. 
Consistent with numerous other PSB products, the elegant industrial design for T2 was provided by noted designer David Farrage of the New York design firm, DF-ID. Like all successful marriages of engineering and product design, Barton and his team worked in concert with DF-ID from start to finish, resulting in a speaker that looks every bit as good as it sounds.
For more info, please visit www.psbspeakers.com