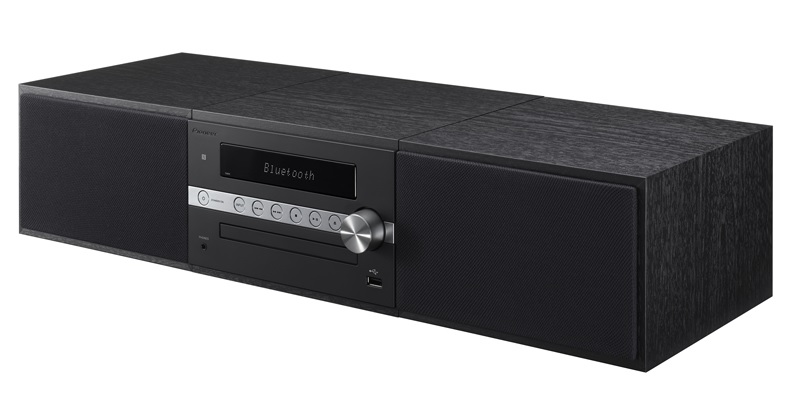 Pioneer Home Entertainment U.S.A. has announced the products it will be showing at CEDIA 2016 (in the CEDARS High Performance Room, 2nd level, Omni Hotel).
All-new products will include the the Elite SX-S30 2-Channel Slim Receiver and the Pioneer VSX-S520 Slim A/V Receiver, PD-10AE Single CD Player, as well as the MRX-3 Wi-Fi Speaker; along with several new mini stereo systems like the X-HM76 and XC-HM86 Mini Stereo Systems.
In its custom Sound Room, Pioneer is offering Dolby Atmos demos via the company's Elite FS-EB70 Speaker Bar as well as DTS:X demos that are powered by its recently available flagship A/V receiver, the Elite SC-LX901 Network A/V Receiver.
Proving to be the one-stop solution for Whole Home Audio, Pioneer will be offering FireConnect demos courtesy of its new MRX-3 Wi-Fi Speaker which will be supported by the company's Elite SC-LX501 7.2-Channel Network A/V Receiver, and will have its first two DTS Play-Fi compatible products on display: the aforementioned Elite FS-EB70 Speaker Bar and MRX-3 Wi-Fi Speaker.  DTS Play-Fi technology provides listeners the freedom and flexibility to stream their music wirelessly in high-quality lossless audio from smartphones, tablets, laptops or desktop PCs over an existing home Wi-Fi network to any number of speakers throughout the home.
Pioneer is also expanding its extremely popular Mini Stereo System line. Joining the just announced: X-CM56 are the X-HM76, X-HM26, XC-HM86 and the X-EM26.  Loved for their ease of set-up that includes Near Field Communication (NFC), streaming capabilities and Internet radio, Pioneer's Mini Stereo Systems are the perfect solutions for those who want big sound in a small space.
Rounding out its highlighted offerings are the company's its 2-channel lineup which includes the Elite SX-S30 2-Channel Slim Receiver, alongside the Pioneer PD-10AE Single CD Player, SX-N30 2-Channel Networked Stereo System and the connected PL-30-K Stereo Turntable, and the A-20 Integrated Amplifier.
Pioneer will also have on hand its award-winning XDP-100R Digital Audio Player as well as its SE-Master1 and SE-MHR5 headphones.
For additional information about Pioneer Home Entertainment's new line of products, please stop by the CEDARS High Performance Room on the 2nd level of the Omni Hotel during CEDIA 2016.  Additional information available at www.pioneerelectronics.com.