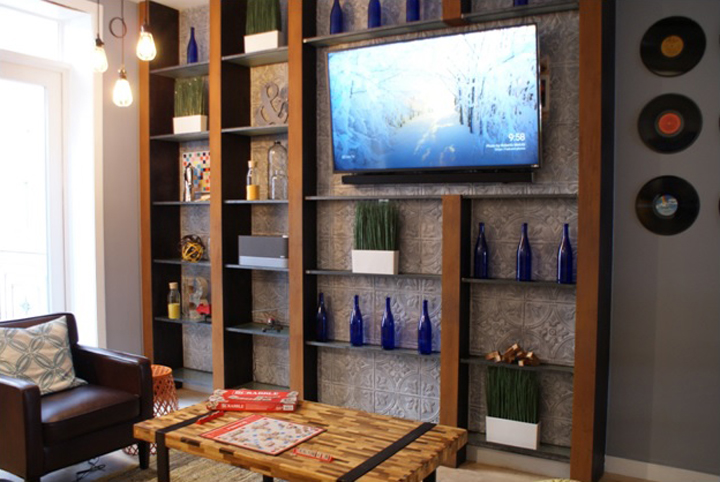 I recently had the pleasure of being invited to an event in New York City where VIZIO launched its new SmartCast home theater displays and sound bars to the members of the media.  VIZIO also showcased its brand new collection of SmartCast Crave Pro and Crave 360 wireless speakers.  The event was hosted inside a chic condo in downtown New York and gave me the opportunity to explore the SmartCast range of displays, sound bar and Crave audio products first-hand, in an intimate setting.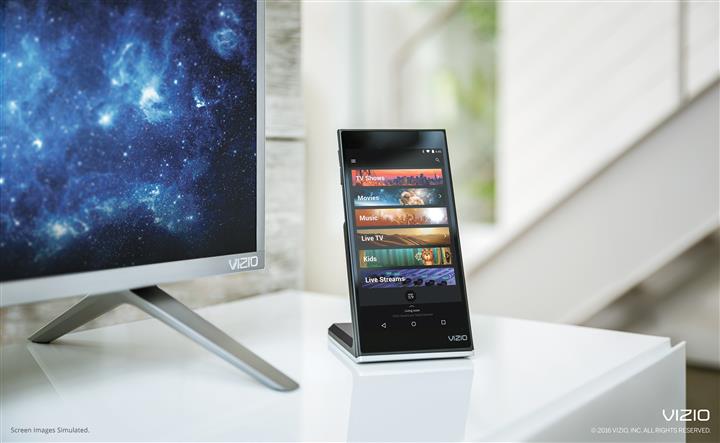 VIZIO SmartCast Ecosystem
The SmartCast ecosystem, based on Google Cast technology, allows any iOS and Android smartphone or tablet to become a powerful touchscreen remote.  SmartCast also allows you to cast your favorite content with your phone or tablet to your VIZIO TV or speakers.  All you need to do is download the free VIZIO SmartCast app on your mobile device.  Since the SmartCast uses your home WiFi connection to communicate, a line of sight is not required when controlling VIZIO SmartCast products, in contrast to a standard IR remote which requires line of sight.  The SmartCast app provides access to all menus and playback controls on the screen of your smartphone or tablet, which will allow users to adjust settings or navigate apps from across the room, at a distance where you might not see the menu on the TV display.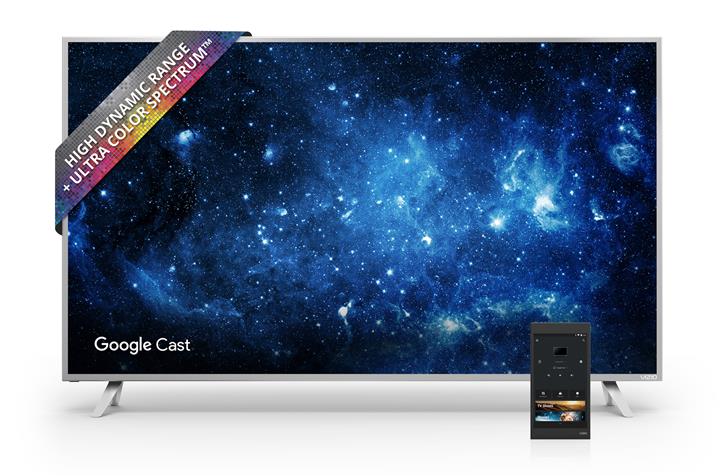 SmartCast Home Theatre Display and Sound Bar System Demonstration
Inside the condo, VIZIO demonstrated three all-new Home Theater Display collections: the P-Series, M-Series (Ultra HD HDR displays) and E-Series (Ultra HD displays).  The main demonstration of SmartCast products took place in the living room, where the stars of the show were a 55-inch M-Series home theater display (model M55-D0), alongside VIZIO's 45-inch 5.1 slim sound bar system (model SB4031-D5), placed below the display.  The system was controlled using VIZIO's own Andriod-based tablet, which comes included with all 2016 M-Series and P-Series home theatre displays.  The M-Series tablet features a beautiful 6-inch 720p touchscreen with the VIZIO SmartCast App preloaded.  The SB4031-D5 5.1-channel sound bar system consists of the sound bar itself, two surround speakers and a slim-line subwoofer, which in this demo was placed under the couch.  The subwoofer connects wirelessly with the sound bar, so you don't need to run wires from the front of the room to where the subwoofer sits.  The surround speakers on the other hand are connected  by speaker wire to the subwoofer, so it's best to position the subwoofer somewhere at the back of the room.  The beauty of this sound bar system is that it does not require a separate AV receiver, since the system has on-board amplification and surround sound decoders.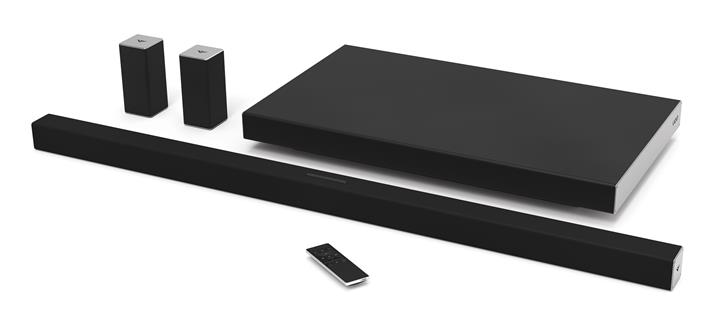 Watching a clip of Netflix's Marco Polo, the picture on this M-Series TV looked excellent.  The picture details were plentiful, colours looked natural and contrast was impressive.  The sound emanating from the lifestyle sound bar system was almost as impressive.  It gave this smallish living room a great sense of ambience and punctual bass, with only a slight bit of emphasis in the dialogue region.  VIZIO offers a range of 9 different SmartCast sound bar systems, suitable for different TV/room sizes, priced between $179 and $499 US.
Highlights of the P-Series, M-Series and E-Series
VIZIO refers to its P-Series, M-Series and E-Series as "home theater displays", rather than TVs, since they do not have a built-in TV tuner.  The lack of a TV tuner is no surprise because today most viewers get television programming from a cable box, a satellite box or simply stream it.  Various models from these three series were on display throughout the condo, while the main system in the living room highlighted the 55-inch M-Series home theater display.
The higher-range P-Series SmartCast displays also offer Ultra HD resolution and feature High Dynamic Range (HDR) playback, with support for both HDR10 and Dolby Vision content. The P-Series also offers Ultra Color Spectrum technology that greatly enhances colour reproduction.  Combined, these features result in a dramatically improved picture – with incredible brightness, contrast and color that brings content to life.  P-Series TVs are equipped with a Full-Array LED backlight, with up to 128 active LED zones (depending on screen size).  This allows the display to achieve deeper, richer black levels and more accurate contrast.  The included VIZIO Android tablet remote allows viewers to browse and play content with tap, swipe and voice-based controls – it can also be used as a standalone tablet.
The middle-range SmartCast M-Series also offers Ultra HD resolution and HDR playback with HDR10 and Dolby Vision support.  It does not feature Ultra Color Spectrum technology however.  The M-Series is equipped with Full-Array LED backlighting with up to 64 Active LED Zones.  Like the P-Series, the M-Series also comes with a VIZIO tablet in the box.
For those with a smaller budget but still interested in a great picture and value, VIZIO offers the SmartCast E-Series.  These displays also offer Ultra HD resolution and Full-Array LED backlighting with up to 12 Active LED Zones.  A VIZIO tablet is not supplied with this series.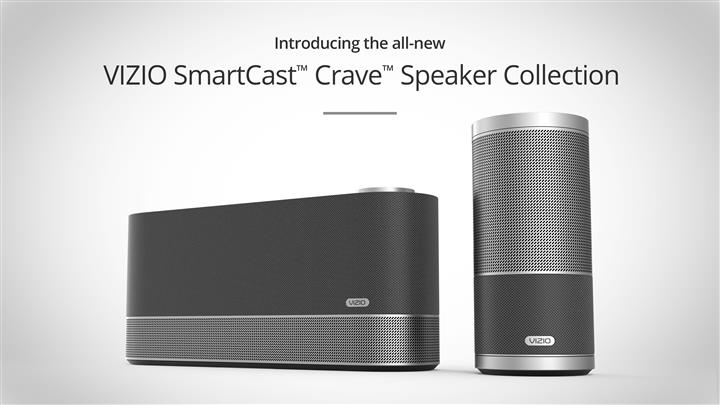 SmartCast Crave Pro and Crave 360 Wireless Speakers
At this event, VIZIO also celebrated the launch of its brand new collection of SmartCast Crave Pro and Crave 360 wireless speakers.  The Crave speakers are designed to function in standalone or multi-room applications.  With multiple speakers, listeners can listen to the same music on all speakers or different music in every zone.  The Crave Pro is a larger speaker designed to sit "permanently" in a room and offers 2.1-channel audio, with dual integrated subwoofers.  The Crave 360 speaker on the other hand is designed to be easily portable and offers 2.1-channel 360 degree, omni-directional sound – it will serve up great audio inside any room in your house and is perfect for listening to music in your backyard or on the balcony.
Both speaker models feature Google Cast technology which allows music fans to stream music from Google Cast audio apps which many consumers already have on their mobile devices, directly to the Crave speakers.  The VIZIO SmartCast iOS / Android app can also be used to control the Crave speakers.
During this media event, I got the chance to listen to both speakers, the Crave 360 and the Crave Pro, and I have to say that both sounded very good. The Crave 360 is a unobtrusive silver aluminum/fabric cylinder and features a 2.1 speaker array. The sound, streamed from SmartCast, filled the room very nicely.  The Crave 360 can be plugged into the wall or operated by battery, thus allowing it to be carried from room to room (with up to 8hrs of operation per charge). The Crave Pro is a larger speaker with larger drivers and subs, housed in a sealed enclosure. Both models feature DTS TruVolume which normalizes loudness levels of different content, providing a comfortable listening experience. The bass from the Crave Pro was quite impressive. I asked for the Crave Pro to be played on the rooftop patio to see how well it would compete with NYC street noise and it did so effortlessly, while providing a full-bodied sound.
For more information about the VIZIO SmartCast collection, please visit VIZIO.com
VIZIO SmartCast P-Series Ultra HD HDR Home Theater Display Collection
VIZIO SmartCast 50" P-Series Ultra HD HDR Home Theater Display (P50-C1)      MSRP $1,499 (CAD)
VIZIO SmartCast 55" P-Series Ultra HD HDR Home Theater Display (P55-C1)      MSRP $1,799 (CAD)
VIZIO SmartCast 65" P-Series Ultra HD HDR Home Theater Display (P65-C1)      MSRP $2,999 (CAD)
VIZIO SmartCast 75" P-Series Ultra HD HDR Home Theater Display (P75-C1)      MSRP $5,499 (CAD)
VIZIO SmartCast M-Series Ultra HD HDR Home Theater Display Collection
VIZIO SmartCast 70" M-Series Ultra HD HDR Home Theater Display (M70-D3)   MSRP $3,199 (CAD)
VIZIO SmartCast 80" M-Series Ultra HD HDR Home Theater Display (M80-D3)   MSRP $5,999 (CAD)
VIZIO SmartCast E-Series Ultra HD Home Theater Display Collection
VIZIO SmartCast 60" E-Series Ultra HD Home Theater Display (E60u-D3)             MSRP $1,299 (CAD)
VIZIO SmartCast 70" E-Series Ultra HD Home Theater Display (E70u-D3)             MSRP $2,199 (CAD)
VIZIO SmartCast Sound Bar Collection
VIZIO SmartCast 38" 3.0 Sound Bar                                (SB3830-D0)               MSRP $179.99
VIZIO SmartCast 38" 2.1 Sound Bar System                   (SB3821-D6)               MSRP $219.99
VIZIO SmartCast 38" 3.1 Sound Bar System                   (SB3831-D0)               MSRP $269.99
VIZIO SmartCast 38" 5.1 Sound Bar System                   (SB3851-D0)               MSRP $299.99
VIZIO SmartCast 40" 3.1 Slim Sound Bar System           (SB4031-D5)               MSRP $379.99
VIZIO SmartCast 40" 5.1 Slim Sound Bar  System          (SB4051-D5)               MSRP $429.99
VIZIO SmartCast 45" 3.1 Sound Bar System                   (SB4531-D5)               MSRP $449.99
VIZIO SmartCast 44" 5.1 Sound Bar System                   (SB4451-C0)               MSRP $499.99
VIZIO SmartCast 45" 5.1 Slim Sound Bar System           (SB4551-D5)               MSRP $499.99
VIZIO SmartCast Crave Pro and Crave 360 Speakers
VIZIO SmartCast Crave Pro Speaker         (SP70)                                   MSRP $299.99
VIZIO SmartCast Crave 360 Speaker         (SP50)                                   MSRP $249.99