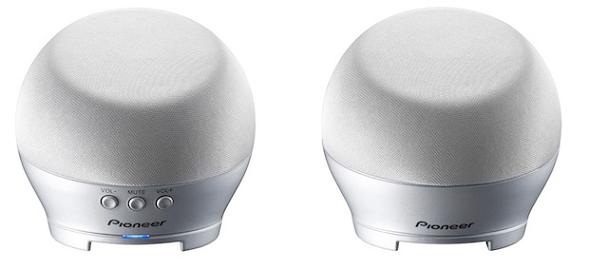 Pioneer has announced their new  S-MM251 USB-powered computer speakers that incorporate an integrated digital-to-analogue converter (DAC).  The enclosures are designed to enhance low frequency reproduction, while remaining stylish.  The S-MM251 can be connected easily to virtually any laptop or desktop computer, to deliver increased audio output and improved sound quality over OEM integrated computer speakers.  
The S-MM251 has a modern form factor that resembles small domes, and features 1.75-inch metal drivers and control buttons for volume up, volume down and mute. For increased low frequency response, the speakers use bass-reflex enclosures. The speakers are connected and powered using an included USB cable, and the integrated blue LED in front of each speaker indicates a proper connection. Its built-in audio digital-to-analog-converter (DAC) ensures high quality sound with plenty of power.
The S-MM251 is extremely compact and easy to transport.  The S-MM251 is currently available in both black and silver at a MSRP of $79.99 U.S.  Look for more details at: www.pioneerelectronics.ca.