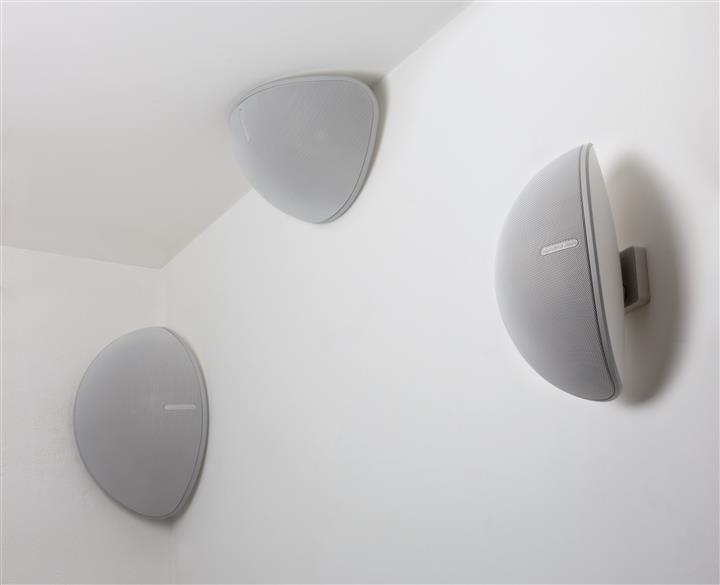 The Monitor Audio Vecta V240 is a stylish, compact and versatile speaker that is weather resistant and designed for indoor and outdoor use. It cleverly combines architectural aesthetics with innovation and the high quality audio performance that Monitor Audio is renowned for.
The Vecta V240 features dual 4″ C-CAM metal cone drives mounted to a curved baffle to ensure a controlled sound field is delivered. This minimizes ceiling or wall reflections when mounted under eaves or in a corner, while still being wide enough for superior coverage when wall-mounted. The centrally mounted Gold C-CAM tweeter is horn loaded to ensure dispersion at the crossover point matches the mid-range, providing a smooth off axis frequency response.
The Vecta V240 offers incredible versatility and simple installation. Using cleverly designed brackets and a single point automatic connection system, the Vecta can be quickly and easily mounted horizontally or vertically. Users can fix the bracket to the wall, and then simply drop the speaker in place and secure with a single screw. Not only does this installation method save time, but it also simplifies the complexity of installing speakers at height or at difficult angles.
The Vecta V240 is priced as follows:
Vecta V240: $599 ea (MSRP)
V-Mount Bracket: $59 ea (MSRP)
V-Corner Bracket: $59 ea (MSRP)
For more info, check out www.kevro.com