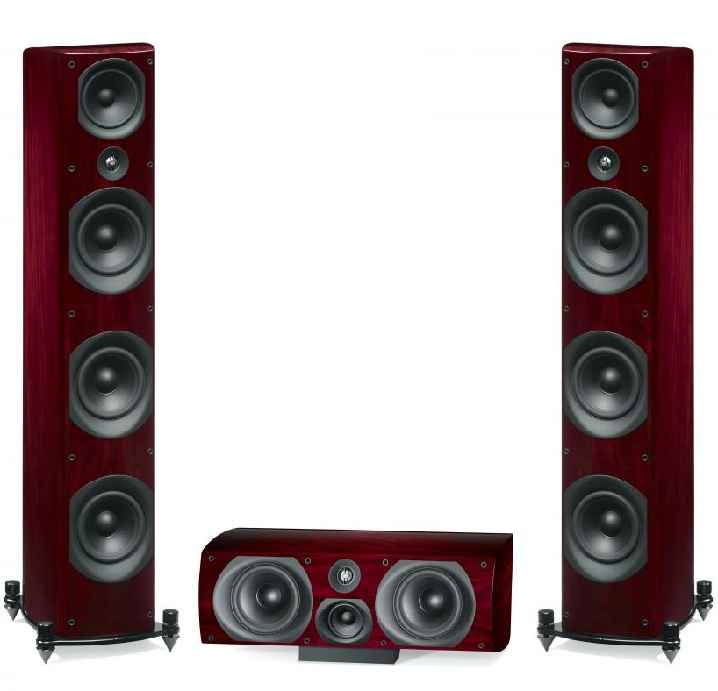 PSB Speakers has just announced two all-new Imagine loudspeaker flagship models; the T3 (a five-way floor-standing speaker with three woofers in a transitional array) and the C3 (a true three-way center channel, engineered to complement and perfectly match the T3).   
The T3 and C3 models incorporate all-new drivers with advanced technologies to reduce distortion and increase transient response.  A copper cap over the motor structure pole piece provides a dramatic reduction of 3rd harmonic distortion.  In addition, a symmetrical drive design creates a more uniform magnetic field in the driver motor coil, increasing linearity by reducing 2nd harmonic distortion, especially at high volume levels.  The woofers and midrange utilize polymer coated felted fiberglass cones mated to a high temperature fiberglass voice coil.  Rubber surrounds and a highly rigid non-resonant die cast aluminum alloy chassis provide precision alignment of all speaker components for high performance and excellent reliability.  Utilizing amplitude-perfect acoustic Linkwitz-Riley 4th order crossovers, the T3 and C3 drivers provide the lowest distortion and highest power handling that PSB has every created.
Three 7" woofers are arranged in PSB's five-way transitional array, where all three woofers combine to produce the longest wavelengths of sound in the lowest frequencies. At higher musical frequencies woofers are strategically attenuated until only the woofer adjacent to the midrange is active, creating a perfect transition with uniform off-axis response. The position of each woofer, and the exact crossover slope, has been carefully optimized to reduce first acoustic reflections, also known as 'floor bounce'. These early reflections are responsible for response irregularities and exist for all speakers unless compensated for as in the Imagine T3.  Other advantages to using multiple woofers include a more efficient transfer of energy into the air compared to a single larger woofer, and the varying positions also tend to excite a broader spectrum of room resonances preventing unwanted room nodes.  The smaller cones with large motors are more sensitive than a single larger driver and also more accurate for faster transients and lower distortion. 
The T3 use individually tuned chambers for each woofer, which also provides added structural rigidity by way of the added dividers.  Each chamber has its own rear firing tuning port that can be plugged to fine-tune in-room response.  The bottom woofer can be fully disconnected from the amplifier and shorted using the provided shorting link so that it acts as a 'bass trap' or damper to further suppress room resonances.
The PSB Imagine T3 includes a one-piece aluminum plinth with adjustable spikes, ideal for use on carpeted floors to gain stability and give a clean mechanical interface with the floor structure; even with uneven floors. Isolation pucks with carefully engineered rubber dampers are also included for hardwood floors to prevent damage and create a perfect interface. Five-way, gold binding posts provide multiple input terminals that allow for bi-amping and tri-amping if desired, along with the unique ability to use one woofer as a bass trap to tame room resonances and adjust the bass to perform perfectly in a wider range of room sizes and shapes.
The majority of musical information is reproduced in the midrange between 200Hz and 2000Hz and contains most of the musical information related to pitch and timbre of instruments and voice, and just happens to be our ears most sensitive range. The Imagine T3 uses a specially developed 5 ¼" midrange driver and tunes and isolates it in its own sealed chamber.  The 5 ¼" size has a nearly perfect combination of low distortion, high output capability and ideal dispersion over the desired frequency range, allowing it to integrate smoothly with the woofers and tweeter.
The Imagine T3 is using a hand-selected version of PSB's famous titanium dome tweeter.  This 1" dome features a neodymium magnet, high temperature voice coil and Ferrofluid cooling, allowing it to keep pace with the high power handling of the rest of the speaker. Several years spent perfecting the manufacturing process has resulted in a tweeter with extremely smooth response and amazingly low distortion compared with other well-known tweeter designs.  An integrated 'phase plug' is ingeniously designed to extend high frequency response while also creating an 'air spring' that effectively damps the metal dome's 'oil can' resonance.  Although this resonance is beyond the audible range, if not well suppressed it can have knock on effects in the audible range.  Excellent power handling allows PSB to ideally place the crossover point at 1,800Hz that enhances the dispersion and integration with the midrange driver.
Home theater enthusiasts can create a perfectly matched surround sound system by combining Imagine T3 for left and right speaker positions, and the Imagine C3 as the center channel speaker.  The identical voicing of these speakers creates a seamless and expansive sound field. Other Imagine models, including specialized surround speakers in stand mount, wall mount, in-wall and in-ceiling options complete the surround experience.  The Imagine C3 is true 3-way transitional design – unusually sophisticated for a center channel – that uses the same driver technology as the Imagine T3. The C3 includes two of the 7" woofers, both active at lower frequencies and with different low pass filter frequencies to maintain proper power response, and the same tweeter as the Imagine T3.  The specially developed midrange driver is unique to the Imagine C3 and is responsible for the excellent voice articulation of this speaker. The enclosure is rear ported and includes a tuning plug to adjust bass output for different placement options.
Key Features of PSB Imagine T3 and C3:
» Advanced driver technology reduces distortion
» All new drivers and crossover designed specifically for T3 and C3.
» Tweeters are Titanium dome with Ferrofluid and Neodymium magnet structure
» Three 7" Woofers, in individual bass chambers, configured in a transitional array
» Newly-designed midrange drivers in their own sealed chambers
» Gold-plated, five-way, binding posts that are also bi/tri-wireable and bi/tri-ampable
» Final voicing performed by Paul Barton at Canada's famed NRC
» High Gloss premium finishes in choice of furniture grade Black or Cherry
PSB Speaker's new Imagine T3 ($7,498 U.S./pair) C3 ($1,999 U.S.) flagship loudspeaker models will be available in late November in choice of premium High Gloss Black or High Gloss Cherry finishes.  Look for more information at: http://www.psbspeakers.com/.
Comments are closed.