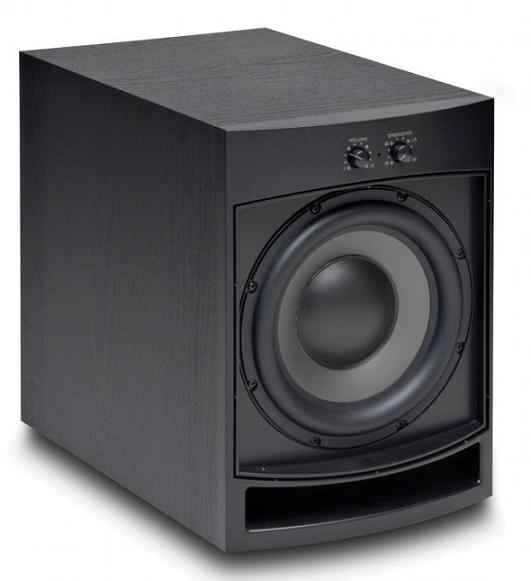 PSB Speakers, has just announced the newest model in its SubSeries subwoofer family, the new compact and affordable SubSeries 125.  The SubSeries 125, pairs a 125 watt amplifier with an 8" polypropylene woofer in a bass reflex ported design that is suited for home theater as well as music.  
The new SubSeries 125 has increased power over its predecessor, the SubSeries 1, producing a generous 125 Watts of Continuous power, 160 Watts of Dynamic power and 320 Watts of Peak Dynamic power in a compact package only 9 5/8 inches wide by 14 1/8 inches high by 15 5/8 inches deep and weighing 24 pounds.
The SubSeries 125 employs an 8″ woofer with polypropylene cone and an oversized rubber surround that permits very long cone excursion. The slotted port design yields high output with very low port noise and bass extension is only 3dB down at 35Hz, with useful low frequency output down to 31Hz.
With increased power and reduced energy consumption, the SubSeries 125 will deliver lower, louder, and more musically natural bass.  Like all PSB Speakers, final voicing is performed by Paul Barton at Canada's famed National Research Council. PSB's research has revealed how listener preferences can be integrated into a wide range of speaker designs for many different applications, yet all featuring consistent sound quality that is natural and lifelike.
The PSB SubSeries 125 subwoofer will be featured at the upcoming CES January 8-11, 2013 at the Venetian Hotel in Suites 29-321 and 29-323. Personnel from PSB will conduct demonstrations and be available to answer questions on the new subwoofer as well as many other fine products from PSB and sister company NAD.
Key Features of the PSB SubSeries 125:
· 125W continuous amplifier delivers dynamic peak power of 320W
· 8" woofer with Polypropylene cone
· Front mounted volume and crossover controls for easy access
· Crossover bypass control
· Energy-saving 0.5W standby power consumption.
The SubSeries 125 is shipping now with a MSRP of $449 U.S. Look for more details at: www.psbspeakers.com.