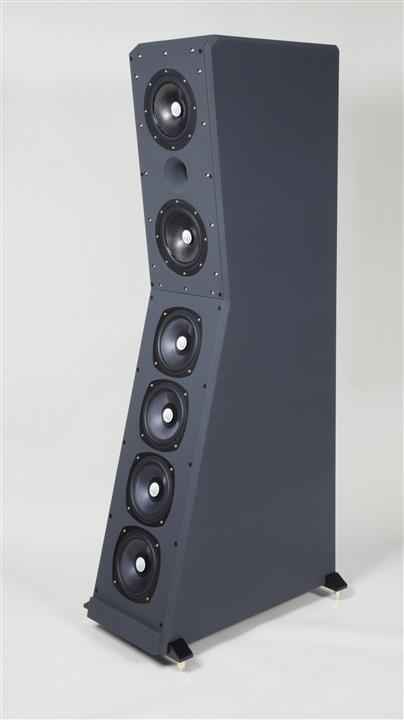 Canadian speaker maker Reference 3A has just introduced a brand new model to its loudspeaker line-up – called the Sema Zen.  This new model is said to offer engaging musicality effortlessly presented in full scale and transparent imagery.
Highlights of the Sema Zen include:
Two specifically designed and hand built (in Reference 3A's own facilities) 8 ¼" hyper exponentially shaped woven carbon full range drivers are meticulously pair matched.  Main drivers cover a wide range of the music and are directly coupled to amplifiers to minimize interruptions and alterations to the musical signal flow.
Each driver is housed individually in precisely sized non-resonant semi-spherical bamboo resin enclosures.  Dense front baffle supporting the main drivers is acoustically isolated from the main cabinet to reduce cabinet resonance noise dramatically.
Beryllium dome tweeter, mounted in an acoustic wave guide is perfectly aligned between the main drivers and is also acoustically isolated from the main driver baffle for more stable sound propagation.
Several perforated braces are angled and installed internally across the cabinets at critical points to reduce cabinet wall vibrations and to diffuse long vertical standing waves.  A long and formed spine brace (separate from the cross braces) is installed asymmetrically  for the entire length of the cabinet to brace the rear, front, top and base panels of the cabinet and support the rear sides of  bass drivers.    All inner cabinet corners are filled with gussets to further "densify" the cabinet structure as well as reducing corner nodes.
Four well matched bass drivers mounted in a line array (below) are mechanically grounded to the vertical spine brace to stabilize the drivers' operation and drain potentially harmful mechanical vibrations.
A simple high pass filter (one high quality capacitor) is utilized to protect the beryllium dome tweeter from low frequencies.
A simple low pass filter (one high quality coil) is used to gently roll off high frequencies from the woofers.
Solid metal stabilizer pods with large adjustable brass coupling spikes are mounted to support the cabinet.
Patented Surreal Acoustic Lenses are used to reduce noise caused by air turbulence in cone drivers.
Patented Magnetic Conduction Wave Guides in bi wire configuration are used for faster and more dynamic signal transfer.
Specifications:
Frequency Response: 27 Hz to about 40,000 Hz.
Sensitivity: 93 dB. 1 W/Meter.
Impedance: Very even 8 Ohms.
Amplifier Power: 5 to 200 Watts.
Dimensions, each unit:   
Height:  168 cm. (67 inches)
Width:  34 cm. (13.5 inches)
Depth:  73 cm. at base, 55 cm. at top, 48 cm. at middle (29, 22, 19 inches)
Weight:  100 Kg. (220 lbs.)
MSRP:  $21,900.00 CAD
For more info, please visit www.reference3a.com
Comments are closed.