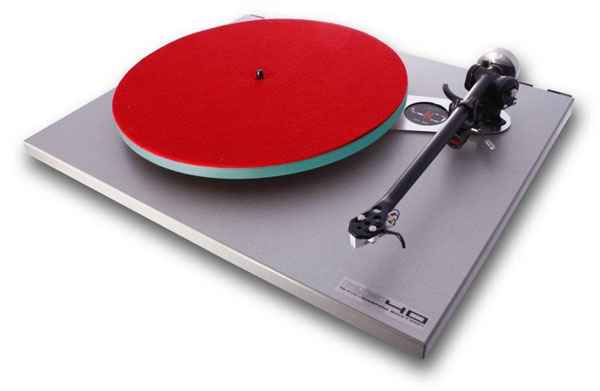 Rega has annouced that it will release a new limited edition turntable based on their RP3 to celebrate their 40th anniversary this year.  The RP40 Anniversary Edition will only be made available in 2013 and on a limited, first come first served basis.
The RP40 Anniversary Edition will have a mounted special edition white Elys40 cartridge and a new red Silicon drive belt that will be exclusive to RP40.  The new red belt uses trickle down technology from Rega's R&D on their ultimate turntable – the Naiad, which is expected to be released later in 2013.  The new red belt is manufactured on a new tool to guarantee a stable diameter over the full circumference of the belt, providing greater speed stability and reducing flutter.  Along with the special edition cartridge and belt, the RP40 will have a custom power-supply / speed controller TT-PSU that has been hand tuned to the motor fitted to the specific RP40 table, which is something only currently done for Rega RP8 and their previous Planar 9 turntables.  This hand tuning of the TT-PSU will ensure maximum efficiency of the anti-vibration circuit.
Key Features :
Custom matched TT-PSU
Exclusive Red Silicon drive belt and Red Mat
Exclusive Elys40 MM cartridge
Stainless steel balance weight
Aluminium foot trims and matching top brace
Custom Titanium Plinth
Pricing and specific details on availability have not yet been annouced.  Look for more information at: www.rega.co.uk.