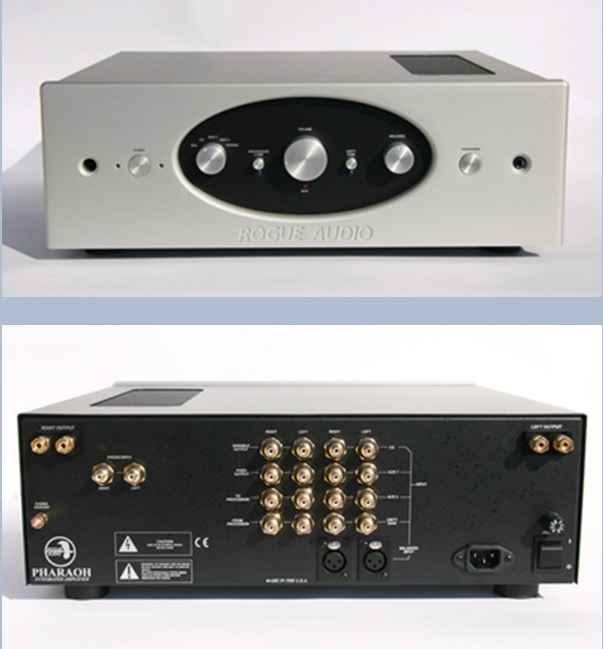 Rogue Audio has just begun shipping their new Pharaoh integrated amplifier.  The Pharaoh is based on Rogue's Hydra/Medusa amplifier platform and sits as Rogue Audio's new flagship integrated amplifier. 
The Pharaoh utlizes a tube preamplifier circuit and has a rated output capabilty of 175 Watts-per-channel into an 8 ohm load.  The integrated incorporates a number of features such as: an adjustable load/gain MM/MC phono stage, a tube headphone amplifier, processor loop, balanced inputs and home theater bypass.
Other Noteable Details:
– 175 WPC/8 ohms  or 350WPC/4 ohms
– Slow start turn on sequencing
– Low power consumption
– Damping factor > 1000
– Discrete tube based headphone amplifer
– Balanced XLR inputs, three line level inputs, one phono input
– MM/MC 40/60dB gain, pure tube mu-follower preamplifier with adjustable loading
– Mundorf EVO oil coupling caps
– 39 lbs and 18.25″ wide x 18″ deep x 6.5″ high
– Detachable IEC power cord
– Hand built in the USA
– 3 year limited warranty (6 months on tubes)
The new Rogue Audio Pharaoh integrated is currently available at a MSRP of $3,495 U.S.  Look for more information at: www.rogueaudio.com.