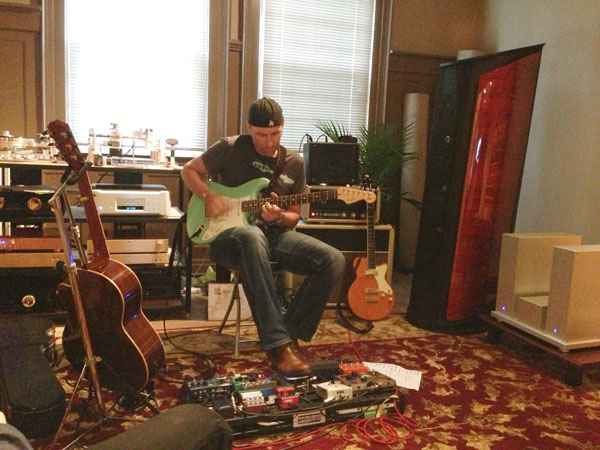 It's become somewhat of a regular habit for me to visit Angie's Audio Corner in Richmond Hill, Ontario.  The large selection of products this store offers under one roof is simply a music lover's paradise.  The potential here to discover speakers and components that engage you at the highest musical level is undeniable.  After all, it was during my last visit that I completely fell in love with the sound of the Danish Raidho speakers, after listening to three different models. So when I learned that the store was celebrating its one year anniversary I knew I had to be there.
As with the last event at Angie's Audio Corner, there was a live artist who performed multiple times throughout the day.  This time it was local Toronto artist Ray Montford, a guitarist/composer/engineer.  His performance consisted of intricate guitar compositions, backed by prerecorded guitar and drum loops.  In front of him, sat a 'sound board' filled with various effects and loop pedals which required some fancy footwork as he played the guitar.  I enjoyed the performance very much as I sat down alongside other like-minded music fans.  Ray Montford offered several of his albums for sale at the event, including his latest offering entitled Vintage Is Now.  I invite you to check out Ray's new video below.
During the event, Angie and her staff offered visitors a great choice of food and beverages, which created a friendly, laidback atmosphere.  I appreciated the opportunity this created to meet fellow music fans and schmooze with a few individuals from the industry.  Naturally these events also present a fantastic time to explore the great wealth of audio products on offer at the store and ask questions about them.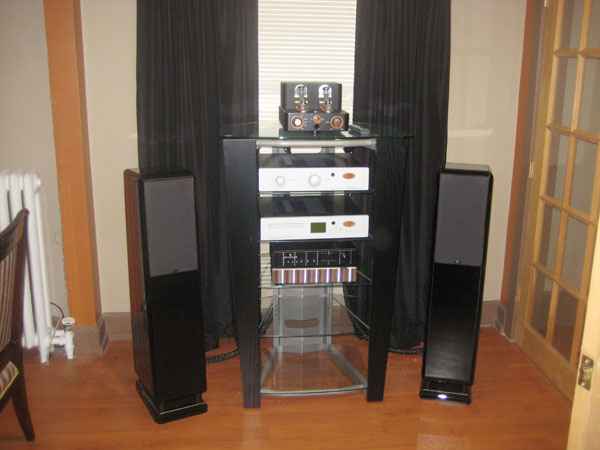 If you live in the Toronto area I urge you to check out Angie's Audio Corner. It is truly one of the greatest audio shops I've had the pleasure of visiting.
Angie's Audio Corner is located at 12261 Yonge Street, Richmond Hill, ON, L4E 3M7, (Tel: 905-773-7810).  The store is open three days a week (Tuesday through Thursday) and by appointment if you can't make it during those days or if you'd prefer a more intimate listening session.   Angie's Audio Corner welcomes customers who would like to bring in some of their own audio gear into the store and find other perfectly matching components.
To learn more about Angie's Audio Corner and view pictures of the various rooms inside the store, please CLICK HERE.  To learn more about Ray Montford, please visit www.raymontford.com.