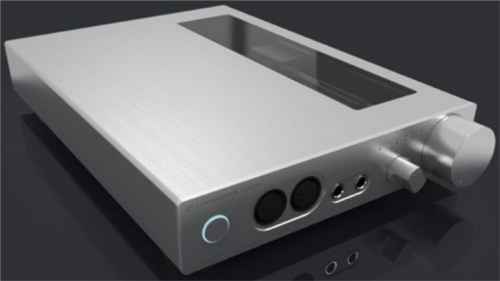 Sennheiser has just announced that it is now shipping its new HDVD 800 digital headphone amplifier.  The HDVD 800 has been optimized for driving their entire line of high-end headphones, including their more demanding HD 600, HD 650, HD 700, HD 800 models.
The new HDVD 800 was designed, developed and manufactured in Germany with the objective of delivering a balanced sound image with maximum precision and spatiality.  The HDVD 800features a fully symmetrical layout to ensure reduced distortion and greater purity of sound.
The HDVD 800 is equipped with an asymmetrical input socket, which when utilized, converts the incoming asymmetical signal to a symmetrical one before further processing. Digital sources, including AES/EBU or S/PDIF (optical and coaxial) are connected via rear input jacks, while a USB input is provided that handles up to 24-bit/192 KHz data rates.
A top glass panel gives line of sight to the interior contruction and components.  The signal path between the audio source and volume potentiometer is kept short, reducing interference, by mechanically connecting the front volume control to the rear mounted potentiometer via a long shaft.  High-quality internal components such as Alps RK 27 quad, ensure that the volume is controlled with maximum precision.
The source and volume control knobs are all made of anodized aluminium.  The new HDVD 800 is currently available at a MSRP of: $1,999.95 U.S.  Look for more details at: www.sennheiser.ca.