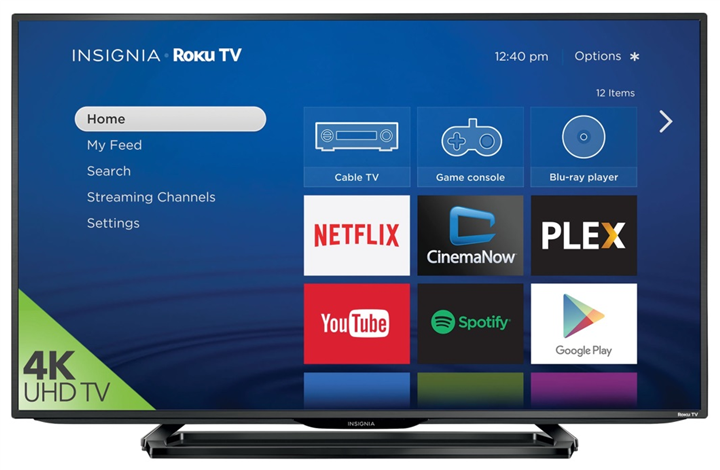 Roku has just announced that the first 4K UHD Insignia Roku TV models are now available in Canada exclusively from Bestbuy. As with all Roku TVs, these new models feature the Roku operating system (Roku OS) that provides a simple smart TV experience with a personalized home screen and access to more than 1,700 streaming channels in Canada, including 4K UHD content from channels including Netflix, UltraFlix and YouTube.
The 4K UHD Insignia Roku TV models are available in 43" and 50" screen sizes in Canada and are equipped with a powerful quad-core processor and fast 802.11ac dual-band Wi-Fi to ensure a smooth 4K UHD streaming experience. The 4K UHD Insignia Roku TV models comply with the Consumer Technology Association (CTA) certification requirements to bear CTA's 4K Ultra HD Connected logo.
Roku TV features an easy to navigate, customizable home screen that places streaming channels alongside consumers' other TV entertainment choices, such as a game console, cable box or Blu-ray player. Unlike other smart TVs, consumers don't have to cycle through inputs or navigate menus to access their entertainment. With Roku TV, they can watch a live sports event, stream their favorite show or stream their favorite music all from their home screen.
Roku TV provides access to the Roku Channel Store, which includes more than 1,700 available streaming channels in Canada with 100,000+ movies and TV episodes plus sports, music, news, fitness, and much more. Roku's comprehensive and unbiased universal search feature helps consumers find availability and pricing for movies and TV shows across top streaming channels. Search results are ordered with the least expensive (or free) results listed first. Roku TV also features the Roku Feed which enables consumers to follow entertainment they're interested in and be notified when it becomes available to stream — and at what price.
The new 4K UHD Insignia Roku TVs can be controlled with the simple and intuitive remote control or through the free Roku Mobile App for iOS and Android. Consumers can use the Roku Mobile App to quickly access features such as the Roku Feed, Play On Roku — to share personal video, photos and music, directly from a mobile device to the Roku TV — and voice search. In addition, consumers can cast video from the Netflix and YouTube mobile apps to the TV.
Models and Pricing
The new 4K UHD Insignia Roku TVs are available in the following screen sizes and prices in Canada:
43″ LED 4K Ultra HD Insignia Roku TV (NS-43DR710CA17): $599.99.
50″ LED 4K Ultra HD Insignia Roku TV (NS-50DR710CA17): $799.99.