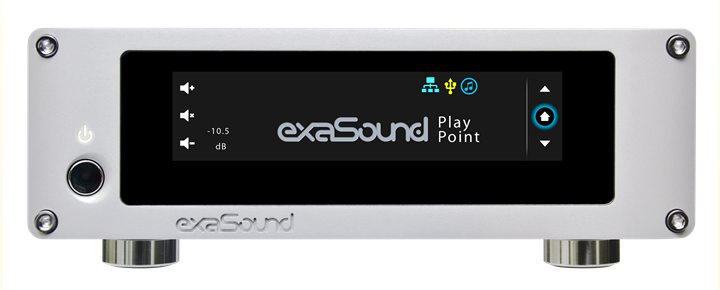 exaSound Audio Design, Canadian manufacturer of innovative, exceptional fidelity audio products, has just revealed the new RoonReady firmware for their PlayPoint network audio player.
PlayPoint is exaSound's answer to the proliferation of network music protocols and standards. A network audio endpoint that supports all high end standards and streaming providers, PlayPoint embraces AirPlay, HQ Player, MPD, UPnP plus TIDAL and Qobuz. In conjunction with Roon Labs, the PlayPoint now also seamlessly integrates Roon's deep functionality with exaSound's already exceptional fidelity.
With the use of exclusive ZeroJitter and ENclusiv technologies, PlayPoint includes all modern sample rates supported by exaSound DACs; 44.1 through 384 kHz/32 bit PCM plus native support for DSD1 through DSD4 (12.28 MHz). Designed to be used in partnership with all of exaSound's DACs, PlayPoint has double shielded, milled aluminum casework which, together with GalvanicInfinity USB isolation, prevents EMI noise from interfering with the operation of the DAC. Another distinctive feature of the PlayPoint, when coupled to exaSound's e28 DAC, is it's ability to stream up to eight channels for uncompromised surround as well as stereo.
Roon is the most engaging, enjoyable way to browse your music. RoonReady enables fast and highly reliable auto–discovery of, and communication between, Roon–enabled Server, Control, and Audio Endpoint devices on a network. Via intelligent automatic cloud service library management, RoonReady also delivers metadata for the user's library and frees the user from the complexities of library management. That simple, immediate network discovery of new Roon–capable hardware, from either Mac OS or Windows, is now part of the exaSound family. User–friendly remote operation of the exaSound PlayPoint from a favorite listening position is now accessible via Roon Remote apps on iOS or Android mobile devices.
The PlayPoint network audio player, along with all of the exaSound family of exceptional fidelity products, are available directly from their website at www.exasound.com, while RoonReady firmware is a free download for all existing PlayPoint customers.