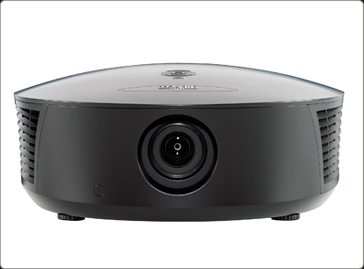 Runco, is introducing its most affordable 3D projector yet, the Runco LS-12d. The new LS-12d incorporates many of the technical attributes of Runco's LightStyle projector series. The LS-12d combines a powerful three-chip DLP engine and a wide array of lens options with Runco's LightStyle design.
The new LS-12d has been developed to excel at both 3D and 2D performance. The LS-12d utilizes active 3D technology and comes equipped with three sets of active shutter glasses. With active 3D, customers can enjoy 2D or 3D content on the same screen, ideal for "Flex-Theater" spaces. Runco also provides the choice of passive 3D technology in its award-winning 3Dimension series, which utilize polarized glasses and a silver non-depolarizing screen.
Impressive and unique and unlike single-chip DLP implementations, no color wheel is used in the LS-12d projectors. Instead, it harnesses the power of three advanced full 1080p HD 16:9 DMD's™ and 12-degree mirror tilt for the finest black level performance. The impressive brightness is further bolstered by the improved contrast capabilities of the stylish LS-12d. Designed to excel in both the dedicated theater as well "Flex-Theaters", spaces where big screen entertainment is only a portion of the room's purpose and aesthetics and placement are as crucial as video performance.
The LS-12d is also the first projector to ship with Runco's new Dimension Digital Controller (DC-300), which has been engineered to enhance 3D performance of Runco 3D-enabled products. This 2U outboard controller provides a level of flexibility and control not found in integrated processors and provides Runco installers with a full suite of calibration tools.
The LS-12d can be customized with Runco's FinishPalette, allowing for colour matching or to even to custom-print client-supplied artwork. Complementing the FinishPalette offering are 25 hand-finished signature paint colors to compliment any décor.
The LightStyle LS-12d will be available from authorized Runco dealers beginning April 2012 with an MSRP of $27,995 U.S., which includes the DC-300 (MSRP $9,995 U.S.) and three pairs of active 3D-glasses.
Like all Runco projectors, the LS-12d features a two-year RuncoCare standard warranty. Runco RedCarpet and PremierCare extended service options are also available. For more information on the LS-12d, visit www.Runco.com.