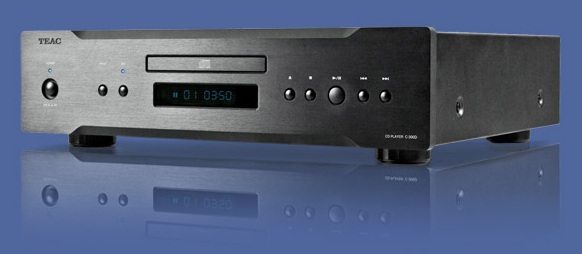 TEAC has just announced a new Distinction Series for the European market.  It is not clear at this time whether these products will be introduced to the North American market but stayed tuned to CANADA HiFi as more announcements become available.
The new Distinction Series, priced significantly lower than TEAC's Esoteric components, consists of seven components: the AI-1000, AI-2000 and AI-3000 stereo integrated amps, the CD-1000, CD-2000 and CD-3000 SACD disc players and the TU-1000 AM/FM tuner.
The AI-1000 boasts 85W x 2 (into 8 ohms), the AI-2000 125W x 2 (into 8 ohms), while the AI-3000 offers a whopping 200W x 2 (into 8 ohms).
The AI-1000 comes equipped with a headphone output, an RCA pre-out, six RCA analog audio inputs (SACD, CD, Tuner, Tape, Aux and line direct for especially high quality sources) and heavy duty, screw type loudspeaker terminals. The remote control unit – as with all Distinction Series Amplifiers – is included as a standard accessory.
The AI-2000 offers step-up quality hardware and connectors such as XLR balanced audio inputs and RCA phono inputs leading to a quality phono pre-amp stage. Up to two pairs of loudspeakers can be connected to the heavy duty, screw type speaker terminals.
A highly stable, semi-toroidal power transformer in the AI-3000 provides the basis of exporting an impressive 300 watts of clean power per channel (at 4?) – easily capable of driving up to two pairs of demanding loudspeakers simultaneously. In addition to SPDIF audio inputs, two XLR balanced analog audio inputs complete the array of quality source connections on the rear panel. TEAC's engineers placed the selected components of this largest of the Distinction series amplifiers inside a full aluminum metal housing. Extra large cooling fins assure the amplifier is running at optimal operating temperature and contribute to making this powerful amplifier tip the scales at 31 kg.
For details about the remaining components please visit http://www.teac.eu/hifi-audio/distinction-series/