Revel, ARCAM & Master & Dynamic by Erikson Consumer:
Erikson Consumer put together a setup pairing the Revel F208 in a gorgeous high gloss walnut veneer, with a full ARCAM stack, including receiver and player/streamer. Also in this room was a full selection of the Master & Dynamic headphone products.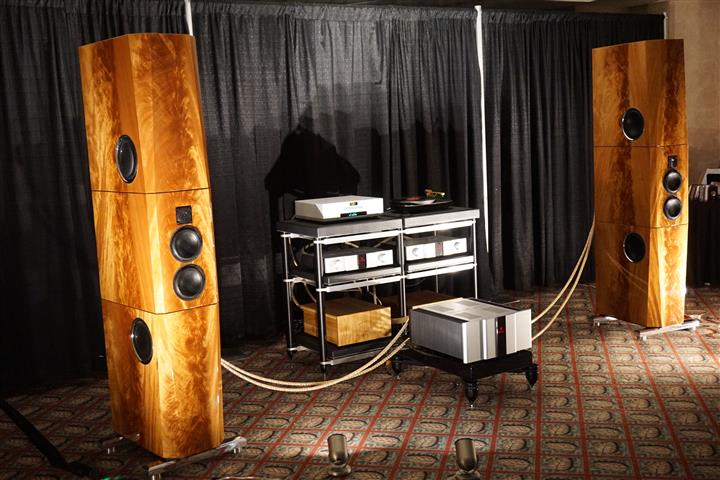 Tidal, Karan, Goldmund by Wynn Audio:
Wynn Audio put together a truly superb sounding room, which to my ear was the most pleasing to hear at the show. The speakers were the absolutely gorgeous and majestic Tidal Sunray ($185,000 CAD/pair) paired with Karan Acoustics' S600 stereo amplifier ($40,000 CAD) and L Mk3 preamp ($13,000 CAD). The Karan Acoustics Ph1 phono stage was in play with a Thales TTT Compact II turntable, while the digital source was a Goldmund Eidos 36U+ CD player. Cabling was ZenSati Seraphim. The system was incredibly fast and dynamic sounding, commanding attention.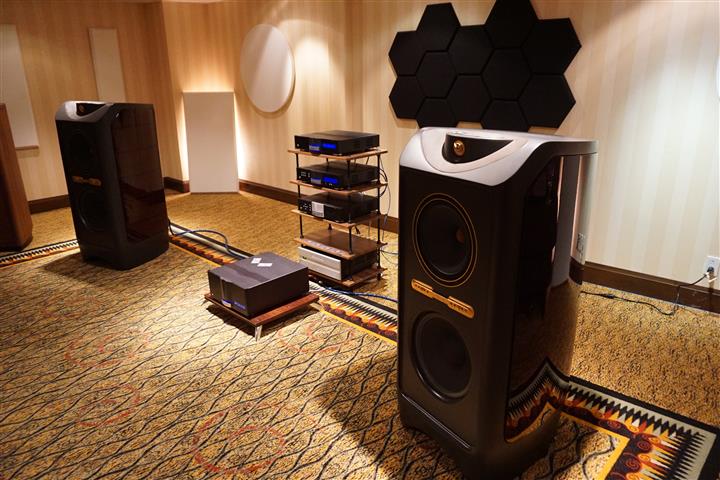 Tannoy & Krell by Zidel Marketing:
In his regular spot I found Rich of Zidel Marketing demonstrating a massive pair of Tannoy Kingdom Royal speakers paired with Krell components – including the Vanguard DAC, Illusion II preamp and Duo 300 power amplifier. Cabling in this system was all Wire World. The music emanating from the system had a life and energy to it.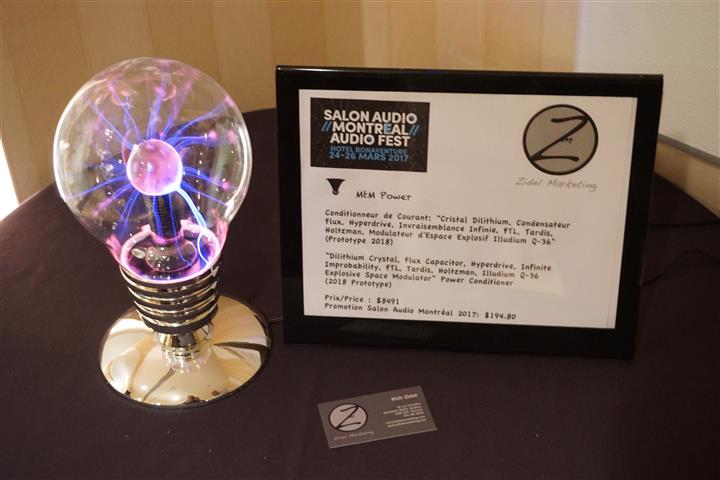 I'm sure that some may have attributed the fine performance of the system to the incredible piece of futuristic technology, sitting in the corner.
Conclusion:
Well those are my highlights of the 2017 Montreal Audio Fest. I hope you enjoyed this recap and if you weren't able to attend this year – perhaps now you'll be inspired to make your plans for next year now.
My parting shot comes from the Plurison Room, who were showing off their big guns this year!