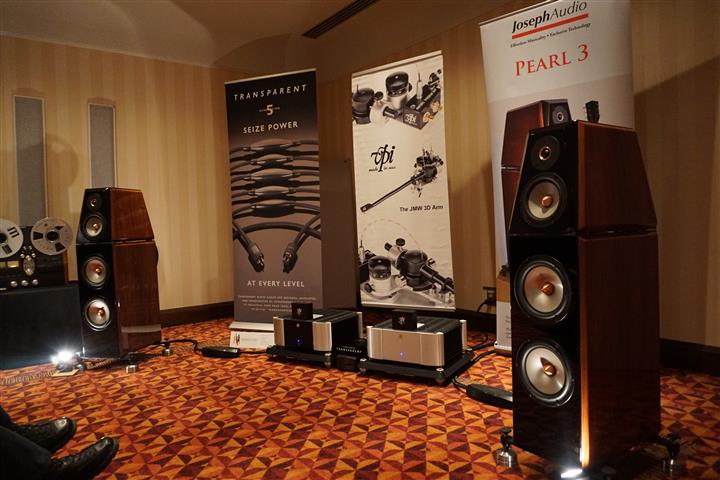 VPI with Joseph Audio
Joseph Audio and VPI paired up to assemble an impressive system. Fronted by the VPI Titan turntable, using a new reference 12" 3D printed tonearm with Nordost Valhalla 2 cabling and a Lyra cartridge, the system was pulling exceptional musical details from the grooves. The Joseph Audio Pearl 3 loudspeakers were powered by Simaudio monoblocks and connected with Transparent Cables. The whole gang was there in the room when I stopped by: Jeff Joseph, as well as Matt and Harry Weisfeld; three guys who truly know how music should sound.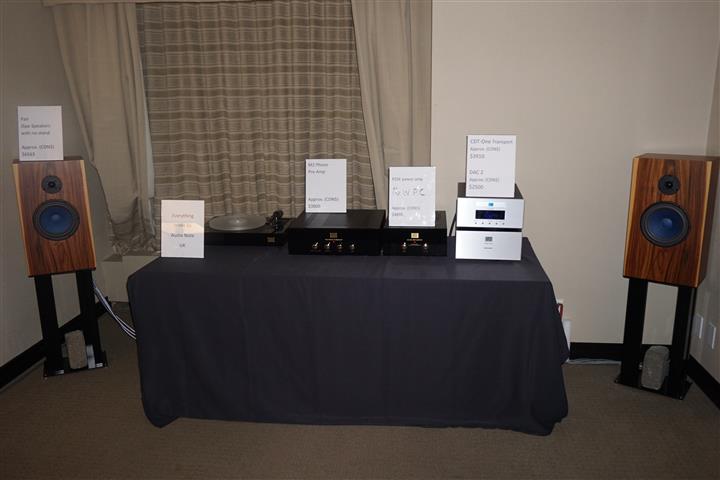 Audio Note, U.K.
Next stop was the Audio Note U.K. room. Despite their rather modest appearance, I've become a huge fan of the sound of Audio Note U.K. show setups – always inviting, musically convincing with captivating imagery. This year's system was no less, using Audio Note JSpe speakers ($6563 CAD), an M2 Phono preamp ($3,800 CAD), P2SE power amp ($4895 CAD), CDT-One Transport ($3910 CAD) with DAC 2 ($2500 CAD).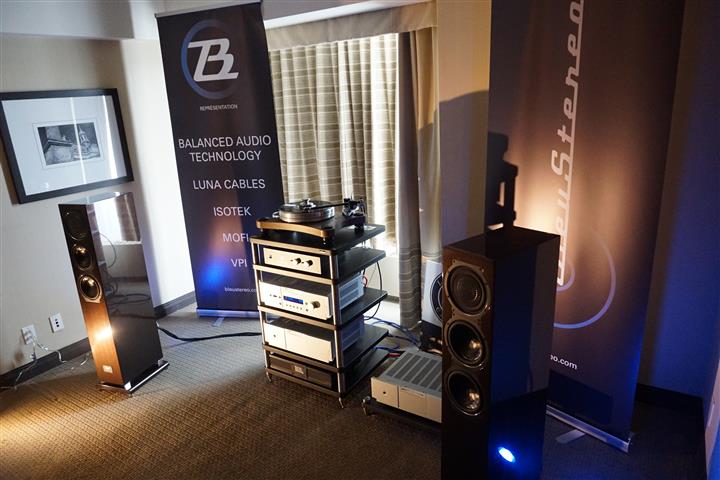 Bleu Stereo
Bleu Stereo, by Dany Poulin, had a room with a number of interesting brands. Centred around a Balanced Audio Technology (BAT) preamplifier, the VK23-SE and power amplifier, the VK225-SE, this system played through ELAC 507VX tower loudspeakers. The analog source was from VPI, namely the VPI Prime table with a MoFi Master Tracker MM cartridge ($980) and VPI's own Analog Drive System speed controller. Power was delivered via an IsoTek Aquarius EVO3 with a full Luna Cable loom. Listening to the album, Into The Labyrinth by Dead Can Dance, I enjoyed the warm, relaxed yet nuanced sound, which from the traffic in this room, was obviously to the liking of show patrons, as well.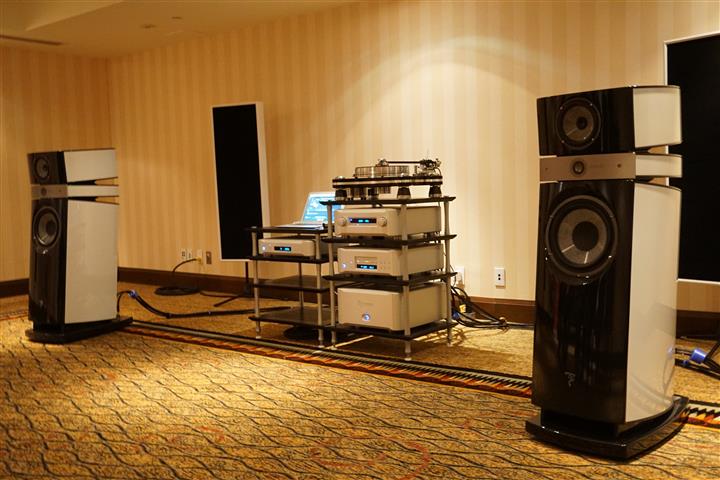 Esoteric and Focal by Audiophile Experts:
In one of the larger rooms on the lower floor, I came across an attractive system that mated Focal Scala V2 Utopia loudspeakers (approx.. $40,000 CAD) with Esoteric components. The room was hosted by Audiophile Experts, a Quebec audio/video dealer. The Esoteric components on demo included: the K-01 CD/SACD player; C-03 preamplifier; S-03 amplifier and G-02 clock. The turntable was a VPI Prime Signature. As expected with this pairing of high calibre components, the sound was delicate, open and natural.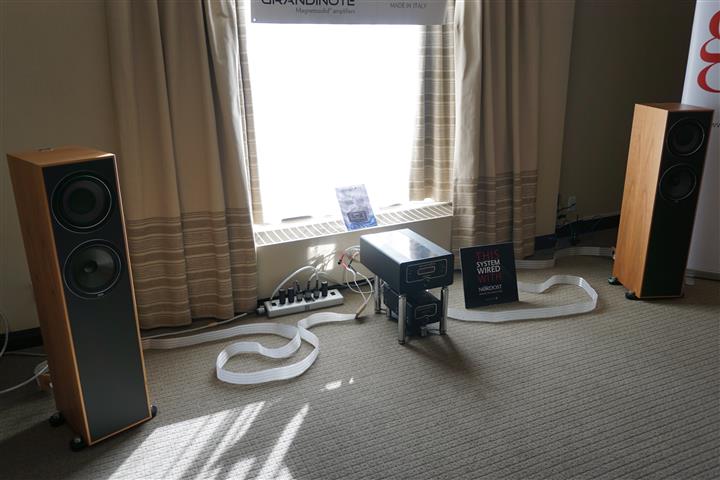 Goerner Audio:
A lovely sound was emanating from the room of Goerner Audio, in which I found the friendly face of Reinhard, company owner. Reinhard had setup a simple system with a mid-priced WLM (Wiener Lautsprecher Manufacture) Diva IV loudspeaker ($18,000 CAD) being driven by a Grandinote Shinai integrated amplifier (37 wpc full Class "A" no negative feedback). The music server/DAC in play was a Grandinote Volta ($14,000), both components sitting on a Grandinote Support Shinai+ stand ($2,500). The sound emanating from this system immediately put me at ease – speaking to its sense of flow and naturalness. Other brands / products on display from Goerner Audio were those of Trigon and Digitbit. None of these brands are commonly known but from what I've heard from them, definitely worth investigating.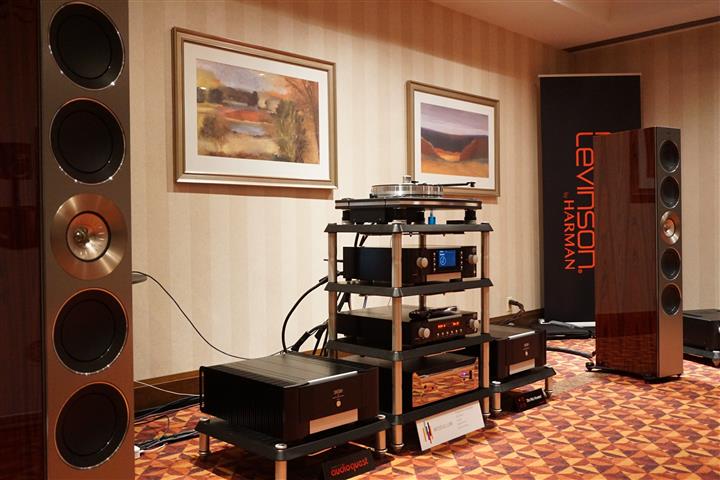 Mark Levinson, KEF & AudioQuest by Audioville:
In a room hosted by the Quebec dealer Audioville, a regular exhibitor at the Montreal Show, I found a system pairing Mark Levinson with KEF and wired with AudioQuest. The speakers were the KEF Reference 5 and cables were a mix of AudioQuest Wells Signature, Wild and Diamond. The sources and amplification were all Mark Levinson, including: the No 526 preamp, No 536 monoblocks, and No 519 CDP/DAC/streamer.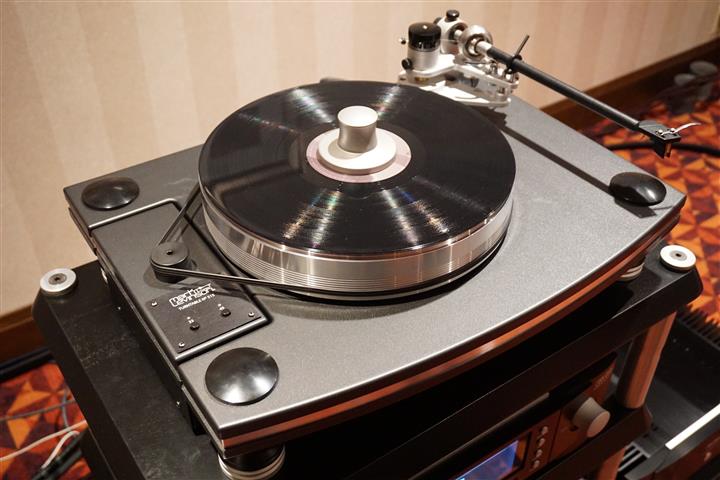 However, the most interesting to see was the new and first ever Mark Levinson turntable – the new No 515, which is built by VPI to Mark Levinson design and specifications.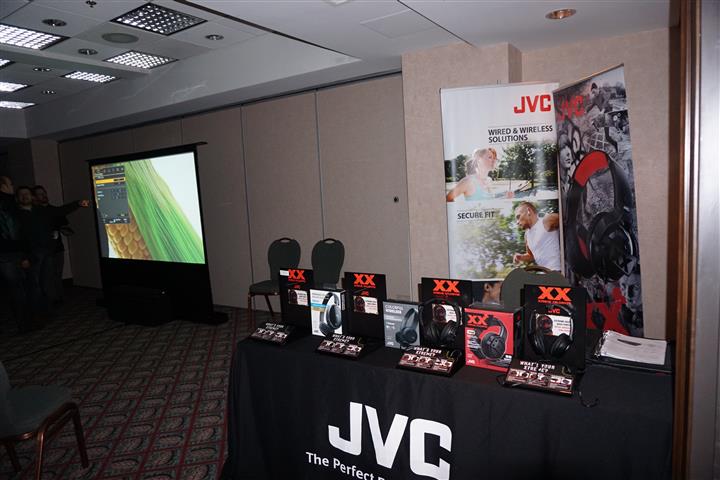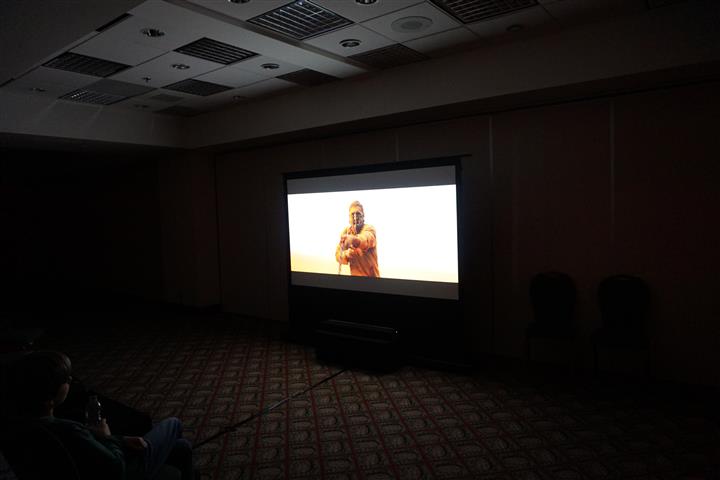 JVCKenwood:
JVCKenwood was putting on a show with their new flagship projector, the JVC DLA RS4500 ($44,999 CAD), native 4K projector with a laser light source and full HDR. Capable of 3000 lumens this projector was delivering a spectacular picture on a sub-optimal portable screen setup. The projector is capable of easily casting a reference quality image, at even up to 200". I took in a few scenes from the latest Max Max film, which seemed to be popular in the HT/video setups at the show this year.