The 2017 Salon Audio / Montreal Audio Fest, was a wonderful event; an amazing feat, given that this was technically only its second year. The shows organizers, industry veterans, Michel Plante and Sarah Trembley, assembled this year's Montreal Audio Fest, with a refreshed look and feel, within the freshly renovated Hotel Bonaventure Montréal. Once again, the Montreal Audio Fest opened its doors with free admission, to the delight of its patrons. I found that spirits of both consumers and exhibitors seemed high; embracing the rejuvenated venue and perhaps now settled into the fact that the Montreal Audio Fest is not going anywhere. The following are just some of the rooms that I visited, over the three days of the show – March 24/25/26, 2017; for more, look to Suave Kajko's coverage, posted last week on our website.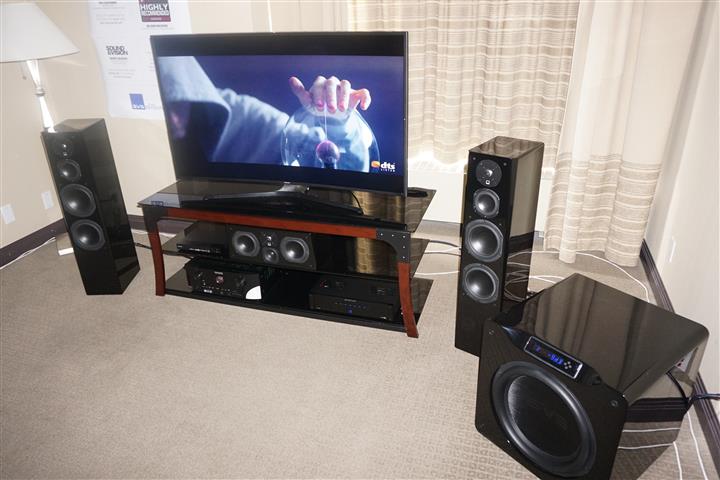 '
SVS by Summit HiFi
One of the rooms that generated a lot of excitement was hosted by Summit HiFi, an Eastern Toronto dealer that was demonstrating a complete SVS home theatre setup. Gary Yacoubian, President & Managing Partner – SVS, was there in person to expound about this system. The system was a 5.1.2, using SVS Prime speakers, including the new SVS Prime Elevation height effects L/C/R ($200 – $250/ U.S. each). Though it was exciting to hear the object based height effects of the latest Mad Max film, the star of the show was most definitely the new SVS SB16-Ultra Subwoofer. The new SB16 demonstrated ($2,000 U.S.), along with the PB16-Ultra ($2,500 U.S.) ported sub – not shown, are the largest and most powerful subwoofers in SVS' history! They incorporate an all-new 16" driver with an 8" edge-wound voicecoil. With 1500 Watts (continuous) and over 5000 Watts (peak) the demonstration was incredible. The sound was full, large and surprisingly tight, given the compact hotel room.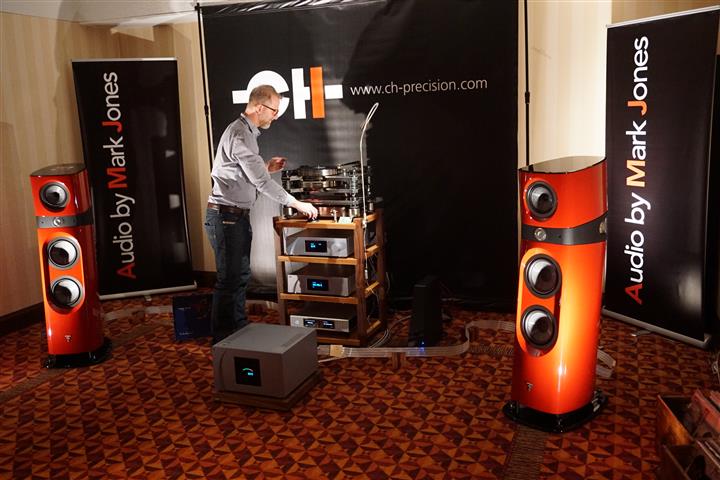 CH Precision by Audio by Mark Jones
Audio by Mark Jones, another Eastern Toronto dealer, was hosting a room featuring CH Precision electronics. Raphael Pasche of CH Precision, Switzerland, was there in person to warmly greet visitors. Mark Jones himself was at the help of the system – keeping us entertained with an eclectic selection of vinyl. The CH system included their C1 D/A converter-preamp ($42,000 U.S. optioned), P1 phono preamplifier with EQ filter ($33,100 U.S.), and M1 2-channel amplifier ($54,850 U.S.). The featured source was a Kronos Pro turntable, (approx. $40,000) with a Lyra Aetna SL cartridge, Black Beauty tonearm and Kronos SCPS power supply. Speakers were the Focal Sopra No.3 in a radiant red gloss finish, and cabling was Nordost Valhalla 2. While I was in this room, Mark played "I Scare Myself" by Thomas Dolby, from an over-loved LP, yet it was a thrill to hear it on this system.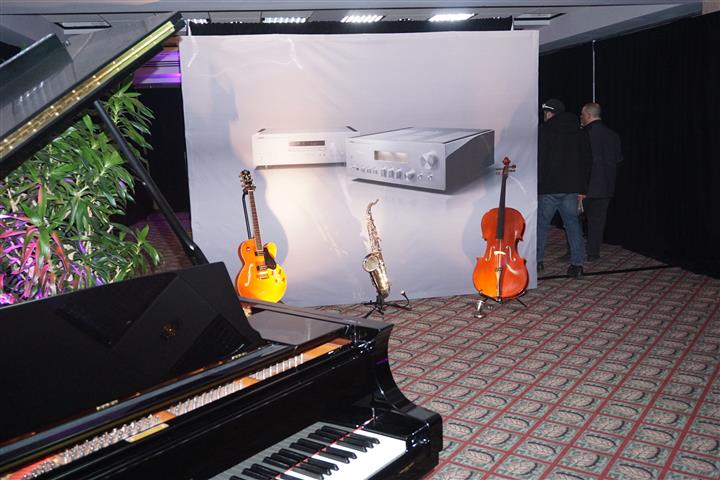 Yamaha Canada
Yamaha Canada was hosting a gorgeously appointed room, highlighting their connection with musical instruments, as well as their growing line of higher-end audio products. Along with the piano, brass and string instruments in the foyer section of their room, about half-way inside was their featured system.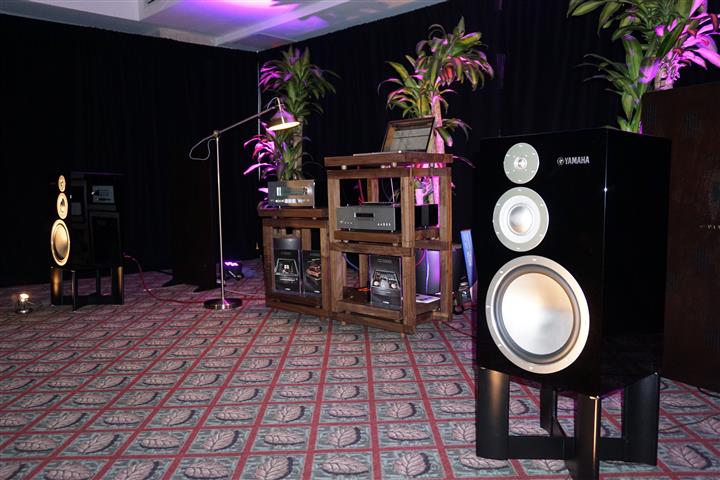 This featured two-channel audio system was comprised of Yamaha's flagship A-S3000 integrated amplifier with their CD-S2100 disc transport/DAC and new NS-5000 flagship loudspeakers. This system, sounded delicious; possessing a relaxed, yet embodied presence.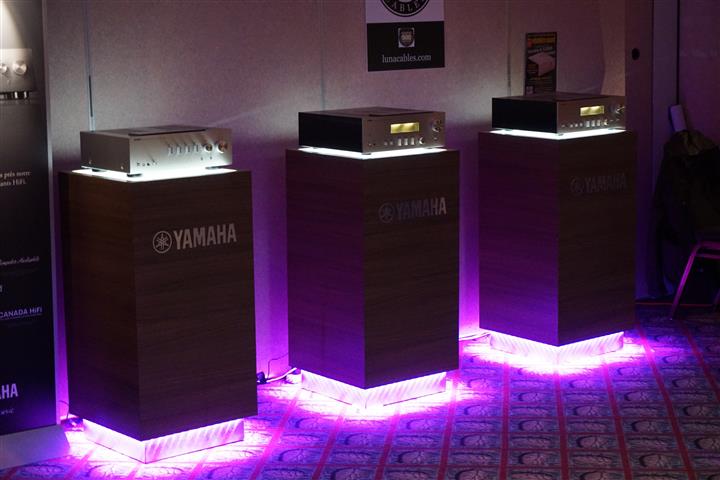 Yamaha also had on display some of their renowned musical instruments as well as the other members of its high-end integrated amplifier family, including the A-S2100, which I recently reviewed for NOVO Magazine.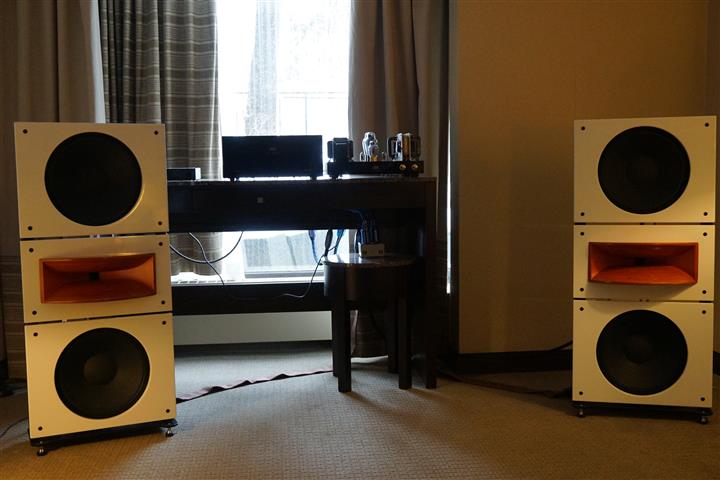 PureAudioProject
PureAudioProject was demonstrating their Trio15 PAP-Horn1 loudspeaker ($7,500 U.S.) in a room with ANK (Audio Note Kit) electronics. These loudspeakers are shipped flat-pack as a kit for assembly by the buyer; though assembly is kept simple with all major components being pre-built. I was happy to meet Ze'ev Schlik, CEO who was demonstrating the product. The sound was best described as liquid and I took note of the sinuous textured portrayal of a stand-up bass. Along with the Trio15 PAP-Horn1, the company produces two other versions of their open-baffle speaker – the Trio15 Voxativ ($5,500 U.S.) and the Trio15TB Neo ($3,700 U.S.). The latter, I came to understand is personally owned by Harry Weisfeld of VPI fame, no better endorsement required.