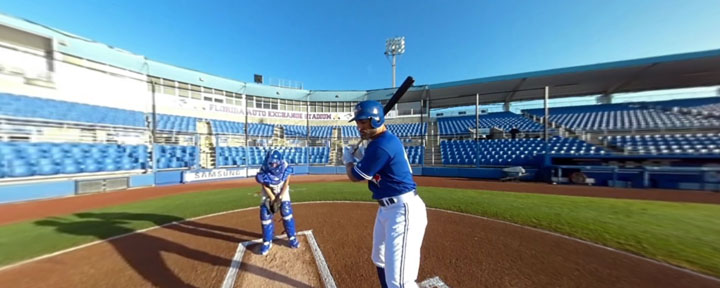 Samsung Electronics Canada has just announced a new phase in its partnership with Major League Baseball (MLB) that provides fans a new virtual reality experience, offering immersive access to players, ballparks and key baseball moments throughout the remainder of the 2017 MLB Season. Thanks to this partnership, fans will be able to enjoy a series of over 20 immersive videos exclusively on the Samsung VR app, the brand's premium virtual reality content service.
The MLB VR series within the Samsung VR app will immerse fans into the action with select content experiences, bringing them face to face with some of their favourite players and offering unrivaled views of iconic ballparks. What's more, fans will be plunged right into the season's most exciting moments, which include All-Star events and the American League and National League Championship Series – all leading up to the World Series itself.
Additional select content will include interactive elements, such as player stats, fun facts, stills and video to further elevate the experience. Content, which is being captured by Samsung Gear 360 cameras, will live exclusively within the Samsung VR app. Users can access the app while wearing the Samsung Gear VR headset, which will provide them with a fully immersive virtual reality experience. Alternatively, they can browse and stream the 360-degree content on their Galaxy phones via the mobile app or online at SamsungVR.com.
For more, check out http://samsungvr.com/bluejays