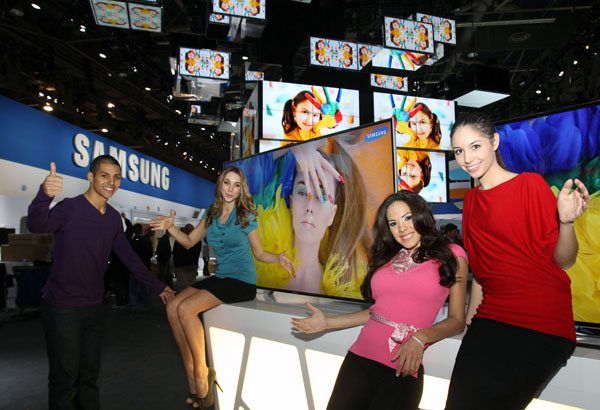 Samsung Electronics has just unveiled its vision for the future of the consumer electronics industry.  Working across its entire product catalogue, Samsung promises to push the boundaries of innovation by delivering a smarter, simpler, more connected life for consumers in 2012.
At CES 2012, Samsung is unveiling a range of stunning new products, each demonstrating the company's commitment to breaking boundaries and delivering innovative connected experiences. Highlights include:
Samsung's ES9000 OLED TV – a CES Innovation Award winner – takes its place at the center of the connected ecosystem, introducing voice control, facial recognition and an intuitive new gesture control user-interface.
Samsung's WB850 Smart Camera – has a 21x optical zoom and built-in Wi-Fi which lets you capture and share photos easier than ever before.
Samsung's GALAXY Note smartphone, with a 5.3 inch Super AMOLED screen and innovative S Pen, which delivers fast, responsive, precise control while still delivering amazing new editing capabilities.
Samsung's new Notebook Series 9 PC – a striking portable Note PC that weighs just 2.5 lbs and is just half an inch thick.
Samsung's Allshare Play – by connecting all of your Samsung devices, it allows you to move content from device to device regardless of where you are in the world and whether you are using a TV, tablet, camera, phone or a PC.
More details about each Samsung product category can be found below.
Samsung TVs for 2012
For 2012, Samsung has pushed the boundaries of home entertainment and expanded the content options on its Smart TVs, starting with the ES9000, the world's largest Super OLED TV to be produced from a single pane of glass, and Samsung's first OLED TV. The 55-inch ES9000 represents the TV of tomorrow by incorporating true-to-life picture quality, Smart Interaction, Samsung Apps, 3D functionality and multitasking into an amazingly thin form factor.
Showcasing the ultimate in picture quality, the Samsung ES9000 features unmatched vivid and true-to-life picture quality in both 2D and 3D. In comparison to even the best LED TVs, it offers virtually unlimited contrast ratios and near perfect color accuracy through several technological advancements.
In the LED TV category, Samsung's commitment to push the boundaries of innovation and technology was evident in today's unveiling of its latest UNES8000 LED TV. Featuring Smart TV features, 3D, Smart Interaction and a dual-core processor for multitasking, the UNES8000 will redefine the way consumers manage their home entertainment experience, access the industry's broadest range of content and interact with their smart TVs and other devices.
Beyond the devices, Samsung also announced its TV content and signature services that push the boundaries of home entertainment. To help bring people closer together, Samsung is launching exclusive services that redefine what the TV can do for consumers.
Allshare Play – Samsung's new AllShare Play marks an evolution of its AllShare feature. Offering 5GB of free storage, AllShare Play allows users to upload and share multimedia content with AllShare Play compatible devices such as smartphones, tablets, cameras and computers.
Family Story – Family Story's photo album lets consumers organize photos and enjoy slide shows on the big screen. Families can now share memos and reminders anywhere via the phone, tablet, PC or TV.
Media Hub – Media Hub offers consumers all-star entertainment and a diverse selection of movies and TV shows the day after they air, as well as past seasons. In addition, select movies will be available the day they are released on DVD.
GALAXY Note and Tab. 7.7
For Samsung Mobile, pushing boundaries means providing consumers with unlimited choice and ensuring there is a portable device to meet their every need. An example of Samsung pushing the boundaries in mobile is with the GALAXY Note, a device that blurs the line between smartphone and tablet.
The GALAXY Note was successfully introduced across the globe through the Galaxy Note World Tour, in Europe, Asia, Middle East, China and Korea. Unveiled during today's press conference, Samsung announced the Canadian availability of the Samsung Galaxy Note during Q1.
GALAXY Note features the world's first and largest 5.3" HD Super AMOLED display. This is an expansive high-resolution smart screen that provides an immersive and best in class viewing experience while ensuring smartphone portability and on the go usability. Additionally, an advanced pen-input technology, called the S Pen, combines with GALAXY Note's full touch screen to introduce a unique user experience. Taking full advantage of the large display, GALAXY Note users will be able to multi-task, create and consume more, with fewer interruptions, while on the go.
In addition to the GALAXY Note, a new addition to the GALAXY portfolio was revealed today, the GALAXY Tab 7.7. At just .31 inches thick and weighing less than three-quarters of a pound, the Galaxy Tab 7.7 is the thinnest, lightest, most portable Honeycomb tablet on the market today. It possesses all of the features and performance of Samsung's recently launched and critically acclaimed Galaxy Tab 7.0 Plus, adding a few features sure to push the boundaries of the tablet experience.
The GALAXY Tab 7.7 is Samsung's latest tablet running on a powerful 4G LTE Broadband network. Users will experience seamless video chat, rapid Web browsing and rich graphic processing at 4G LTE speeds. The tablet also provides users access to unlimited power and potential with the industry's best and brightest display technology in the palm of their hand. And just like the Galaxy Note has Samsung's SAFE-certification for enterprise use.
SMART Camera Technology
With more than half of the estimated 2.5 billion digital camera owners in the world sharing their photos via online and social networking sites, and more than 100,000 WiFi hot spots in more than 75 countries, the benefits of WiFi have never been more important or accessible. Samsung's extensive range of WiFi-enabled SMART cameras ensure that photographers of all levels, from teenagers to grandparents, can take full advantage of the wireless world – anytime and anywhere.
As part of its unveiling of the Wi-Fi-enabled SMART cameras, Samsung introduced the WB850F, a compact point and shoot that is the new standard for the travelling Smart Camera. The WB850F enhances the advanced optical zoom and image quality that the WB range is known for, with Wi-Fi capability to facilitate sharing and storing images – wherever users are in the world. Featuring a 21x optical zoom – Samsung's best yet, the WB850F makes it simple to take high-quality shots from a long distance. The camera is also equipped with Samsung's pioneering BSI CMOS sensor technology to reduce image noise and distortion, even in low light conditions. This crystal-clear detail can then be experienced in all its clarity on the 3.0" VGA AMOLED screen featured on both models.
Samsung Notebooks
Furthermore, Samsung today revealed the Series 9 notebook, the world's thinnest and most compact premium notebook, as well as the Series 5 ULTRA, which touts features that go beyond its thin and light form factor.
Customized for consumers striving for top quality items with great design as well as look and feel, the new Series 9 boasts the world's thinnest with 2nd generation Intel® Core i5 processor and most compact chassis. Its true flat design and innovative engineering breaks all common perceptions of premium notebook PCs. Super-slim components are tailor-made for the Series 9 and precision-fitted into the device's innovative single shell body. In fact, to reach such premium design aspects without compromising performance or functionality, work on the new Series 9 involved more than 33,000 hours of intensive research between design and engineering specialists.
In addition, its light weight makes the Series 9 ultra-portable; while power and performance are assured with a  2nd generation Intel® Core i5 processor, up to 8GB memory and 128GB SSD. The notebook is offered in two sizes, a 13" as well as a 14" model, measuring only 12.9 mm (0.5 inch), 1.19 kg (2.6 lbs) and 14.9 mm (0.58 inch), 1.49 kg (3.3 lbs), respectively.
Encased in a stunningly thin and lightweight chassis, the Series 5 ULTRA is powered by an Intel® Core i5 processor; while an ExpressCache system by Diskeeper and a powerful AMD Radeon HD graphics card combine in delivering an immersive experience packaged in a portable form factor. Available in 13" and 14", the Series 5 ULTRA premium features enable the Ultrabook to boot up in just 20 seconds and wake up in just 2 seconds, whilst web browsing is twice as fast as the previous generation of notebook PCs.
This high-speed performance is further boosted with 1TB of storage capacity on offer in the Series 5 ULTRA 14", ensuring that users never need to carry a peripheral storage device with them. The enhanced storage also demonstrates how the Series 5 ULTRA will meet the growing demands placed on notebook PCs, with file sizes growing ever larger.
Smart Appliances, Smart Kitchen
Finally, Samsung announced its expanded digital appliance offerings, highlighting the company's continued shift to connect consumers and given them greater control through smart appliances. For LCD Refrigerators with apps, announced were two new much-requested options – Facebook and Grocery List – to the side-by-side (RSG309) and four-door French Door (RF4289) models.  Both will be featured on the refrigerators' 8" Wi-Fi enabled LCD color touch screen.
Samsung's new Over The Range (OTR) Microwave Oven (SMH2117S) is a convection oven, toaster oven, microwave and range hood all in one. A 2012 CES Innovations Award winner in the eco-design category, the large 2.1 cu. ft. capacity OTR features an LED cooktop light that reduces the time, effort and cost of a replacement while still offering top-of-the-line illumination on the cooking surface below, as well as an Eco Mode feature that reduces phantom power.  When not in use, the range will help consumers save time and money.
In addition, this year Samsung will enable even more consumers to enjoy the flexibility and convenience of the Flex Duo Oven with a reduced price point model (NE595R1). Families still will benefit from being able to prepare meals more efficiently with the full large 5.9 cu. ft. cavity, or using one or both of the two smaller chambers (2.6 cu ft. top and 3.1 cu ft. bottom), when divided with the Smart Divider. The chambers can be used separately or together; when used together, dinner and dessert cook simultaneously at two different temperatures with no mixing of aromas or tastes. When not in use, the oven divider conveniently stores in a discreet space above the bottom drawer. The new model will be available in summer 2012.
For more information, please visit www.samsung.com.