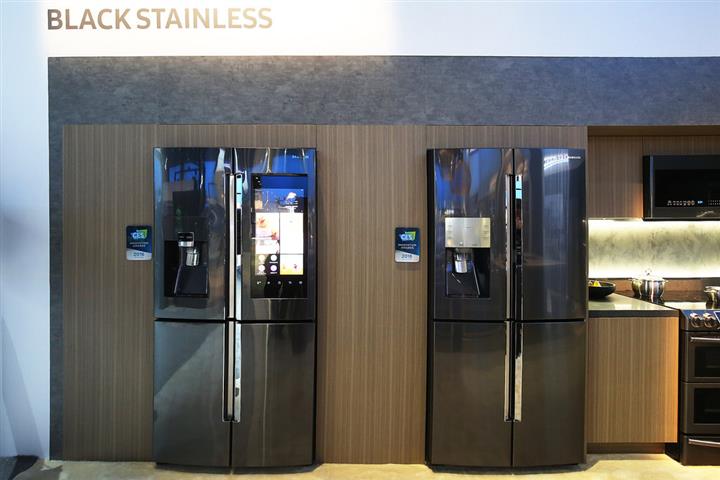 We don't normally talk about refrigerators in our publication – that is unless they are loaded with audio / video technology like this one!   The Samsung Family Hub Refrigerator is a sophisticated multi-tasker that reconnects families, organizes groceries and home tasks, and provides entertainment.
The Family Hub is just that – a hub of household connections, but with a thoroughly digital twist. All communications are housed and displayed on a 21.5 inch full HD LCD resolution screen located on the upper right exterior door. As the refrigerator's digital family command center, the screen allows you to post, share and update calendars, pin photos, share treasured kids' works of art, and leave notes – all with the ease and convenience of your smartphone.
From more efficiently managing your groceries, to identifying foods you have or need, to tracking product expiration dates to cut down on waste, the Family Hub is your go-to resource to keep your kitchen fully stocked. In a revolutionary advancement in refrigerator technology, three high quality cameras inside the fridge capture an image every time the door closes. You can then access those images anytime using your smartphone and take a peek inside your fridge. Even if you're at the store and forget to check on what you need for dinner that night, you can easily pull up the Samsung Smart Home app and have a look right into your Family Hub fridge. There's no more forgetting what you have at home, and you can even use the refrigerator to do online grocery shopping with the aid of a major credit card partner, as well as manage recipes and compile and share shopping lists.
With the kitchen serving as the center of the home and a common gathering spot, the Samsung Family Hub Refrigerator is perfectly suited to entertain friends and family. It offers options for music streaming to play through its built-in speaker or connect to your Bluetooth wireless speakers, like Samsung's own Radiant 360 line, to enjoy music throughout the home. You can even enjoy your favorite television programs right on the Family Hub screen using Screen mirroring with your Samsung Smart TV, a huge benefit if you have to prepare food for the football game and don't want to miss any important play.
The Family Hub is as impressively designed on the inside as it is on the outside. From the Samsung-exclusive FlexZone that transforms from fridge to freezer to meet your food storage needs, to keeping food fresher, longer with its Triple and Metal Cooling system, to its flexibility and energy-saving features, this refrigerator places a premium on superior performance and unmatched innovation and design.
Family Hub Refrigerator (model RF28K95800SR) will be available in Spring 2016. It will be available in Counter Depth, Full Depth, Stainless and a new and stunning Black Stainless design.
Check out the video below that shows the fridge in action: