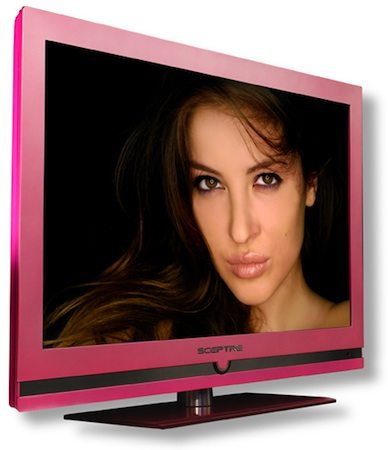 To coin a proverbial phrase, "beauty is only skin deep", well in this case the comment might be bezel deep.  With that in mind, I'd like to let you know that Sceptre has just launched a new line of 32-inch LED HDTVs in their Galaxy series.  The new panels feature nickel brush bezels and are available in different color schemes – hot pink anyone?
 Measuring only 1″ at its thinnest and 1.82″ at its thickest, these new 1080p HDTVs are slim enough to meet the most discriminating wants. 
 The E320(G,B,P)V-FHD TV's include 3 HDMI ports, a beveled tempered glass stand swivel base, 50,000:1 Dynamic Contrast Radio and two integrated 9 Watt speakers with a 7-band equalizer.
 Prices are as follows:
•E320GV-FHD (Nickel Brush with Black Accent) ? $499 U.S.
•E320BV-FHD (Black with Nickel Brush Accent) ? $499 U.S.
•E320PV-FHD (Pink with Nickel Brush Accent) ? $499 U.S.
 Look for more at: http://www.sceptre.com