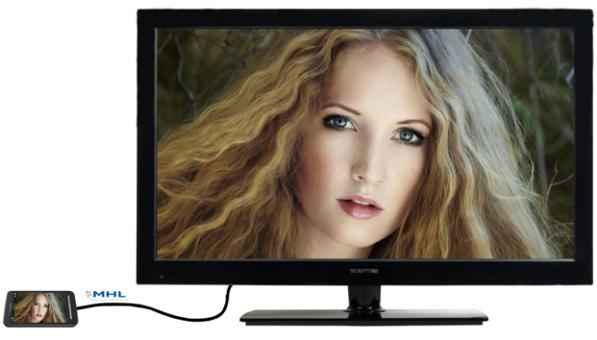 Sceptre, a manufacturer of HDTV and PC display products has just unvelied their first LED HDTV with MHL (Mobile High-Definition Link) technology.  The new Sceptre E328BV-FMD is a 32-inch ultra-slim HDTV that has been designed to provide an interactive home entertainment experience.
The E328BV-FMD with its MHL technology allows users to utilize a large flat panel screen as a display or speaker for their mobile phones or portable devices.  In addition, the HDTV's remote can control the connected device.  The new Sceptre E328BV-FMD is the company's first in a new series of MHL HDTV's.
Developed by the MHL consortium, MHL technology utilizes a single cable to support up to 1080p high-definition video and surround sound audio while simultaneously charging the connected device. 
Perfect for both the high tech man cave and the common household, the 32-inch LED HDTV with MHL technology is a true 16:9 widescreen, has a 1920×1080 resolution and a rated LED backlight life of more than 50,000 hours. It also comes with integrated technologies such as auto dynamic contrast enhancement, auto-volume level control, sound equalizer settings and surround sound capability.
Sceptre's 32-inch LED HDTV with MHL technology is currently available for $599.99 U.S. at various retail and online suppliers.  Look for more details at: www.sceptre.com.